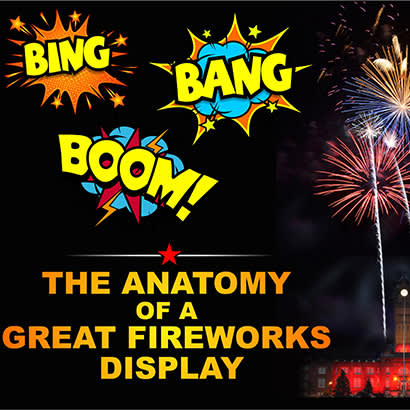 How to get the biggest bang for your P&R buck
When you say "fireworks," it usually excites people or triggers some form of positive reaction. The Chinese developed them more than 1,000 years ago to "ward off" evil spirits, but fireworks have been commonly used as a form of celebration around the world since about the 13th century. Today, they are a big part of many community events, such as Fourth of July and New Year's Eve celebrations, as well as seasonal festivals. No matter their age, race or economic status, most people love to gather around to see a great fireworks display!
As park and recreation professionals, at some point in our career, we will be involved in events that include fireworks. Typically, these events are your largest attended activity of the year. In many cases, agencies secure a budget for the fireworks, follow procurement processes and then award the contract to a fireworks vendor to produce the entire show — often with limited guidance to the vendor. Agencies, however, should take full control of their fireworks displays to ensure an impactful and successful event for their community.
Do Your Homework
Some understanding about the science behind and the types of fireworks that exist is necessary when seeking out a quality fireworks display and the right vendor. Fireworks are made from oxidizing, reducing and coloring agents, along with binders (starchy materials that hold the various agents together) and regulators (chemicals that speed up or slow down the reaction). These items mixed together create the basic firework, and adding certain chemical compounds will result in specific colors. For instance, calcium chloride combined with calcium sulfate generate an orange color. In addition, "buyers" should also understand the variety of firework shapes that will greatly affect the end-product within a fireworks display. Some of the popular fireworks shapes, after they burst in the air, are the Peony, Crossette, Chrysanthemum and Comet, just to name a few. All of them have a very distinctive look and will be the basis of any proposal you receive from a pyrotechnics company. The American Pyrotechnics Association (APA) has great resources that can help you better understand the technical side of fireworks.
To complete your homework, you must explore the professional pyrotechnic companies that can support your needs. Search for companies that have strong industry credentials, have produced a variety of displays and have a long list of experienced and qualified staff. There are too many variables in fireworks displays, and you need pyrotechnic companies with a solid résumé of experience to ensure the best source.
Request for Proposal (RFP)
Once you have the basic understanding and several qualified sources, you will need a solid RFP that dictates your requirements and expectations. Be descriptive about what you are looking for in terms of the date and event. Also, be specific about the location and other parameters that might impact the size of the shells used or how they will be fired. Some questions to ponder: Is it a traditional aerial show? Will it be electronically fired? Will it be choreographed and set to music? What is the budget? Yes, the typical way to bid a fireworks display is to declare your budget upfront. Your budget will drive the length of the show, and that is where agencies sometimes make mistakes. They may not have the budget for a 30-minute display, but they demand it as a part of the RFP. A budget metric we have used is $1,500 per minute.
Another key to your RFP is to have clear evaluation factors laid out. Since you declared your budget, you will be evaluating the proposals for the best value. In addition to the size and number of shells, company reputation and experience are all key factors in getting the best value for the money. Too many agencies rely on the sheer number of shells with little regard to types and size. This can be very deceiving unless you are familiar with the production of fireworks. Bottom line, a good RFP will help you generate a good pyrotechnics partner.
Customization
Once you have your vendor, you have the ability to work within their proposal and customize your own fireworks display (show). Typically, a fireworks show has at least three parts: opener, middle segment and closing or finale. Fireworks vendors allow you to move shells around to highlight certain portions of your display. An example would be to craft in a "false finale," which is basically a portion of the show where you want the audience to believe it is the end of the show, but, in fact, you're coming back with something even bigger and better. When using displays choreographed to music, various songs can lend themselves to these "false finales." Work with your vendor and choose the songs yourself. Do not simply approve the song list they provide. This is a good way to take ownership of your show and help to control tempo, pace and, ultimately, your audience's response.
As previously mentioned, the length of the show is always a concern, and you have the ability to stretch the show using certain techniques. For example, in displays choreographed to music, dramatic pauses based on the song, can help create anticipation. In past displays at the Naval Station Great Lakes, we have regularly played segments of particular songs without any fireworks going off to create that dramatic effect. More importantly, if used correctly, this technique allows you to use more "shells" at different times for a stronger impact. Another way to lengthen the show is by using selected narration throughout. Narration allows you to set the tone or theme, get messages out to the audience, and most importantly, send kudos to your agency and corporate sponsors, who might have helped pay for the event. Using these methods could easily add up to five minutes to any show.
Finale
The goal when managing the oversight of a fireworks display is to be knowledgeable of the entire process. This can be a true mystery to many of us in the park and recreation field. However, with that acquired knowledge and the ability to take control of your own show, you are on the road to a great fireworks display!
John Prue is Installation Program Director at Morale, Welfare & Recreation (MWR), Naval Station Great Lakes, Illinois.