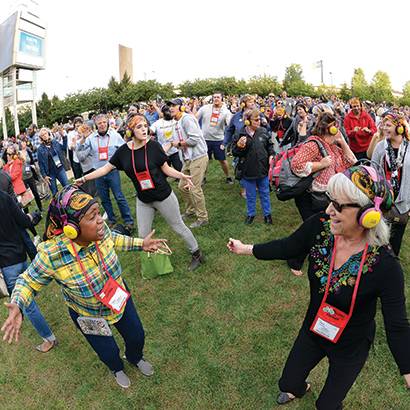 As the largest park and recreation event in the world, boasting more than 8,000 attendees, it's no surprise that networking continues to be one of the top reasons people attend the NRPA Annual Conference year after year. This year, there are more opportunities than ever to learn from inspiring people, reconnect with colleagues and make new meaningful relationships with peers from across the country. Here are just a few of the events you won't want to miss in Baltimore:
Parks Build Community: Catherine ABC Park Dedication
Each year, NRPA renovates a park in the conference host city. This year, NRPA worked with Baltimore City Parks and Recreation and various top-rated companies to renovate Catherine Street Park in the heart of Charm City. Thanks to the generous donations of several companies, this revitalized park will improve the local community and provide it with a great place for all ages. On Sunday, September 22, NRPA and the local community will come together for the grand opening of this amazing new park.
Double the Keynote, Double the Inspiration
The NRPA Annual Conference always features an inspirational keynote to help get the attendees off to an invigorating start. This year, there will be two keynote presentations for double the inspiration. Baseball Hall of Famer and former Baltimore Oriole, Cal Ripken, Jr., will set the tone for an inspiring conference at the Opening General Session on Tuesday, September 24. One of the most popular athletes of his generation, Ripken's example inspires audience members of all ages to achieve their own brand of success.
On Thursday, September 26, the Closing General Session will cap off your experience with a presentation by Haben Girma, the first Deafblind person to graduate from Harvard Law School, followed by an energetic performance by A1 Chops — a renowned drumming duo from Baltimore. (See page 56 for more details about what promises to be a motivational send off!)
Ain't No Party Like a Park and Recreation Party
What would the largest park and recreation event of the year be without a little fun? The NRPA Opening Reception is the best place to unwind, socialize and show off your park rec two step to your colleagues. This year's party will take place on Tuesday, September 24, at M&T Bank Stadium — home of the Baltimore Ravens. Attendees can enjoy live music and Baltimore-inspired food and drinks, while letting loose with thousands of their peers.
Networking Fun
On Monday, September 23, first- time attendees can network with other first-timers while enjoying food, drinks and painting fun at Phillips Seafood. Attendees will not only leave with new friends, but also with their very own hand-painted 2019 NRPA Annual Conference tote bag! We are also inviting current students to a unique networking event at the Hilton Baltimore Inner Harbor Hotel on Tuesday, September 24. Students can hang out with fellow future park and recreation professionals and show off their school colors. There will also be multiple university graduate program representatives there to share details about their programs.
The Exhibit Hall of Your Dreams
There's so much to see and do in the exhibit hall, and each year it just gets bigger. With more than 400 exhibitors, the exhibit hall is filled with the newest, most innovative products and services in the field. Test out cutting-edge playground equipment, athletic gear, aquatics products and other services from top brands. Attendees can also join NRPA staff in the NRPA member area where there will be fun games, a comfortable space to network and get off your feet, and the opportunity to learn about all the member benefits.
Celebrate the Best of the Best
At this annual ceremony, we recognize and celebrate the most inspirational people and programs by presenting the 2019 Innovation Awards, Spotlight Awards and the Park Champion of the Year Award. We also recognize the newly accredited and re-accredited park and recreation agencies and academic programs, Young Professional Fellows, Diversity and Student Scholarship recipients, and professionals who have recently achieved their CPRP or CPRE designations.
Advocate for Parks and Recreation
Washington, D.C., is only a short drive from Baltimore, so take advantage of this great opportunity to build relationships with your members of Congress. On Friday, September 27, NRPA's Public Policy team will host a Hill Day to advocate for parks and recreation. The team will provide training, help schedule meetings with legislators and accompany you on your visit.
If you don't want to miss out on all of these events, make sure you register for the 2019 NRPA Annual Conference in Baltimore, Maryland, this September 24–26.
Catrina Belt is NRPA's Marketing Manager.