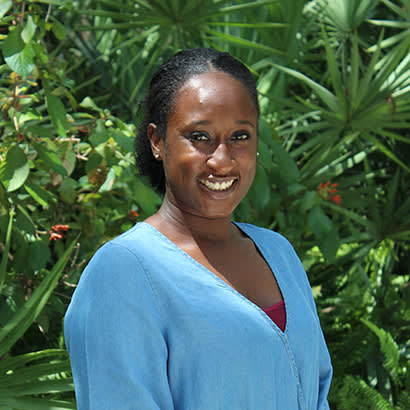 Attiyya Atkins is a public communications specialist for Broward County Parks and Recreation in Florida. In this role, she engages with the community through digital means, events, social media and more. Atkins, a recipient of the 2019 NRPA Diversity Scholarship, will be presenting her agency's newly developed STEAM program at the 2019 NRPA Annual Conference.
Parks & Recreation recently talked with Atkins to learn more about the STEAM program, her thoughts on diversity and what keeps her motivated.
Parks & Recreation: What about your job inspires you most?
Attiyya Atkins: At our agency, we're always pushing that parks aren't only fun, but are also an environmental venue, a science venue. We try to give people different eyes toward parks. My task, as of late, is bringing the park system into the digital age through social media and online connections, as well as by changing the face of our parks to be not just recreation centers, but also learning centers.
What inspires me is that there is so much to learn. I get to go out to the parks and showcase what we're doing, but I also get to interact with the scientists, people who are passionate about parks and our environment. I get to learn something new every day and share it with others so everyone can catch this environmental bug that I've got.
P&R: You are presenting at NRPA's 2019 Annual Conference on a STEAM program newly created by your agency. Can you tell us a bit more about the program?
Atkins: We've had a lot of environmental programs coming to our parks. Now, we're taking stock of them and reaching out to the public-school systems to have a formally structured program. We work with local schools to bus students into our parks to get hands-on learning experiences that will show them the value of the environment. They learn about mangroves and their effect on air quality, pollution's effect on water and how land pollution affects the fiddler crabs' mating season. There's so much information we give — sometimes it doesn't stick and sometimes it does, but just giving that information out to the students is beneficial.
And, we've seen great results. The students I just mentioned went on to win an essay contest about water pollution and water quality. It just goes to show that the repeated exposure to the environment and how it plays a role in our daily lives is beneficial to these students, the progressive-thinking younger generation.
P&R: You are also a recipient of the 2019 NRPA Diversity Scholarship. Can you tell us a bit about what diversity and inclusion mean to you? How do you think parks and rec can make an impact in this realm?
Atkins: Parks are for everyone. Diversity means not just having a diverse staff, but having everyone on your staff understand who they are serving and how best to serve them. It sounds simple, but it's so multifaceted. For example, I'm African American and I and people I know get their information from the internet, so social media is a good market for that demographic. But, older people may prefer TV, so we must find a way to get into television. Knowing each niche market and how to approach it has been useful in showcasing how important parks are to everyone. For me to get a clear head on who we are serving, I make profiles of people I have met or seen in parks, and I don't exclude anyone. This includes homeless people and others we may not typically think of. We have to think of them and the way they get their information.
And, I believe, sometimes, people think that if you focus on one population you are neglecting other populations or demographics, but that's not true. To be a leader in inclusion, you should pay specific attention to people who need it. In my research, I've found that lower-income communities or ethnic communities have less participation in their parks because they don't know the services we have, which could be due to a lack of marketing, advertising and/or printing budget to get the word out or that we aren't communicating in their language.
Diversity brings life to any organization and any situation. We've got a lot of diverse programs at our parks. We have neighborhood parks that are mostly in urban and African-American communities, which have free summer camps and free afterschool programs because that is an issue for that area — there are a lot of latchkey kids whose parents must work long hours. We also offer free food, free life-skill programs and free STEAM workshops in those communities. For people with disabilities, we have tandem bike riding and yoga. We offer activities for blind people and for veterans. We specialize in having niche activities so people can really feel that their park is theirs, and that someone cares about their wants and needs.
P&R: How have you seen the effects of your work take shape in your community?
Atkins: I really see it in the children. It sticks in the children, and it's because of that hands-on experience they're having in the parks. For example, we're removing an invasive species with heart-shaped leaves that is growing everywhere. If you were to learn about it in a textbook, you'd probably forget it. But, we are out there digging up leaves, there's music playing and people are making jokes, like "why do all invasive species have heart-shaped leaves when they just suck the life out of the native species!" The community of learning that occurs in parks while you're doing an environmental cleanup, or a structured STEAM event, makes it stick. The students remember things more.
P&R: What is one thing about you that people might be surprised to learn?
Atkins: I like to sing, and I like to make music and be creative. I used to be a rapper — I used to rap on the subway and in Queens, where I lived. About 10 years ago, that was something I was really into. That's out of my love for poetry and spoken word.
Note: Atkins will be a co-presenting the following two sessions at this year's conference along with her colleague John Pipoly III, Ph.D., FLS, project coordinator, STEAM/Environmental Education, Volunteers and Grants, Broward County Parks and Recreation Public Communications and Outreach Group: "A Toolkit for Managing the EE (Environmental Education) and ESD (Education for Sustainable Development) Continuum" - September 24, 4:30 p.m. – 4:50 p.m.; and "Living STEAM Laboratories: Mitigating/Adapting to Climate Change" – September 26, 2:30 – 3:45 p.m.
Lindsay Collins is the Associate Editor for Parks & Recreation magazine.