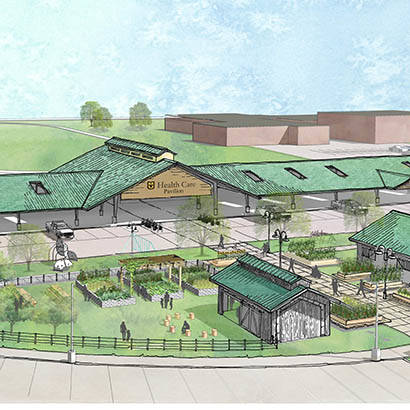 Columbia (Missouri) Parks & Recreation, in a public-private partnership with Columbia Center for Urban Agriculture (CCUA), Columbia Farmers Market and Sustainable Farms and Communities, recently celebrated the grand opening of Phase I of Columbia's Agriculture Park. This new park is located on 10 acres of open space at the city's Clary-Shy Community Park and will serve as a community hub, education center and home to a covered, year-round farmers market, as well as complement the existing Activity and Recreation Center (ARC).
While health through exercise is the focus of the nearby ARC, health through food will be the focus of the Agriculture Park. Community members will learn to grow and prepare healthy, locally sourced foods from the year-round farmers market, a greenhouse and through cooking and gardening classes that will be offered. Other benefits of the new park include supporting local agriculture-based businesses and creating a space for Columbians to spend time outside, connecting with their community.
The city of Columbia owns the Agriculture Park, but it will be maintained by Columbia Parks & Recreation, and the other partner organizations will contribute to its long-term oversight and sustainability. CCUA will manage the gardens and educational programs, and through its "Access to Healthy Food" program, Sustainable Farms and Communities will match the food purchases of families who shop with SNAP and WIC at the farmers market.
The fully funded first phase of the project, expected to be completed by the end of 2019, includes stormwater infrastructure, demonstration gardens, playgrounds, picnic areas, a nature classroom education center and urban farm plots. The estimated 50,000 pounds per year of produce grown on the urban farm will be donated to the local food pantry. Phase II, scheduled to be constructed throughout 2020–2022 once the funding is secured, includes the completion of the market pavilion (which will triple its current size), a 10,000-square-foot event center and additional parking. Phase I cost approximately $3.75 million and was funded largely by private investors, with only a quarter of the funding provided by the city and a federal grant. The completed project is expected to cost $7.5 million.
Click here to learn more about Columbia's Agriculture Park.

– Lindsay Collins, Associate Editor for Parks & Recreation magazine