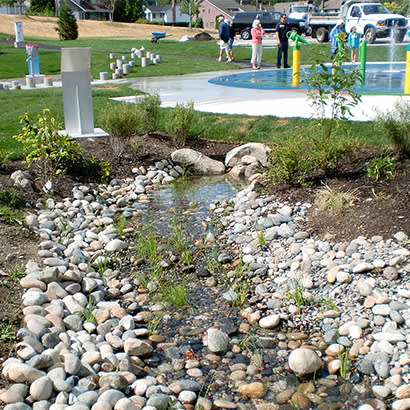 Community resilience sits at the heart of the daily work of thousands of park and recreation professionals. They strive to improve the local environment and promote the physical, mental and social well-being of residents. NRPA supports this work through its Great Urban Parks Campaign, which helps parks implement green infrastructure (GI) projects and build healthy, vibrant, climate-resilient communities. Through the campaign, NRPA launched the Green Infrastructure Evaluation Framework tool to assist in these efforts.
Benefits of GI in Parks
GI encompasses stormwater management solutions, such as green roofs, trees, rain gardens or permeable pavement. These elements capture, store and infiltrate rain where it falls, reducing flooding, enhancing water quality and improving not only the health of local waterways, but also of local individuals, as well as the economy of nearby communities.
Framework Helps Measure Success
GI parks provide many powerful benefits, but few resources exist for collecting data at the project sites. The Framework encourages the collection of data about the environmental, social, economic and health benefits without requiring a ton of time, money or experience.
The Framework's downloadable tools and research-informed text, provides a complete measurement plan, spanning from the conceptualization through completion of the GI project, through three simple steps:
define a project's goals
collect data
use data to improve future GI work