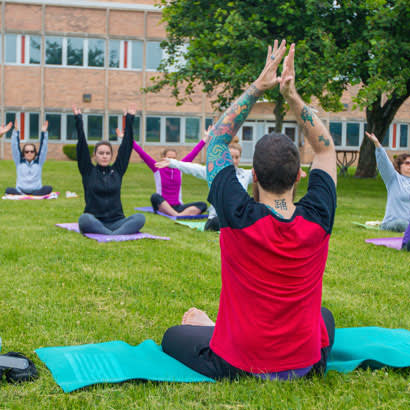 Since Milwaukee Recreation opened its doors more than a century ago, the goal has been to create affordable and accessible recreation opportunities for its community. As social equity becomes more entwined in parks and recreation, the recreation department intentionally has focused on ensuring that resources and opportunities are also allocated based on need.
The Steps Already Taken
The department has introduced and restructured countless programs with equity in mind. For example, when data showed an alarming disparity between the number of Milwaukee 18-year-olds with a driver's license (30 percent) compared to their suburban counterparts (71 percent), the department developed MPS Drive, which offers free driver education to students. Since 2016, this program has maintained a 97 percent pass rate on the permit test, while helping almost 1,000 students obtain a driver's license.
Also, in 2016, MPS C.A.R.E.S. (Community and Recreation Engaging Students) was developed in response to the rising violence and unrest in the city. This program was uniquely designed and continues to provide free, equitable activities for community members of all ages. It consists of three components: Twilight Centers , which give teens a safe place to go during the evenings; Wellness Days, which provide fitness classes and health education for families every month; and the Midnight Sports Leagues, which allow young adults to join a safe, competitive league with additional enrichment education between games.
Milwaukee Recreation Aquatics has led the charge in hiring and promoting a diverse aquatics staff, which in turn has helped raise class participation by 50 percent. The Partnership for the Arts & Humanities program has reached roughly 320,000 children through out-of-school programming, 83 percent of whom were economically disadvantaged. MPS Athletics programs serve thousands of Milwaukee youth each year and continue to pair new coaches with schools that are looking to further their athletic offerings.
Over the past two years, Milwaukee Recreation has launched a massive playfield renovation project to repair many of the city's 52 playfields that had fallen into disrepair. The department completed an Outdoor Recreation Facilities Master Plan, which rated 65 percent of the facilities as fair to poor and identified more than $25 million in needed improvements over a 10-year span.
In order to prioritize the projects, the department developed an "equity prioritization model" that analyzed the neighborhood and population characteristics surrounding each playfield, as well as the condition rating for each site. The model was mirrored after work done in Minneapolis and resulted in a priority list of projects that emphasize racial and economic equity. Milwaukee Recreation quickly flipped the data results into civic action, hosting community engagement sessions to fully gauge the needs of each neighborhood. Construction begins this fall at three playfields across Milwaukee, with several more soon to follow in 2019.
Ongoing Efforts to Improve Equity
Even with all the inroads the department has made over the years, equity has become an even larger priority for Milwaukee Recreation within the past few months. Throughout the spring and summer, the department officially kick-started its initiative to improve equity across its department and its programming with different sessions to assess needs, evaluate privilege and marginalization, and discuss other big-picture affairs.
"I attended two trainings between 2016 and 2017 where I learned more about what other recreation departments were doing around equity, which inspired me to bring these concepts back to our department," says Milwaukee Recreation Senior Director Lynn Greb. "I knew there was a need in our city to ensure we were doing everything we could to level the playing field and ensure equitable access to recreation for all individuals in our community," she adds.
Dr. Latish Reed, the Milwaukee Public School equity specialist, and key individuals from many Milwaukee Recreation departments make up the Milwaukee Recreation Equity Committee. The committee meets regularly to weigh the needs of staff members, so it can then create positive change in the community. "Recreation has always been a frontrunner for [equity]," explains Dr. Reed. "From the leadership to the [team members], we are really grappling with what equity means to the department and with the best way to mobilize. This work isn't linear: It's cyclical."
On March 19, the committee launched its training by convening all full-time staff for an off-site retreat. The session focused on the difference between equality and equity, covered recent self-assessment data and introduced the current MPS Equity Policy. The staff also went through the "Culturally Responsive Practice wheel", which is the framework surrounding awareness, analysis and action that guides all work for the district. The committee hosted another full-time staff meeting on June 7 to outline how to view one's work through an equal-opportunity lens.
Milwaukee Recreation is still in the initial stages of its push for equity, but by using the defined approach on the wheel, the department will establish a comprehensive plan to institute positive directives around the city. The reflection tool allows its practitioners to consider the people the department serves every day.
"In an effort to aptly serve our community, which faces many challenges, it is important for us not only to understand these challenges, but also to do our part to help overcome them," says Partnership for the Arts & Humanities Supervisor April Heding. "The first step is to become self-aware, not only of the department, but also for all employees to understand their unique cultural identities and how this affects their work."
Equity has always been a starting point for Milwaukee Recreation, but by officially bringing the issue to the front of the line, the ever-expanding department is clearly re-framing its objectives for the future. "At the end of the day, everyone has the right to high-quality, culturally relevant recreational activities, and it's our job to make that happen," says Heding.
Brian Foley is the Web Content Specialist for Milwaukee Public Schools Department of Recreation and Community Services.