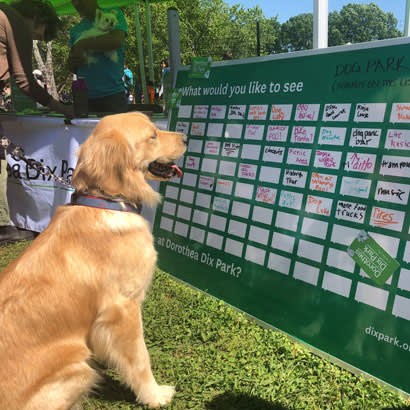 Within the pages of this issue of Parks & Recreation is the often-repeated refrain about the growing demand for more dog parks and off-leash spaces where dogs can be free to run and explore. Most major metropolitan areas in the United States have, are or will be looking at how to meet this demand in the face of rapidly diminishing open and green spaces. This year, the city of Raleigh undertook just such an in-depth study, part of an action item in its 2014 Parks, Recreation and Cultural Resources System Plan. Through a community needs assessment, it became clear that dog parks are an important park use with an unmet need in this city.
The Need
So, why does Raleigh need more dog parks? It's estimated that by 2023, a staggering 100,000-plus dogs will live in the city! Currently, one-third of its approximately 200,000 households have at least one dog, and Raleigh is projected to see its total number of households grow by almost 10 percent over the next five years. Like most major cities, the focus is on high-density development: 60 percent of all new residential units in Raleigh are multifamily apartments. That's a lot of people and pets clamoring for easily accessible spaces where they and their pets can recreate.
Recognizing this growing demand, the Raleigh Dog Park Study was an effort to get out in front of future growth and explore what options are available to meet the increasing need for dog parks. First, a service area analysis was used to identify which areas of the city had adequate access to existing dog parks and which areas would remain underserved even after the construction of the additional dog parks the city already plans to build. Determining which areas should be prioritized, and what innovative strategies could be used to meet the need for dog parks, would require a process that included input from the public, expertise from city of Raleigh staff and an analysis of geographic and demographic data.
The Method
Beginning in January 2018, city of Raleigh staff — a diverse group that included park managers, park planners, urban designers and animal control officers — designed the planning process. It would include a comprehensive community survey and an event-based public outreach strategy. Throughout the Dog Park Study, staff also worked with citizen volunteers on the Parks Committee of Raleigh's Parks, Recreation and Greenway Advisory Board (PRGAB) to design the community survey, shape the planning process, report on progress and provide a forum for public comment.
The Dog Park Study survey was designed to help the city understand who, why, where, when and how often people use Raleigh's dog parks. In addition to gathering public input about the types of amenities and design features they value, determining where the city should invest in building future dog parks was a core goal of the process. When asked how far they were willing to walk or drive to a dog park, most survey respondents said 5–10 minutes was a reasonable amount of time. This feedback was layered with data from other spatial factors, such as adoption records, concentrations of dog ownership and locations of dog-friendly apartments to identify those areas of the city that were likely to have the highest unmet need for dog parks.
Community outreach was organized around a series of dog-friendly special events hosted throughout the spring and summer, including five pop-up dog parks at various locations around downtown Raleigh. These pop-up dog parks were created using temporary fencing to convert underutilized spaces into a dog park for a day or weekend at a time. In addition to direct outreach at special events, opportunities to participate were advertised at existing dog parks and through geographically targeted social media ads to underrepresented areas of the city. Public input was primarily gathered through an online community survey and interactive public message boards on the Dog Park Study project website.
Over the course of the six-month public outreach process, more than 4,000 people attended the various dog-friendly pop-up events, 500 unique comments were captured through online message boards and more than 1,200 participants took the Dog Park Study survey. In September, following several months of public engagement, a Key Issues Report was published online along with focused questions addressing the most important and controversial issues that had come up during the process. The feedback gathered through this Key Issues survey was incorporated into a draft Dog Park Study report. In October, this draft plan was presented to the PRGAB in a public forum, with further discussions and final board recommendation anticipated in November. The final plan is expected to be presented to Raleigh's City Council in early December, wrapping up the year-long Dog Park Study process.
The Recommendations
By taking the time to engage city residents across multiple channels, Raleigh obtained the data necessary to inform future planning, design, delivery, operation and maintenance, and creation of policies for its public dog parks The Dog Park Study report provides a set of recommendations organized around five Key Issues: dog park access, policy, design, stewardship and options for a downtown dog park. These recommendations are accompanied by a menu of implementation strategies, acknowledging that meeting the growing demand for dog parks will require a mix of traditional dog park construction, expanded dog-friendly programs and special events, increased civic participation and partnerships between the city and private development community.
Several areas of community consensus also emerged from the Key Issues survey, including that participants were against requiring memberships for dog park access and wanted to maintain the current dog park policy, which stipulates that "dogs are only allowed off-leash in Raleigh's public parks if they are within the secure, fenced area of designated dog parks." Read the entire study, including the Appendices that contain dog park design guidelines and a pop-up dog park handbook.
"The Dog Park Study process had an incredible impact on how we view these facilities, and how they function as part of a complete park system," says T.J. McCourt, planning supervisor for the City of Raleigh Parks, Recreation and Cultural Resources Department. "We understand now how important they are — not just as places for dogs, but places for people.
"The most surprising finding to me was the number of people who told us dog parks are the only reason they visit our public parks," McCourt continues. "That tells me these facilities reach a segment of the community we would otherwise miss. For many people, dog parks provide a social value and community benefit that go far beyond simply 'areas for dogs to get exercise.'"
Conclusion
Dog parks are as much for people as they are for their pets. People are also a critical element in the success of any dog park system. Time and dedication on the part of volunteers, who help to "enforce rules, report incidents, stock bag dispensers, maintain and spread mulch, and take on many other essential tasks that keep our dog parks clean and safe," are crucial. Also crucial are donors who, through individual giving or corporate sponsorships, are willing to contribute to the establishment and maintenance of these facilities. As this study reveals, building a successful system of dog parks requires the investment of many players across various city departments, public-private entities and city residents.
Sonia Myrick is the Executive Editor for Parks & Recreation magazine.