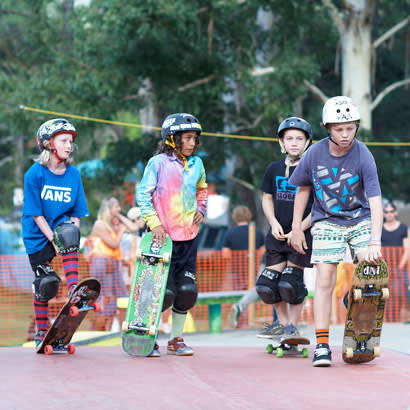 Skateboarding will make its debut at the Summer Olympic Games in Tokyo in 2020. As a result, the sport is likely to see growth throughout the United States, so is your agency prepared? Here are three important points for park and recreation professionals to consider:
1. Skateparks are a win-win: they provide a safe space for skateboarders and help protect property of local government and businesses.
2. Skateparks promote an active lifestyle, no matter the age.
3. Well-designed skateparks can provide an economic benefit.
A Safe Haven
In a September 2013 article in the Richmond Times Dispatch, then-mayor of Richmond, Dwight C. Jones, is quoted as saying, "If your town doesn't have a skatepark, it is one."
Since the 1970s, skateboarding has been gaining in popularity, and municipalities have seen many benefits to providing safe, designated skateparks to protect skateboarders, as well as concrete surfaces and public property. Most skateboarding injuries/falls occur because of surface irregularities and collisions with motor vehicles or pedestrians. If no park is available, skateboarders tend to use whatever structures are available to them, even if there are "no skateboarding allowed" signs posted. Having a designated space for skating activities not only provides a safer environment for skaters, but also is the best way to curb any unlawful activities or behavior. According to the Tony Hawk Foundation: "Nuisance skateboarding is simply a reflection of an unmet recreational need."
Mark Cagle, Youth Center supervisor for the city of Cape Coral, Florida, manages Eagle Skate Park, where helmets and parental/legal guardian consent are required prior to admission. The park offers extreme fun for skateboards, scooters and bike enthusiasts. "Since renovating the park and reopening in December 2017, our attendance has more than doubled," Cagle shares. "We have 50+ participants daily during the week and 100 (full capacity) on the weekends." The park is now meeting the need of the community.
Promotes an Active Lifestyle
At a time when youth are encouraged to get outside and be active, skateparks offer a fun and exciting destination. Whether participants are on skateboards, scooters or BMX bikes, skateparks provide a great cardio workout. But, skateboarding is not just for kids. Cagle says, "All ages are welcome. Our users include elementary, middle and high schoolers, as well as college students and adult skaters up into their 50s."
Skateparks may conjure an image of a youth skating by doing dangerous tricks, but as freelance writer Jeff Ihaza points out in his recently published New York Times article, "Skateboarders Won," "Aging Gen Xers grew up alongside skateboarding's ascent in popular culture, from Bart Simpson plonking down onto the roof of the family car in the opening sequence of 'The Simpsons' to blockbuster video game franchises like Tony Hawk's Pro Skater. Skateboarding is no longer something people fear. The skate punk of the late 1980s is now a suburban dad."
The mission of the Tony Hawk Foundation is to foster lasting improvements in society with an emphasis on supporting youth in low-income communities through skateboarding programs and the creation of skateparks. On its website, it states: "Skateparks draw visitors of all ages, from all walks of life. The skatepark becomes a terrific place to find people with similar interests, and most lifelong skateboarders have great friends that they met while skateboarding. In skateparks we see parents skating with their kids, young people offering tips to older folks, poor folks skating with wealthy folks, and so on. Skateparks are where people go to have fun and challenge themselves in a safe, appropriate environment…with their friends and within their community."
An Economic Benefit
Eagle Skate Park in Cape Coral, Florida, was built in 2005, and after 10 years, the annual maintenance cost grew to $30,000–$40,000. By 2017, it was time to renovate, so when the capital project funding became available, the city worked with the American Ramp Company (ARC) on the design and renovation. The park now features nearly 27,000 square feet of ramps, rails and pipes. "ARC provided the perfect product and did a great job," Cagle says. "They even came to meet with the community, including the kids, to get their input." With the renovation, the park's annual maintenance cost is expected to be down to an estimated $4,000.
When it comes to other economic benefits, the Tony Hawk Foundation states: "We do not have any specific studies on the economic impact of skateparks on communities, but from the feedback we receive from municipal skatepark managers, skateparks do seem to have a positive effect on businesses in the surrounding area. When a skatepark opens, it tends to draw folks from the outlying communities to come bring their kids to the skatepark, do some shopping, maybe have lunch, buy some gas, etc. Skateparks attract patrons to local businesses who might not otherwise be in the area. Skateboarders are tenacious and will go wherever the compelling terrain is. While skateparks with high visibility and ample community interaction are healthier environments, skateparks in challenging locations can often serve to activate an otherwise underutilized space. Their presence displaces less desirable elements that require privacy and can be a steady presence for other visitors that may be reluctant to visit a desolate area."
Eagle Skate Park is supervised and costs $5 per six-hour session. The park hosts monthly competitions and summer camps and even has an afterschool program, where children can receive homework assistance and participate in group games. Cagle says, "In addition to increased attendance, it is great to see the participants share skatepark etiquette. If a young child comes through on a scooter, older participants will give them their turn as they would any other more experienced skater."
"Skateboarding requires bravery, discipline, learning strategies, goal-setting and grit, and skateparks are where that happens. What more would we want from a park?" says Peter Whitley, program director for the Tony Hawk Foundation.
Suzanne Nathan is NRPA's Media Specialist