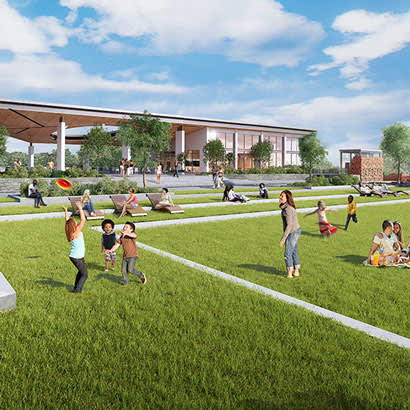 How Atlanta's Department of Parks and Recreation and community partners are transforming the city, one park at a time
Editor's Note: This is the first in a series of articles about parks transforming cities, towns and communities that will appear in future issues.
The city of Atlanta, Georgia, with a population of more than 472,000 people, will be breaking ground on approximately 20 projects throughout the city in 2018 and beyond. With a combination of public and private funding, Atlanta's Department of Parks and Recreation (DPR) aims to illustrate how these entities can work together to create parks and develop public lands that can, ultimately, transform Atlanta and the lives of its citizens.
The impetus behind these multiple projects throughout Atlanta stems from its own mission statement:
We are committed to building strong communities and a vibrant economy by providing safe and exceptional parks, facilities and programs through effective leadership, collaboration and innovative thinking.
What's more, DPR along with its community stakeholders pledge to transform Atlanta's green spaces into a world-class parks system, emphasizing social equity and conservation best practices in the city's master plan design.
Community Partnerships
Before any projects can move forward, however, the city relies on the support of multiple entities — including nonprofits, advocacy groups, park volunteers, conservancies and the community at large — to provide input and financial backing. For example, Park Pride, a nonprofit with an operating budget of $1.4 million has a matching grant program that provides about $1 million to communities for park improvement projects within its current service areas. "We work from a bottom-up approach," says Michael Halicki, executive director.
Through Park Pride's Park Visioning program, "we go into the communities and listen to what it is they would like to see in terms of their parks, and then help to give ideas and provide choices to those communities on how they might meet those needs," Halicki explains. In addition, the nonprofit helps to bridge potential communication gaps.
"Our advocacy efforts are more on the broader macro level — things like park maintenance and park access," Halicki says. "We will look at things that are more system-wide for our advocacy efforts, but when it comes down to the local level, we try to give the community the platform to advocate for [its] own interests."
The Trust for Public Land (TPL) is another nonprofit that works toward building public parks and green spaces, while helping to create healthy, livable communities for future generations. It accomplishes this by partnering with other organizations, as well as with the city of Atlanta. In fact, NRPA, TPL and the Urban Land Institute are leading a nationwide movement to ensure there's a great park within a 10-minute walk of every person, in every neighborhood, in every city across America.
The Master Plan
About 10 years ago, DPR was besieged by deep cuts to its rec programs, forcing all 33 recreation centers to close. When Kasim Reed first ran for Atlanta mayor in 2009, he pledged to transform abandoned neighborhood recreation centers into safe havens for children and their communities. And less than a year after taking office, Mayor Reed made good on that promise by reopening all 33 recreation centers. This laid the groundwork for the next phase of the plan: converting these facilities into Centers of Hope — state-of-the-art learning centers featuring comprehensive programming, enhanced facilities and expertly trained staff.
DPR has also concentrated on augmenting its public spaces by transforming them into a best-in-class parks system to create life-enriching cultural experiences for Atlanta's residents and visitors alike.
"I think our department has been gaining strength at least in the last four years," says Amy Phuong, Atlanta's Department of Parks and Recreation commissioner, who stepped into the role in January 2015 and is tasked with ensuring community stakeholders, including community leaders, council members and citizens, that "everything we said we were doing, we're doing as best as we [can] in meeting performance metrics." She adds that when she came onboard, part of her responsibilities included restructuring DPR and bringing it back on track — from keeping key projects on time and on budget to establishing best-in-class youth programs.
"Based on the true [merit] of our performance, it really gave all of our stakeholders the confidence that we were ready for these types of project investments," she explains. Other funding sources, according to the commissioner, became available through transportation tax revenue, as well as from Renew Atlanta — an infrastructure bond program — and because DPR achieved healthier fiscal reserves, the department leveraged more funding specific to parks.
However, "it didn't come without a lot of convincing and showing that we had been planning these types of projects for many years, and we were ready to take on that responsibility," Commissioner Phuong points out, "and actually, we are now getting the funding of what will be a multiyear implementation phase for these types of projects." For example, $48 million will go toward the first phase of the Grant Park Gateway Project, while $26.5 million will fund Phase One of the Westside Park Project.
In January 2018, the city of Atlanta welcomed a new administration led by Mayor Keisha Lance Bottoms. Among the mayor's chief priorities is driving conversation around social equity across all city departments. What's more, she was elected with a campaign goal of raising $1 billion in funding through both public and private sources to support affordable housing efforts and smart development. According to the commissioner, "Any new park space and existing programming that we are doing will have that in mind as we move forward." That also includes a commitment towards making sure every resident is within a 10-minute or half-a-mile walk to a public-space park.
Following are some of Atlanta's projects that are under construction or in the planning phase.
Grant Park Gateway Project
The parking deck project at Grant Park serves as a testament to eco-friendly, smart design. This $48 million project will comprise a 1,000-space parking structure, resembling more of a rooftop green space than a typical concrete edifice. Inspired by the aesthetic look of Klyde Warren Park in Dallas, Atlanta's parking deck will be partially embedded into a hillside. Its design will boast a green roof and a restaurant offering picturesque views of Atlanta's downtown skyline, while the inside of the deck will house bicycle parking, as well as a rainwater harvesting system for green-space irrigation. The parking structure will also become LEED/Park Smart Certified.
According to Commissioner Phuong, the project was dubbed, the Grant Park Gateway Project, "because we felt it would be the new, transformative way to enter both the Zoo Atlanta facility and Grant Park, which is our oldest traditional park." The pathway will expand further into the park, guiding visitors to a new plaza and neoclassical building that once featured the Cyclorama — a cylindrical panoramic painting depicting the 1864 Civil War Battle of Atlanta. The Grant Park Gateway Project is slated for completion sometime in 2019.
What's more, DPR has joined forces with Zoo Atlanta, along with other county and philanthropic partners, to transform the Cyclorama building into a multifunctional facility for hosting special events, as well as to enhance the zoo's amenities and introduce a new safari exhibit. Atlanta magazine reports that the Robert Woodruff Foundation has awarded Zoo Atlanta a $20 million grant for the renovation efforts, matching the zoo's own $20 million investment.
Westside Park at Bellwood Quarry
In September 2016, engineers began tunneling between the Chattahoochee River and Hemphill Water Treatment Plant in an effort to transform Bellwood Quarry into a 2-billion-gallon water reservoir. This $300 million project, according to Curbed Atlanta, will provide the city with a 30-day emergency water supply — an upgrade from its current three-day reserve. The city purchased the 100-year-old quarry back in 2006 and then the Trust for Public Land preserved a 10-acre property right at the entrance as an add-on to the site in December 2006.
However, the reservoir is just one of many projects in development along the Atlanta BeltLine, a 22-mile corridor of parks, trails and transit surrounding downtown. In January 2017, the city revealed plans for Phase One of Westside Park at Bellwood Quarry — a $26.5 million project that will feature scenic trails and pathways, connecting pedestrians to the Proctor Creek Greenway.
Commissioner Phuong says the entire park development will be done in phases that will take at least 10 years to complete. However, once Westside Park is finished, she contends it will "be the game changer for the city in our parks system." Its planned 300-acre green space will surpass Piedmont Park. "That's going to be our largest park once it's brought on line," she says.
Boone Park West
Also on Atlanta's Westside, completion is within reach on the Boone Park West project, a collaborative project between Park Pride, Chattahoochee Riverkeeper and The Conservation Fund. It will feature green infrastructure constructed to collect, clean and infiltrate about 37,500 cubic feet of stormwater runoff from the nearby streets, while creating a beautifully designed park for the community. In 2016, NRPA awarded Park Pride a Great Urban Parks Campaign grant, totaling $437,500, for the Boone Park West project. Atlanta's Department of Parks and Recreation and Department of Sustainability have also played a pivotal role in the project.
Andrew White, director of Park Visioning at Park Pride, says the project was conceived from the Proctor Creek North Avenue Study for Green Infrastructure (PNA Study) conducted in 2010. Park Pride "came into a historically underserved community on Atlanta's Westside with the idea of building a park, but then heard from residents that they're really interested in jobs and relief from this chronic flooding that has been plaguing the neighborhood, leading to further disinvestment and health issues in the community. And rather than move forward with plans to just build a park, we rolled up our sleeves and really took a hard look at what role we could play in addressing the challenges identified by the community," White explains.
Cook Park
Another project identified in the PNA Study is Cook Park, which TPL is leading. Located on Atlanta's Westside, "Cook Park is a 16-acre site where in 2002, 160 families were flooded out of their homes — and the land basically sat vacant after the city helped relocate those families," explains George Dusenbury, Georgia state director for TPL. Flooding remains a persistent problem for this community, which is also dealing with polluted runoff and sewer overflows.
In early 2018, TPL broke ground on the site where those homes once stood. The park design includes a playground, splashpad and basketball courts. Crews will also construct a 1.5-acre pond, which will, in combination with other sustainable elements, collect up to 10- million gallons of stormwater.
Dusenbury adds, "This is a collaboration between the City of Atlanta Department of Parks and Recreation, Department of Watershed Management, the Trust for Public Land and a nonprofit called, the National Monuments Foundation." What's more, the National Monuments Foundation will honor Civil Rights icons by adding statues and monuments of those individuals who lived or worked in the neighborhood.
"And what this park is going to do is it's going to help reduce and eliminate the flooding in that community by creating green infrastructure and incorporating that into the park," he says.
For the project, TPL raised $13 million, Atlanta's Department of Parks and Recreation put in $1 million, and the Department of Watershed Management pledged $22 million. "Our goal is to complete Phase One before the Super Bowl in February of 2019," Dusenbury notes.
Has the Cook Park project led to displacement of residents? "Thirty years ago, there were 50,000 people living in those communities around Cook Park. Today, there are 15,000 and so our goal is to retain those 15,000 people, who are already living there," says Dusenbury. He adds that TPL is addressing concerns about displacement by working with the Westside Future Fund, an organization that helps to revitalize communities by making investments that improve public safety, public schools and public spaces.
Piedmont Park
Considered the "crown jewel" of Atlanta's parks system, Piedmont Park is currently the city's largest park and is supported by Piedmont Park Conservancy, a private-public partnership.
Mark Banta, CEO and president of Piedmont Park Conservancy, says the organization raises approximately $3.2 million a year that goes toward maintenance and general upkeep of and programming in the park. Since 1989, "we have raised and invested $66 million in capital and physical improvements to the park and, basically, renovating all the existing structures in the park," he adds.
"I think both the Conservancy and the city recognize the importance of good, regular communications and interface so that we make the city look good for what they do in relationship to maintaining and taking care of this beautiful park," says Banta.
In December 2017, the city announced a $100 million expansion of Piedmont Park and the Atlanta Botanical Gardens, which includes the purchase of property located at the corner of Piedmont Road and Monroe Drive.
According to a statement by DPL: "The expansion project will include a connection to the Atlanta BeltLine, improved pedestrian trails and access to Piedmont Park, additional open green space and forested land."
Parks Make All the Difference
With all the projects concurrently underway throughout the city of Atlanta, it's clear that the Department of Parks and Recreation, community leaders, nonprofit partners and Atlantans have an important stake in all of it. Atlanta is creating a broad blueprint for how park development and revitalization can transform the city as a whole and make a dramatic impact on the lives of its inhabitants.
As Banta puts it: "I believe with every fiber in my being that parks and green space are the absolute keys to our survival as a society."
Vitisia Paynich is a California-based Freelance Writer for Parks and Recreation magazine.