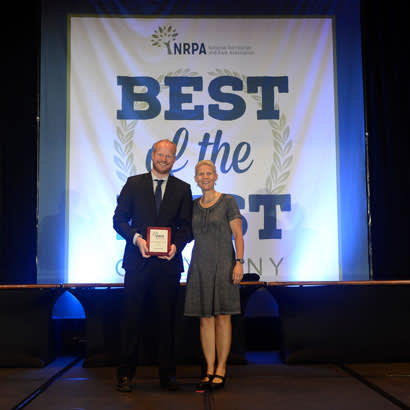 If you did not attend the 2017 Annual Conference in New Orleans, you missed out. NOLA was my third conference, and I think it was the best one I have been to yet. I attended interesting sessions, met lots of new people, and enjoyed the parks, facilities and culture of New Orleans. However, all those experiences almost did not happen. I was able to attend the conference as a Young Professional Fellow. Without that fellowship, I would have missed this amazing opportunity and the mentoring program.
The Application Process
Like many of you, I work in a modest-sized department. I am tasked with doing more with less, and all the other challenges we all seem to face in our daily lives as park and recreation professionals. My department has a training budget that allows for some great opportunities but only in-state. So, if I wanted to attend the NRPA conference, I would have to do so at my own expense. I attended the NRPA conferences in Las Vegas and St. Louis through a combination of volunteering at conference to help with my registration fee and getting some scholarships from my state association. During one of the monthly Young Professional Network conference calls, someone mentioned that the applications for the Young Professional Fellowship were available and they were encouraging people to apply. Following that call, I went online and saw what an incredible opportunity the fellowship offered. Travel, hotel, conference registration and a mentor program, all in one award.
The application is not something to be taken lightly. You are competing for one of four spots against other young professionals from across the nation. When completing the application, I focused on what the award would mean to me, how it would help my career and what set me apart from the crowd. There is a limit to how much you can write, so you need to tell your story while being direct.
I highlighted the things I have done well in my career, such as being involved in NRPA and the state association, local awards and achievements and major programs with which I have been involved. I also shared how I thought I could improve as a professional and gave examples of areas where I would like to expand my knowledge and how that would help me reach my career goals. In addition, I reached out to past fellowship winners to hear about their experiences and asked them to review what I was writing.
Receiving the Award
Receiving the "congratulations" email is one of the best feelings, and the NRPA awards staff is wonderful. Part of the award was being paired with a mentor, and my mentor, who has been very involved with NRPA for years, is very well-connected in the industry. He and I spoke many times leading up to the conference. He helped me plan my schedule and recommended meetings and sessions I should attend. While at conference, we met several times and shared stories and got to know each other better. I also got to know other fellows throughout the week. I've stayed in touch with many of the people I met while at conference.
As a fellowship winner, you get to attend and be recognized at the fellowship and scholarship breakfast and the "Best of the Best" ceremony during conference. Your name will be published in the Parks & Recreation magazine and conference publications, and you get to see your name on the big screen during the opening reception. At a city council meeting, my director recognized me and stated that I was a great representation of the staff who work in my city. Being a fellow is also a great addition to your résumé as you continue to advance in your career.
Do not be discouraged if you don't win your first year! There are only four spots, and you are competing against many talented young professionals. Many of the fellowship winners did not win the first year they applied, so the best advice I can give you is to keep applying and look for the areas of the application you can improve.
If you do not get selected your first year, use it as motivation to continue to improve as a professional. Get your CPRP, ask for more opportunities at work, get involved in your state association, volunteer to chair a committee and, most importantly, get involved in NRPA. The easiest way to do that is to join the NRPA Young Professional Network (YPN). Many of the people in the NRPA YPN are former fellowship winners and can share tips that can help you win the next year. The YPN has a variety of projects and initiatives that can use your help and give you a leg up on your application the following year.
At this point, I hope you are ready to apply for a fellowship for the 2018 Annual Conference in Indianapolis. The award application period is open now. Do not procrastinate. You need to work on your application and collect your letters of recommendation. Taking time to have a quality application will only increase your chances of joining the amazing group of young professional fellows. If you would like to hear more about my experience as a fellowship winner, how to get involved in the YPN or some advice on your application, feel free to reach out to me . Good luck with your application, and I look forward to seeing you in Indianapolis.
Kevin Witte, CPRP, is Recreation Supervisor for Mountlake Terrace Recreation & Parks.