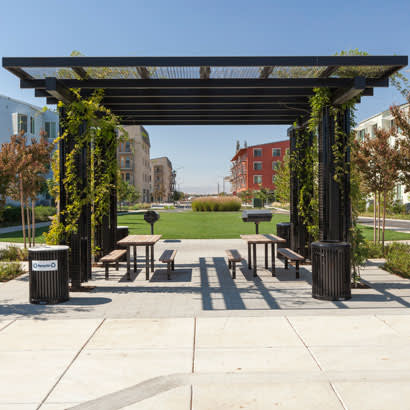 Open-air structures bring a community together. They provide protective areas for gatherings, entertainment and relaxing, define a space and welcome visitors with a visual cue that announces, "something happens here."
So, how do I attract people to my park and get them to stay and enjoy our facilities longer? As parks look for more unique and creative ways to make their site the go-to place for community recreation and events, these questions are top of mind. Whether you have a small park or an entire complex, there is one common factor — shade.
Shade allows visitors to stay outside longer, protected from harsh weather and overexposure to the sun, which increases the chances of various skin cancers. It keeps them cool and protects any equipment underneath from ultraviolet and weather damage. Shade is essential in parks, and can be created through many different types of structures and materials.
Today's pavilions go beyond the basic and traditional and can be designed and engineered for each specific site, starting with the ideas and needs of the park. Whether it's a large picnic pavilion or a small seating area along a walkway, agencies can customize shade structures that are as unique as their facility and community.
Amphitheaters can be an eye-catching first impression and central hub within a park for hosting public events, concerts and performances. Through ticket admission and fundraisers, the amphitheater can be a great resource to bring money back to a community and local charities. It can become a focal point within a park and make the park even more of a destination spot. With the ability to personalize a structure and increase site recognition with laser-cut medallions and signage, or by adding attachment points for temporary banners to identify sponsors and local events, the amphitheater can also serve a dual purpose as an advertisement for the park and its event. With the ever-increasing interest of online reviews, and social sharing, a unique structure can become a landmark to beckon others to the park.
Days at the athletic field can be long and hot in the summer. There, shade is important not only for the athletes, but also for the spectators. Open-air structures can be designed to coordinate throughout the entire complex, creating a uniformed look from the dugouts and bleacher covers to the concession areas, and providing comfort that entices people to stay, as well as to come back.
Outdoor facilities are gaining in popularity as people look for opportunities to forge a greater connection with nature. Farmer's markets can be developed for a permanent venue so merchants no longer have to transport tents. Parks are adding outdoor fitness areas with equipment and interactive games that need protection from the elements. Playgrounds and splash pads are incorporating shade to allow children to play longer without being overexposure to direct sunlight, while helping to keep the playground equipment from getting too hot. Even dog parks need a place for pets and owners alike to stop and take a break.
Open-air structures are more than just shade. They are wayfinding trellises and walkway covers that will guide visitors through your park. They are artistic expressions from landscape architects and designers. They are canopies and pavilions that bring family and friends together. Grab a paper and pencil to sketch out your next idea and start the process for a new destination in your community.
Some Things to Consider When Choosing a Shade Structure:
Don't overlook the details that give shelters their clean lines and long-lasting protection.
Keep maintenance minimal with precision-cut steel components that eliminate exposed bolts and remove the typical nesting locations for birds, preventing unsightly messes.
Look for a manufacturer that offers a variety of finish options to best fit your area and climate with superior durability.
Ask about options to incorporate wiring for lighting and security that can be concealed within the structure columns instead of in exposed, unsightly conduits. Also, ask about capabilities, such as steel gutters and downspouts that can be color matched to integrate with the frame color and design, inclusion of solar panels, factory-stained tongue & groove, and polycarbonate panels that can replace metal roofing to allow natural light to shine through.
Shade Structure Grant Program
The American Academy of Dermatology (AAD) Shade Structure Grant Program awards grants of up to $8,000 to public schools and nonprofit organizations for installing permanent shade structures for outdoor locations that are not protected from the sun, such as playgrounds, pools or recreation spaces. In addition to the grant, the AAD also provides a permanent sign for display near the shade structure.
The application window for this grant program will reopen in October 2018. Click here for FAQs about and application guidelines for the program and to access the online application.
Jennifer Graves is the Marketing Coordinator for Poligon