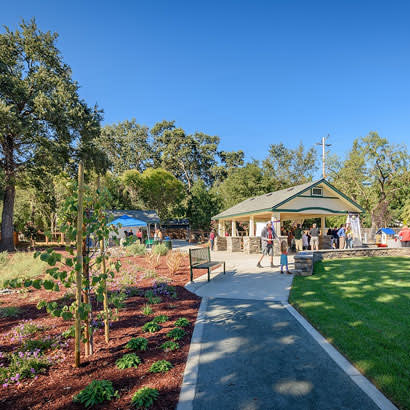 In the East Bay Region of California, parks are valuable additions to cities and neighborhoods, and each park will take on a special identity that relates to its unique cultural and historical characteristics. Through the suburb of Alamo, the Iron Horse Regional Trail bifurcates the community by way of a decommissioned railroad line. All told, this trail spans more than 27 miles, stretching south to north from Pleasanton to Concord, respectively.
Parks located along the trail serve as resting places, and Contra Costa County park officials wanted to add a new park in Alamo. At this park, the identity is linked to the Iron Horse Trail, specifically a Union Pacific Railroad station located near this site in the 19th century. The original train station was named after Hemme Avenue and the family owned ranch that bore the same name. The County chose to preserve this heritage in the new park by naming it Hemme Station Park and by including aesthetic and design features that would pay tribute to the old rail line.
The primary use for this park will be as a point for rest, hydration and getting out of the elements by way of a new pavilion. For Contra Costa County, it was important for the new park to include a pavilion that met its unique criteria for design to resemble a 19th-century train station. Adding a pavilion, shelter or shade structure, while also emphasizing the aesthetics of the structure, has many benefits for a new park. Pavilions and shelters create more recreation opportunities for visitors at the park, and a cohesive theme gives the new park a distinctive identity that is characteristic of parks in Contra Costa County and the East Bay Region.
Hemme Station Park had a great background for establishing a theme for the park design, and the county hired Stantec Architecture to provide landscape architect services to bring its vision to life. The park design was to create both an emblematic and literal station that would only be accessible by foot or by bike, directly from the Iron Horse Trail. Without any parking provided, the park was fenced off in the design so the only point of access was from the trail system. This design also included bordered landscaping to mitigate stormwater and called for replacing unhealthy trees that were removed prior to construction.
The approved plans also met the county specification for a restroom and a shade structure on-site. In this case, both structures included design features that would match the other, and the shade structure was designed as a structural pavilion. The Hemme Station Park design also included a playground with a train-engine-shaped play structure. The central feature of the design, both in terms of location and thematic importance, was the pavilion. On this project, the pavilion was designed and supplied by Romtec, Inc. This was the largest structure in the design, and it needed to represent the visage of a train station.
To create the right aesthetic, the design included scalloped siding, small windows and accenting trim pieces along the gable ends. The pavilion columns were tapered with the corners, including double columns. A trussed roof was finished with a tongue-and-groove decking to create a finished ceiling. These features on the pavilion and the restroom recollect Victorian elements with modern simplicity to create the train-station aesthetic. A great design was important to make this a successful park project and including the right features was also an important requirement. Suarez & Munoz Construction won the bid for Contra Costa County to complete the Hemme Station Park.
Parks can include many types of features, but, typically, it is not possible to include every feature into a single park. It is hard to do better than adding a pavilion to improve a new park. Pavilions, shelters and shade structures are common features found across the county, and their impact on park use is overwhelmingly positive.
A previous study, published in the American Journal of Public Health, lists pavilions as one of 15 park features where it was common for physical activity to take place. A separate study, published in Health & Place, has aesthetics among five park attributes that quantitative research shows encourage park use. Taken together, attractive pavilion structures are great features that appeal to active park visitors. For the Hemme Station Park, the new pavilion provides an added benefit. Bikers, joggers, walkers and other users of the nearby trail are afforded a comfortable and scenic place to cool down, relax and hydrate.
Creating a valuable community park takes high levels of planning, choosing the right partners and executing a consistent vision. If each step is handled appropriately, completed projects, like the Hemme Station Park, are a benefit to any area. Pavilions can be utilitarian in their implementation, but incorporating themes and desired aesthetics can elevate the identity of a park to increase the activity and engagement of its visitors. In this region of California, parks are very valuable in terms of the investment and of their significance. Successful projects, like Hemme Station Park, are special, even in a region where they are commonplace.
William J. Burt is the Marketing Manager for Romtec