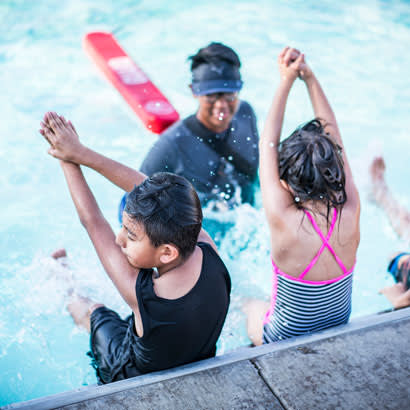 It's been said swimming is the only sport that can save your life. With the help of essential partners, the City of Phoenix Parks and Recreation Department is making sure its residents have the opportunity to learn how to swim. From Memorial Day through the end of August, the community will be offering more than 18,000 swimming lessons, for children through adults, at 29 pools.
Standard swimming lessons consist of eight classes over a two-week period for $15. However, thanks in part to a partnership with Salt River Project (SRP), a utility company that provides electric and water services in the Phoenix metropolitan area, some lessons offered during June and July are just $3. SRP, which maintains 131 canals in the area, funds the remaining $12.
Juana Hernandez, community outreach representative for SRP, states: "We work closely with Phoenix Parks and Rec on ways to communicate all kinds of water safety, including swimming lessons, hosting educational events at pools and providing lifejackets." The partnership with City of Phoenix began nearly 15 years ago and continues to evolve to meet the needs of educating the community about the importance of water safety.
Becky Hulett, aquatics supervisor for the City of Phoenix Parks and Recreation, agrees: "Teaching a respect and understanding of water is key to educating water safety. Lessons begin with children having to ask to get into the pool so they learn to wait for an adult."
Discounted swimming lessons are determined by location, not participant. Phoenix Parks and Recreation looks at areas serviced by SRP where the need is high. When school begins the first week of August, discounted lessons will continue to be offered at 11 pools through the end of the month, thanks to funding provided by the Arizona Diamondbacks.
"Water-safety education is working, kids are learning to swim," says Hulett. "We would like to make learning to swim as much a part of growing up as learning to ride a bike. We will never know the number of lives the program saves: we can just continue to educate."
Suzanne Nathan is NRPA's Media Specialist