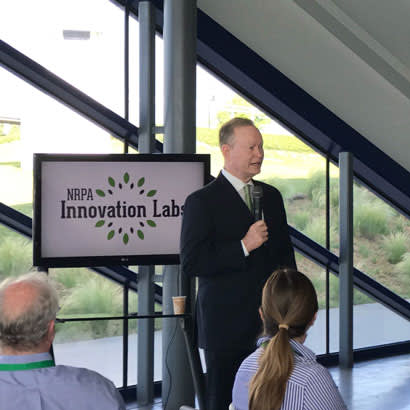 During the mid-20th century, Oklahoma City was heralded as an oil-producing boomtown. However, the city's once-thriving economy suffered the impact of the 1970s' energy crisis, which caused an oil surplus during the 1980s. It was an era that NRPA Innovation Lab speaker and former Oklahoma City Mayor Mick Cornett, describes as "the Great Depression in Oklahoma." Not only did the oil bust force the closure of 200 banks, but it also left the commercial real estate market in turmoil.
Fast forward to today, and OKC, as it's affectionately known, is experiencing a rebirth. It was here, back in May, that NRPA — together with the Oklahoma City Parks and Recreation Department — convened its 10th Innovation Lab, which brought together leaders inside and outside of parks and recreation to explore how the field impacts regional economic competitiveness and quality of life. On the first day of this three-day event, Cornett and Jim Couch, the current city manager, shared the story of that rebirth, which includes the creation of the Metropolitan Area Projects (MAPS). Couch, the longest-serving city manager, worked behind the scenes to make sure projects got done.
What Is MAPS?
MAPS was a $350 million sales tax initiative to fund the revitalization of Oklahoma City's downtown area, which included improving the city's national image, developing an area of empty warehouses, as well as providing new and upgraded cultural, sports, entertainment, convention and park and recreation facilities. The original MAPS project, a massive urban redevelopment initiative of then-Mayor Ron Norick, passed in December 1993.
As a voter-approved penny tax, MAPS was a gamble — albeit a relatively conservatively funded one. It adhered to a debt-free financing structure, prohibiting projects from starting until they were paid for by generated tax revenue. "We weren't going to borrow any money, because that's what we promised the voters," says Couch. This structure, however, meant that an already economically depressed community had to foot the bill for a series of projects that weren't to be tangible for several years. According to Couch, the city "oversold it, and there was angst."
Then, on April 19, 1995, terror struck the Midwest with the Oklahoma City bombing. "The same generation that had been through such economic wear, had the largest incident of domestic terrorism in the country's history at that time," recalls Cornett. As devastating as the attack was, it had a unifying effect on the city. As he describes it, "The citizens of the city wrapped hands and dared the world to pull them apart. And then, the MAPS projects started opening and there was a huge emotional surge."
Throughout the late 1990s and 2000s, the first generation of MAPS projects, or MAPS-1, began and included an Oklahoma City Parks and Recreation-managed canal in the Bricktown neighborhood, renovation of the Civic Center Music Hall, a waterway restoration of the Oklahoma River and the expansion of the convention center. Among MAPS' earlier achievements was the unveiling of a new ballpark for the Minor League Oklahoma City Dodgers in April 1998. Thus, the city's economy began turning around.
MAPS-1 was eventually followed by an education-focused MAPS for Kids, or MAPS-2, that passed in 2001. This $700 million project served as a catalyst for the city by refurbishing the inner-city school system and investing in the revitalization of 75 neighborhoods. In 2003, MAPS-3 passed, focusing on quality-of-life improvements, such as parks and recreation.
Sustainability Is Key
Innovation Lab attendees had an opportunity to explore the city, where the success of MAPS is evident throughout. They took a water-taxi tour of the Bricktown Canal and a boat tour of the Oklahoma River. Even on a quiet spring day, tourists and locals alike filled the pathways and restaurants along the canal in an area that used to be completely abandoned.
The second day of the Innovation Lab wrapped up with a panel discussion of Oklahoma business leaders appropriately set in the stunning Hall of Mirrors in the MAPS-revitalized Civic Center Music Hall. The panelists — Nancy Anthony, executive director, Oklahoma City Community Foundation; David Rainbolt, executive chairman, Bancfirst; Roy Williams, CEO, Greater Oklahoma City Chamber of Commerce; and Tom McDaniel, president, American Fidelity Foundation — agreed that the business community has a vested interest in the Oklahoma City community and a vision for what the city should be. When they support the city's work in tax initiatives, they, according to Roy Williams, ask, "You can find a lot of ways to spend your money, but will the project transform the community? And, will the voters vote for it?"
Sustainability is also key to Oklahoma City business leaders. With the sales tax being the primary means of supporting the city's general fund, and, therefore, the operating budget of city agencies such as Oklahoma City Parks and Recreation, initiatives, like MAPS, that increase the sales tax and create new projects, can seem unsustainable. "We're not the healthiest place in the world here in OKC — we need to provide more places for community members to get healthier. We can pass bond issues, but operating money is tough. How do we get people into the parks?" asks Oklahoma City Community Foundation's Anthony. She contends that when parks are not nice, people don't want to pay for them. Furthermore, parks must sustain themselves.
The Role of Parks & Recreation
The next morning of the Innovation Lab, attendees gathered at the MAPS-3-funded Riversport Center, a world-class rowing, kayaking and whitewater rafting facility located along the Oklahoma River in the Boathouse District. First, they heard from Terry Clower, Ph.D., deputy director of the Center for Regional Analysis at George Mason University in Virginia, who shared how parks can make the case for quality of life. Dr. Clower and Dr. Mark White, who collaborated with NRPA on its 2015 and 2018 studies on the economic impact of local parks, stressed the following for park and recreation agencies: "Don't be afraid to shamelessly promote yourself! Find metrics and anecdotes to back your agency's story."
The event's final panel focused on community perspectives on business retention and attraction and featured Jessica Heer, senior vice president of talent attraction for "Say Yes to Dallas"; Michael Clark, director of Roanoke Parks and Recreation; Pete Eshelmen, director of outdoor branding for the Roanoke Regional Partnership; and Andy Shapiro, corporate location advisory expert and managing director for Biggins Lacy Shapiro & Co. During this engaging discussion, they revealed what motivates people and businesses to move to a city, and how park and recreation agencies can play a part in attracting talent and economic opportunity.
Eshelman and Clark of Roanoke, Virginia, shared their experiences in drawing businesses to a city that, as they admitted, many had never heard of or thought was the abandoned North Carolina settlement from colonial days. In Roanoke, a city in the Blue Ridge Mountains of southwestern Virginia, parks and recreation plays a vital role in the economic development of the city and is an asset for business attraction and retention for outdoor-minded businesses. "Rivers and trails are more than just water and dirt — when you give them a little bit of support, they can be economic drivers," says Eshelman. He adds that it's about more than just tourism; it's about changing the way every citizen views Roanoke.
Heer of "Say Yes to Dallas," a campaign to bring businesses and new residents to Dallas, and Shapiro, a corporate location advisory expert, brought a perspective from outside parks and recreation: factors like affordability, family and schools do play a more important role in drawing businesses and new residents. However, as Shapiro points out: "Parks and recreation are among the few location variables that local or regional government can control."
Access some of the insights shared during the Oklahoma City Innovation Lab on "How Communities Can Attract Businesses: Parks Making the Case for Quality of Life,"
Jayni Rasmussen is NRPA's Advocacy and Outreach Manager.