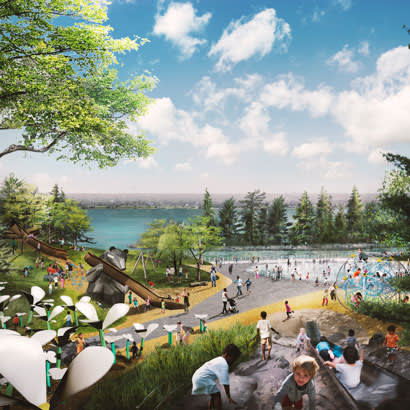 How community activists, nonprofits, crowdfunding partners, and state and city park and recreation agencies are taking back their city
In June 2011, Michigan Radio asked its listeners to sum up Detroit in one sentence. One listener, Mohammed Fahad, described the city as "a book that has a battered cover but pages full of great words," a sentiment likely shared by his fellow Detroiters. These are people who have remained loyal to the city despite years of economic turmoil triggered by residential foreclosures, commercial disinvestment, severe unemployment, a declining population and subsequent bankruptcy.
It's that unwavering devotion and genuine love for their hometown that have inspired neighborhood activists, corporations and nonprofits to collaborate with state and city park and recreation agencies, as well as crowdfunding partners to not only help restore and preserve Detroit's history, but to breathe new life into this riverfront metropolis.
As part of its ongoing series on parks transforming cities, towns and communities, Parks & Recreation highlights some of the projects that are helping to revitalize Detroit and stimulate its economy.
Outdoor Adventure Center
On July 20, 2015, the Michigan Department of Natural Resources (DNR) opened the Outdoor Adventure Center (OAC) to the public as part of the Detroit riverfront's ongoing restoration efforts. Located along the East Riverfront across from the William G. Milliken State Park and Harbor, the Outdoor Adventure Center encompasses a three-story, 41,000-square-foot facility that was converted from the historic Globe Building.
The experiential center boasts a 36-foot indoor waterfall, 3,000-gallon freshwater aquarium, 40-foot-tall interactive tree, as well as all-terrain vehicle, bicycle, kayak, canoe and fishing-boat simulators. OAC also offers programs for school group activities.
The OAC project totaled $17.8 million, with $12.8 million in renovation costs and $5 million for exhibits. According to Ron Olson, chief of parks and recreation at the DNR, the redevelopment process was made possible by grant funding from the Michigan Natural Resources Trust Fund — along with assistance from the Detroit Economic Growth Development Corporation, which purchased the old industrial complex and then sold it to the developer for $1.
Olson explains that the DNR committed funds to the project with the plan to "buy the land from the developer as a turnkey [property] to create the vision" of an "Up North, Downtown" experience for Detroit residents and visitors. During its first year of operation, OAC welcomed 100,000 visitors.
The Detroit Riverfront
The Detroit RiverFront Conservancy (DRFC) is just one of many nonprofits to partner with the DNR on various projects along the waterfront. "We have seen a significant amount of economic development that has been stimulated by the transformation of the riverfront and the construction of the Detroit RiverWalk. And, that is a part of Detroit's comeback," notes Mark Wallace, president and CEO of the DRFC. "The tax base and the jobs created are very important to supporting the sustainability of our city as an ongoing enterprise."
Accessibility is key to these projects both on the east and west side of the river. Wallace describes the East Riverfront as a 3.5-mile promenade punctuated by a series of parks, which are great places for community members of all ages to gather and enjoy the outdoors. About a half-mile walkway separates these parks, which translates to a 5- to 10-minute walk from one park plaza to another.
"One of the gaps remaining along our 3.5-mile stretch of East Riverfront is a project we are currently working on called Atwater Beach," says Wallace. "Atwater Beach came out of a community engagement process with residents and stakeholders." In 2017, The Gannett | USA Today Network's program, called "A Community Thrives," awarded a $50,000 grant to help the Conservancy transform the former buoy storage site into a beach and playground. That grant led the way for other philanthropic support from the Knight Cities Challenge, the William C. Davidson, Jr. Foundation and others. Atwater Beach is slated to open in spring 2019. Near Atwater Beach, the Conservancy is working with the city of Detroit to provide a bike and pedestrian path to the riverfront called the Joseph Campau Greenway.
On the West Riverfront, construction is nearly underway on another project. "We have recently announced the winner of an international design competition for the 22-acre site, which is called West Riverfront Park," notes Wallace. Michael Van Valkenburgh Associates will design West Riverfront Park. What's more, the DRFC is close to constructing a boardwalk through an existing marina that connects the existing RiverWalk to West Riverfront Park. Wallace adds: "This is going to be a really important place for the local community and for the city of Detroit. Those residents can walk and bike to the park and folks throughout southeast Michigan can come to explore Detroit."
Given the myriad projects under construction around the riverfront, partnerships are crucial to the DRFC's funding. "The Conservancy has been blessed to have remarkable partners — from the execution end and from the funding side," Wallace says. "The state DNR Trust Fund has been very generous to us and very supportive of our work. All told, we've raised $170 million, and almost all of that is through individuals' philanthropic efforts and corporate giving."
Log Cabin in Palmer Park
Palmer Park is a 296-acre park that was designed by landscaped architects Frederick Law Olmsted and Charles Eliot during the late 1800s and donated to the city in the 1890s by U.S. Senator Thomas Palmer and his wife, Lizzie.
During the 2000s, however, Detroit was saddled with mounting debt and constricted budgets, forcing the city to announce the closure of the historic Palmer Park in 2009. This didn't sit well with the neighborhood.
"There was protest and a group of people got together and said, 'You can't close our park! It's too important!'' recalls Barbara Barefield, board member of People for Palmer Park. "We realized that you can't just have protests; you have to have a sustainable organization to pull the community together, to get volunteers and funding, and to work with the city to make the park work." This prompted a group of community activists to form the People for Palmer Park (PFPP), a nonprofit entity with a mission "to further the preservation, revitalization and viability of Palmer Park."
In June 2016, the city committed $400,000 to stabilize and restore Palmer Park's Log Cabin, with its rustic exterior and unique Victorian-style interior that was built in 1887 as the Palmers' summer retreat. Some of the repair work included abatement, interior cleanup, foundation repairs, along with a new porch and cedar-shingle roof. People for Palmer Park then turned to Patronicity, a crowdfunding platform, to launch the "Light Up the Cabin" campaign to raise $25,000 in matching funds to repair all the stained-glass windows in the log cabin.
On October 30, 2016, PFPP achieved its $25,000 goal, and since then, all the stained glass windows in the structure have been repaired.
Neighborhood Parks
In January 2017, the Detroit City Council approved the 2017 Parks and Recreation Improvement Plan — something community members had waited years to see. "As part of the first phase of our plan, we had a strategy for making full-capital renovations to 40 neighborhood parks," says Meagan Elliott, chief parks planner for the Detroit Parks & Recreation Department. "We wanted to start off by doing some meaningful implementation where residents could see a big impact quickly, focusing on neighborhood parks with acreage between 1 and 5.5 acres for all those 40 parks."
According to Elliott, this was an effort to rebuild trust among residents, who had been the stewards of many of these parks for such a long time. To make this happen, Detroit Mayor Mike Duggan dedicated $12 million in unspent bond funds toward the 40 parks initiative. Elliott says, "That was significant because it was really the first time, in a very long time, that we had a significant amount of city capital going toward quality-of-life improvements in neighborhoods all over the city."
In addition, Detroit Parks & Recreation has a $67 million budget spread out over the next three years that will go toward the park capital improvement strategy, as specified in the Parks and Recreation Improvement Plan, and toward 10 catalytic parks, which is part of a coordinated strategy called the Strategic Neighborhood Fund. This initiative emphasizes neighborhood growth and inclusion in 10 large areas of Detroit.
As Elliott points out: "The breakdown of funding is different for the entire Strategic Neighborhood Fund strategy, but for parks purposes, it's a $24 million commitment over three years from the city." She adds that, although it's not confirmed, the park agency will apply for $8.5 million in state funding, with an additional $34.5 million in philanthropic fundraising. "It amounts to a very complicated spreadsheet, but we are getting creative when it comes to finding resources to make great public spaces for our city," she explains.
One park revitalization project that just finished is Ella Fitzgerald Park, which features a basketball court, green space and greenway path, picnic/barbecue area, playground and a bike repair station. The new 2.5-acre park also boasts a multipurpose field. The vision for the project was "to transform a quarter-square-mile area by removing blighted structures, beautifying vacant lots and creating homes for new residents, which will contribute to stabilization, increased property values, and improved quality of life."
Elliott is particularly fond of the Gateway Parks Project. "Anytime a park is up for a full-capital renovation, we evaluate the edges of the park thoroughly," she says. "And oftentimes, there will be an abandoned house or a vacant lot adjacent to the park. Part of the park improvement process is to work with our land bank to take ownership of those lots. That way, rather than vacant areas being something that keeps residents from using the park, it is transformed into a new point of access that enhances the space and the neighborhood around it."
Sustainable Thinking
As the city continues to rebound, some Detroiters are doing their part to give back to the community. Such is the case with the Veterans Green Village, a sustainable housing and business incubator.
Gordon Soderberg, the program's director and founder, partnered with Blight Busters Detroit to start an urban farm on the corner of Burgess and Orchard Street. He says the veteran component is geared toward veterans who want "to learn how to produce their own food on a commercial scale," but to create a farm small enough that one person can maintain it. The Veterans Green Village relies on Research Detroit as a crowdfunding source to raise donations online.
Brightmoor Artisans Collective (BAC) is another grassroots organization that partners with local farmers to provide residents in underserved communities access to healthy, affordable food.
"We try to provide a lot of opportunities for distribution [and] accessibility to community members to come in and learn about all the produce that is available here, as well as how to grow it, how to prospect it and how to start businesses around it," explains Brittany Bradd, director and kitchen manager, Brightmoor Artisans Collective. There are four components to the organization's mission: (1) Artisans Café & Farmers' Market, (2) a commercial kitchen, (3) kitchen classroom and (4) community creation space. To solicit donations, BAC has partnered with Patronicity to spearhead crowdfunding efforts.
Inclusion and Accessibility
Anyone who's visited Detroit in the past few years no doubt has seen its resurgence. Through their community activism and philanthropic endeavors, Detroiters are not just helping to preserve their city's proud history, they are also helping to create more natural, inclusive and accessible public spaces that tell a more powerful story that says: We are Detroit and we welcome you!
Vitisia Paynich is a California-based Freelance Writer for Parks and Recreation magazine.