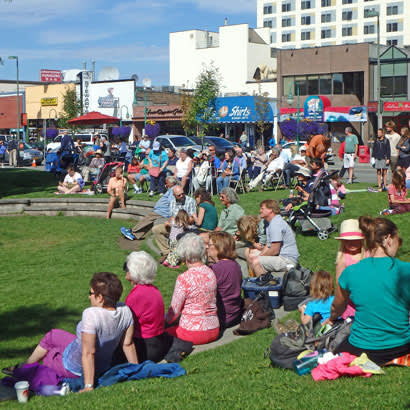 Everyone deserves a great park close to home. It was that belief that led the National Recreation and Park Association, The Trust for Public Land (TPL) and the Urban Land Institute (ULI) to launch the 10-Minute Walk campaign in October 2017. Since the campaign's launch, nearly 200 mayors have signed on, committing to improving park access and quality in their cities.
Since October, cities have been acting on this bold vision. In April 2018, NRPA announced the first 12 cities to participate in technical assistance for the 10-Minute Walk campaign. Led by their mayor's commitment, these cities demonstrate innovation and ingenuity through their approaches to create, connect, enhance and activate parks and open spaces. The first cohort of grantees represents a range of geographic diversity, city size, bipartisan municipal leadership and local partnership support. They are as follows:
Mayor Ethan Berkowitz (D), Anchorage, Alaska
(Population 300,000; 74 percent within a 10-minute walk)
In collaboration with the Anchorage Park Foundation, National Park Service and the Alaska Native Heritage Center, the Municipality of Anchorage is working to engage new and indigenous Alaskans in local parks. Anchorage Mayor Ethan Berkowitz says, "Parks improve our quality of life and community well-being. We are fortunate that Anchorage has 223 parks, and we're making sure that all residents can enjoy them." The city will focus its efforts on connecting residents to parks via trails and developing park programs that represent the community.
Mayor Steve Alder (D), Austin, Texas
(Population 964,000; 60 percent within a 10-minute walk)
The Texas capital is working to ensure that all residents have access to high-quality parks within a 5-minute walk inside the urban core of the city and a 10-minute walk outside the urban core. The city has incorporated the campaign's goals through its comprehensive plan, Imagine Austin, and will capitalize on this momentum to have publicly accessible, child-friendly parks close to home. "Parks help make our community healthier and improve the quality of life of our residents." says Mayor Steve Alder. "Austin is proud to continue our work to increase park access and quality for all in our city."
Mayor Francisco "Frank" Moran (D), Camden, New Jersey
(Population 77,000; 94 percent within a 10-minute walk)
As a post-industrial powerhouse subjected to decades of economic decline and an accompanying disinvestment in its park system, Camden is focusing its efforts on reinvigorating and growing its park system. The city is dedicated to investing in its existing parks through community-led design processes, unlocking its expansive waterfronts through the creation of riverfront parks and trails, activating its parks and closing the gap on park access. Mayor Francisco "Frank" Moran explains: "High-quality parks are a critical component of the social, environmental and economic health of Camden's neighborhoods. Through a dynamic collaboration of dedicated governmental, nonprofit, private-sector and community-based partners, Camden continues to build the park system that our residents deserve."
Mayor Andy Berke (D) Chattanooga, Tennessee
(Population 175,000; 36 percent within a 10-minute walk)
A city surrounded by natural beauty and outdoor recreation opportunities, Chattanooga is focusing its efforts on residents who do not have access to these great amenities. The city will be enhancing connections to parks through infrastructure improvements, such as improved sidewalks and bike lanes, along with new trails and greenways, and will develop a new Parks and Greenways Master Plan that highlights access and park equity. "Chattanooga is proud to be connecting all of our residents to local parks," says Mayor Andy Berke. "From greenways, playgrounds and splash pads, to hiking and biking trails, Chattanoogans should possess options for activities and community gatherings."
Mayor Ted Terry (D), Clarkston, Georgia
(Population 12,500; 71 percent within a 10-minute walk)
Clarkston Mayor Ted Terry states: "Clarkston is a diverse and vibrant small town that is home for residents from all corners of the world. Creating a park system that provides a welcoming environment for all residents is a key cornerstone of our goals of equity and inclusion." A small city known as "the most diverse square mile in America," Clarkston aims to connect community residents to local parks. By creating parks, enhancing existing trail networks, and strengthening walking and biking connections, the city will work to create a park system that is welcoming for all residents.
Mayor Bill Wells (R), El Cajon, California
(Population 102,000; 45 percent within a 10-minute walk)
In "The Valley of Opportunity," the city of El Cajon is dedicated to ensuring every citizen is within a 10-minute walk of a park. A city with a large immigrant and refugee population, El Cajon plans to acquire land and develop a financing plan to create pocket parks throughout the city and enhance connections to parks for all communities. Mayor Bill Wells says, "The city of El Cajon recognizes that parks make life better, and we are honored to be one of the first cities selected for such an invaluable grant that will set in motion plans to create parks within a 10-minute walk for all residents."
Mayor Lovely Warren (D), Rochester, New York
(Population 208,000; 78 percent within a 10-minute walk)
A grand city on the shores of a great lake, Rochester is committed to equitable park access. The city will focus on identifying barriers and gaps in connections to parks while enhancing public awareness and engaging communities in park programming. "Parks make neighborhoods more beautiful and offer wonderful recreational opportunities for children and families. Investing in recreation and fitness opportunities is important to foster healthy children and citizens of all ages. This grant will also help us in our efforts to create overall safer, more vibrant neighborhoods, more jobs and better educational opportunities for our residents," says Mayor Lovely Warren.
Mayor Rudy Durham (NP), Lewisville, Texas
(Population 104,780; 61 percent within a 10-minute walk)
A suburb of Dallas, Lewisville is making strides to have equitable 10-minute walk access to parks. "Ensuring each of our residents has easy access to our green centerpiece and park system via trails and pedestrian connections is identified as Big Moves in Lewisville 2025," says Mayor Rudy Durham. "We are proud to be a leader in the 10-Minute Walk to a Park campaign and look forward to working with NRPA, TPL, ULI and our community partners to bridge gaps of access for everyone." The city, which has a large population of immigrants and refugees, will be partnering with Chin Community Ministries, the Youth Action Council, Keep Lewisville Beautiful and neighborhoods to engage community members in assessing walkability and access to parks. It will also integrate 10-minute walk campaign goals into development guidelines, creating a lasting impact on the future of Lewisville.
Mayor Rosalynn Bliss (D), Grand Rapids, Michigan
(Population 193,000; 72 percent within a 10-minute walk)
In the growing city of Grand Rapids, local officials and community partners are working to erase disparities in historically underserved parts of the city while creating new public spaces that keep pace with current development. Mayor Rosalynn Bliss shares: "Parks play a critically important role in our community. This campaign complements the goal we have set as a community to ensure there is a park within walking distance of every child who lives in our city." By developing an equity-based prioritization plan for park acquisitions, maximizing public land, and identifying public and private funding mechanisms, Grand Rapids aims to have equitable park access for all residents.
Mayor Buddy Dyer (D), Orlando, Florida
(Population 259,000; 60 percent within a 10-minute walk)
Orlando is committed to a parks system grounded in inclusivity and equitable access. The fast growth of Orlando provides the opportunity to expand its network of multiuse trails, enhance connections to parks, and update development codes and policies to ensure park equity and quality. "Studies show city parks are good for health, social connection and the economy," explains Mayor Buddy Dyer. "As Orlando continues to grow, it's important for us to make a critical investment in parks and maintain quality green space for everyone. This grant will help us provide great parks within a 10-minute walk from home to more of our residents, no matter where they live," Dyer adds.
Mayor Noam Bramson (D), New Rochelle, New York
(Population 78,000; 91 percent within a 10-minute walk)
Located on the border of the most populous city in the United States, New Rochelle aims to build on its current walkability and recreation goals. "Our project goal will focus on reducing barriers to park access in underserved communities, improving environmental conditions and community health, and expanding access to nature," says Mayor Noam Bramson. The city is working to increase walking connections to parks and to create new parks and open space, making the city "ideally yours."
Mayor Allan Ekberg (I), Tukwila, Washington
(Population 20,000; 80 percent within a 10-minute walk)
A diverse and growing suburb of Seattle, Tukwila centers its 10-minute walk plans around engaging the community. "Parks play a critical role in the health and well-being of our communities," says Mayor Allan Ekberg. "In Tukwila, we are proud to engage with our diverse communities in connecting all our residents to quality local parks within a 10-minute walk from home." Through innovative community outreach with underrepresented and historically marginalized communities, the city aims to create new parks, enhance park programming and make lasting change in the well-being of its residents.
Each of these mayors has shown an understanding that parks and open space are essential components of healthy, resilient communities, economic development and thriving neighborhoods. At a time when parks are the penultimate budget priority, these mayors are championing investment in parks. Under the leadership of the mayors and through dedicated city staff and partners, these 12 cities and all 200 cities that have joined the campaign, will be making a difference in their communities by nurturing the bonds that connect everyone in the city. It's not too late to join this group of city leaders. Contact 10minutewalk@nrpa.org to join the campaign.
In addition, on October 10, 2018, these 12 cities will announce a specific and measurable commitment to the campaign, and we are inviting all cities that have signed on to submit their own commitment to be announced in October. Visit the 10-Minute Walk Campaign to learn how and to be recognized as a national leader in park access, equity and quality.
Jared Mummert is NRPA's Program Specialist.