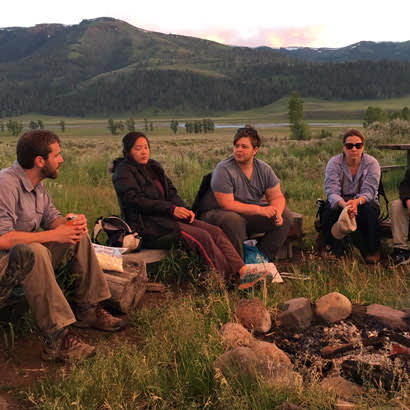 As Jodie Adams climbed a rolling hillside in Yellowstone National Park last summer, the late-June sun warmed wildflowers and sagebrush around her. She and her fellow hikers were part of the first-ever Lesbian, Gay, Bisexual, Transgender, Queer or Questioning (LGBTQ)-specific retreat organized by the park's nonprofit partner in education and fundraising, Yellowstone Forever. The program was deemed a resounding success by the participants, and, according to Stephen Abatiell, program manager for Yellowstone Forever field seminars, the organization promises to spearhead similar programming in the future. He, along with course instructors Hobie Hare and Kai West, initiated the idea and developed the itinerary.
The course couldn't have come at a better time. Nationwide, the National Park Service (NPS) is striving to welcome a new and increasingly diverse audience. It's an effort well-known to the National Recreation and Park Association (NRPA) — of which Adams, a former parks director, is a past president. NRPA's mission of improving communities with parks and recreation focuses on its three pillars: Health and Wellness, Social Equity and Conservation.
Health and Wellness
It comes as no surprise to nature educators like Hobie Hare that studies indicate time outdoors leads to better health and mental well-being. A 2015 research team at Stanford University found that time outside positively affects mood, increases memory, improves cognitive function and dampens anxiety in humans. Hare currently operates an independent nature connection and photography business and sees this firsthand in his clients. "Nature connection helps people focus, relax and remember what is important," he says, "and Yellowstone's an especially powerful, wild place for people to experience this."
Hare identifies as a gay man and prior to 2008, felt he couldn't be open with his sexual orientation while working in the field of nature connection. However, "beginning around 2008, I realized that I could totally do and be both, and it's great to have come full circle with Yellowstone Forever and offer this much-needed programming." When Abatiell approached Hare about the LGBTQ retreat, Hare saw a wonderful opportunity to bring his philosophy to the table.
Hare's background in outdoor education and program development made him a prime candidate to get the new retreat up and running. He, his co-instructor West and Abatiell worked hard to create and maintain a safe and supportive environment in which LGBTQ participants could experience Yellowstone. "With LGBTQ-focused retreats, participants don't have to hide who they are or whom they love from others they are just getting to know," Hare says. "They arrive and sense upfront that other participants will likely understand and support them, not only on their life journey, but throughout their time together in an outdoor setting."
Social Equity
Although the National Park Service doesn't track visitor demographics, a recent visitor-use survey found a measurable disconnect in who was, or wasn't, visiting national parks and why.
While ethnic minorities make up nearly 40 percent of the U.S. population, they constitute only 20 percent of park visitors, according to the survey. Survey participants cited cost, safety concerns and a sense of not belonging as reasons they may not visit national parks. LGBTQ visitors prove even harder to track, but the overriding sense among Abatiell and others is that LGBTQ percentages are similarly skewed.
With the U.S. Census Bureau projecting minorities will become the majority of U.S. citizens in the next 25 years, the NPS is recognizing change is needed for parks to remain relevant with an evolving population. Seemingly little things — gender-neutral bathrooms, mindful educators and organizations promoting belonging — make a big difference if you're LGBTQ and are ways to attract new faces. "We experience barriers that straight people might not see or be aware of, but just because they don't know what they are doesn't mean they don't exist," says West, who identifies as a queer and trans-masculine person. "When I am in a program that is specifically geared for LGBTQ people, I can feel more confident that my identities will be welcomed," he says. "As a facilitator, I can incorporate them to help create a deep, powerful and positive transformational experience."
Initiatives are underway nationally to narrow the gap: Pura Vida in Grand Teton National Park engages Latino youth, while Outdoor Afro focuses on African-American nature connection. In terms of LGBTQ, visitation efforts are ongoing. In 2014, the NPS introduced the LGBTQ Heritage Initiative, which recognizes locations and moments important to the LGBTQ community in the form of historic landmarks. In addition, nonprofits like Yellowstone Forever and organizations like Camp it Up!, a nature camp in California, provide outdoor opportunities specifically for LGBTQ families.
Conservation
For organizations like Yellowstone Forever, engaging new audiences in wild places is a guiding philosophy. "When people feel truly welcome and comfortable in a program like this, they'll connect with each other and with the landscape," Abatiell says. "That will make for a meaningful experience and, hopefully, for more engaged stewardship of the environment."
The NPS, in announcing the LGBTQ Heritage Initiative, gave credit to underrepresented populations for being essential to the national fabric — natural and otherwise. "Yellowstone National Park was created for the benefit and enjoyment of the people," says Morgan Warthin, the park's spokesperson. "As such, the National Park Service is a champion for relevancy, diversity and inclusion. Relevancy is achieved when all Americans are able to establish a personal connection to parks, and find meaning and value in the National Park Service mission. Diversity represents the wide range of visible and invisible differences and similarities that make each of us unique, and inclusion values diverse ideas and embraces the meaningful participation of all."
"However," the NPS notes, simply "increasing awareness of parks among non-visitors will not necessarily lead to increasing visits from these groups. Parks must still provide experiences that are relevant and desirable to those they are trying to attract." In other words, the NPS needs people to visit — and experience — national parks if they are to become stewards in public land preservation.
What's Ahead
Looking back on her most-recent Yellowstone experience, Adams believes she is also looking forward. "This is the type of programming needed for our society through our local, state and national parks," she says. "We only have so many of these one-of-a-kind, special ecosystems on this earth, so we need to treat them, and one another, with respect."
When Abatiell considers the future of public lands — and the future of organizations like Yellowstone Forever, NRPA and the NPS — he offers this insight: "I embrace the reality that public lands have not been equally accessible and programs have not been inclusively developed. If public lands are going to be relevant in the future, it will be because we have done the work of inclusion today."
Note: For more information on Yellowstone Forever and the 2018 Yellowstone LGBTQ Retreat, call 406.848.2400 or visit Yellowstone's website.
Chelsea DeWeese is a Field Instructor with Yellowstone Forever and a Gardiner, Montana-based Journalist.