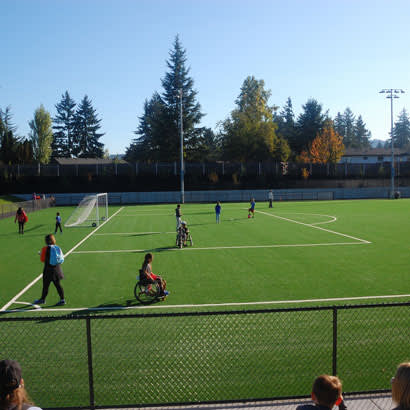 On October 14, 2017, nearly 3,000 people attended the grand opening of Mountain View Champions Park, a 21.5-acre athletic facility for people of all abilities. The facility includes side-by-side synthetic turf fields with lights and a specially cushioned field to accommodate wheelchairs and walkers; a natural-grass baseball field with a multipurpose outfield; extra-wide play structure ramps and paths; and a double slide built into the side of a hill that's accessible without having to climb stairs and that allows children to slide down without assistance.
Many in Greater Portland's diverse needs community see Mountain View as a model for all-abilities facilities. It's amazing to think that it all started with a modest watercolor sketch, rendered in 2002, of a baseball diamond. "The district was interested in developing more programming for athletes with disabilities," recalls Doug Menke, general manager for the Tualatin Hills Parks and Recreation District (THPRD), "and we saw that several baseball fields had been designed around the country. It was a known quantity, and there were none in Oregon at the time. As we looked closer, we realized that a baseball field alone might not best meet the needs of the community." The baseball idea became a universal use field.
Raising the Capital and Selecting a Site
In 2008, working with the Trust for Public Land (a nonprofit that works to build parks and put land in public ownership), THPRD mounted a bond measure campaign to expand its offering. The measure passed and $100 million was raised for parks, trails and natural areas. From those funds, $13 million was earmarked for a park that would have some level of design and programming for athletes with disabilities and other people in need of accommodations.
Where this park would be located and the shape it would take were open questions. Menke adds: "We wanted to locate the park so we could provide the most benefit to the community — both in terms of providing for underserved neighborhoods and populations and getting the most bang for the buck. It had become apparent to us that a 2- or 3-acre neighborhood park wasn't going to allow for the programming we were beginning to envision, so we focused on larger parcels and narrowed it down to three sites.
"In the end, we landed on a parcel adjacent to a middle school," Menke says. "This way, we could leverage part of their property — which made up almost half of the 21.5 acres — thus saving the public almost $9 million (as unimproved land in the region generally costs $800,000 an acre). As far as the school district was concerned, it was a win — we were going to invest significant money in their property, and we only wanted to use it in the evenings and weekends during the school year."
The site that was selected is in the unincorporated community of Aloha, on the southwest border of the city of Beaverton. The area was lacking in community and neighborhood parks; it's also home to one of Washington County's more demographically diverse populations.The location dovetailed perfectly with THPRD's new "Access for All" focus, a commitment to limiting barriers for all community members, whether those barriers relate to disabilities, cultural differences or socioeconomic challenges.
Enlisting Expert Input
As it began planning for Mountain View Champions Park, the district realized that its first challenge was in defining exactly what "Access for All" meant in relation to those with disabilities. "ADA compliance is mandated and the guidelines are well-defined," Menke says. "We wanted to go above and beyond those mandates, but we didn't know exactly what that would look like." To that end, THPRD decided to enlist the input of experts who serve people with disabilities and arranged a programmer's summit. "We invited all the agencies in Washington County and the Greater Portland area to solicit ideas and feedback," says Julie Rocha, Athletic Center Supervisor with THPRD who became the primary liaison with the disabled services community throughout the park's development. "We wanted to learn about the needs they'd identified for their clientele and the kinds of barriers they encountered."
Forty individuals from 20 organizations attended the programming summit, which was held at Providence Park, the home of the Portland Timbers MLS franchise and Portland Thorns NWSL franchise, and was sponsored by Providence Health & Services, a major healthcare provider in Oregon. Ten of those organizations — FACT Oregon; Independent Living Resources, Special Olympics of Oregon, Autism Society of Oregon, Top Soccer/Portland Timbers, Adventures Without Limits, Adaptive Sports Northwest, Adapt Training, the Beaverton School District and Edwards Center — ended up partnering with THPRD to help plan Mountain View and continue to assist with all abilities programming for the district.
"We went to Providence to see if they'd be willing to become involved with the park project," explains Geoff Roach, director of community partnerships for THPRD. "Their participation brought immediate credibility to our outreach to those in the disability community. It would also prove beneficial when it came time to raise funds."
"For Providence — and for me on a personal level — the Mountain View Champions Park was a great philanthropic fit," explains Janice Burger, CEO of Providence St. Vincent Medical Center, one of the larger hospitals in the Providence system that's situated near the border of Portland and Beaverton. "Providence is a large provider of health services to children, including Oregon's only long-term care facility dedicated to children with severe developmental disabilities [the Center for Medically Fragile Children, part of Providence Children Center]. We have a special mission to serve children with special needs."
Given the trends in today's healthcare climate, supporting Mountain View also made sense for Providence. "Healthcare providers are becoming more accountable for the total health of the population they serve," Burger adds. "It's not just about the delivery of clinical services. It's finding ways to prevent people from getting sick. Facilitating ways for people to get exercise, as Mountain View does, is very consistent with this notion."
The Timbers also recognized the merits of Mountain View and the synergies inherent in supporting the park's development. "We've enjoyed a terrific partnership with the park district and have been very involved with TOPSoccer [a soccer program designed to meet the needs of players with diverse abilities], understanding that people with disabilities need a place to play," says Todd Spear, senior vice president for corporate sponsorships for the Portland Timbers and Portland Thorns FC. "Supporting Mountain View was very much in line with the mission of our "Stand Together" program, which strives to harness the power of sports to improve the lives of children and families through targeted programs, deep partnerships and philanthropic giving."
"People in my position had not been approached before about requirements for people with disabilities when it came to park development," says Kandice Vinson, director of therapy at ADAPT Training in Beaverton. "THPRD not only wanted our input, but wanted to make sure that input from our clients — many of whom are wheelchair users — was taken into consideration. They really were interested in a park that all could access, and in making everyone feel involved. The input we provided in the planning process was being applied to the finished product. It's been exciting to see the features we suggested being incorporated."
Orchestrating a Capital Campaign
After the initial programming summit, several design charrettes were held to further refine the shape the park should take. At this point, Menke and his team determined that additional funds would be necessary. "We asked the professionals serving the disability community what they needed in a park, and they told us," Menke says: "A field that could manage the impact of a heavy wheelchair, for example; sidewalks that are wide enough for wheelchairs to pass each other, very gradual inclines to the playing areas to facilitate entry for people of all mobility levels. Tactile features for visually impaired people. We were already using a great deal of public money for the park [$13 million from the 2008 bond measure]. When we decided to go beyond the mandated ADA requirements, we'd have to go and find more money." One-and-a-half-million dollars, to be exact.
THPRD took a strategic approach to its outreach to the larger community, slowly building a coalition of strong, engaged supporters. Using the excitement the design charrettes generated, THPRD first sought to consolidate financial support from other relevant public agencies. "Washington County [where Aloha is situated] was the first outside group to give us money," recalls Roach. "Then, we were able to bring in the state of Oregon." With key government partners committed to help — and with six-figure commitments from both Providence and the Timbers/Thorns organization — the district was ready to engage foundations, corporations and individuals in the region.
"Once we could define what above and beyond meant, we felt we could attract a group of people who were interested in investing themselves and using their networks to open doors for private fundraising," Roach adds. That group took the form of the Champions Council, an offshoot of the Tualatin Hills Parks Foundation, which raises money to support the park district.
"Everyone that you invite to be on the council needs to have a passion for the project," Roach continues. "Ideally, you'll get enough people and enough of an initial commitment to cover 10 percent of the overall fundraising goal. We asked that each member of the council commit to a major gift up front (major gifts began at $10,000). Every councilor contributed and most became major donors. And, we promised that they would only need to attend one meeting a year — but they had to be willing to take our calls. I think the lack of meetings resonated, and the council came together quickly. With Providence and the Timbers on board and the Champions Council engaged, we could go to the foundations and demonstrate that community leaders were behind this project."
"The 'Access for All' theme resonated," Menke says. "Most people have some connection to parks, or at least understand what they are. Our proposition — 'wouldn't it be nice if everyone had access?' — was easily comprehensible." Over two years, the Tualatin Hills Park Foundation's Champions Council and THPRD raised nearly all the necessary funds: 50 percent came from public sources and private foundations, 40 percent from corporate donors and the remaining 10 percent from individuals. "In the end, after we'd gone through all our networks, we were still about $100,000 short," Roach adds. "We went back to the Timbers, and they doubled their initial investment." The capital campaign was thus completed.
Providing Ongoing Involvement
From the outset, THPRD saw Mountain View Champions Park as a first step toward providing a greater array of recreational services to people in the community who, historically, had been underserved — not simply a one-off. To that end, THPRD formed a steering committee populated by people from the nonprofits who had initially contributed their feedback to the park's construction. They will assist with programming for people with disabilities — not just for Mountain View, but for other park district programs as well.
With Mountain View Champions Park completed, the Tualatin Hills Parks Foundation turned its attention to raising funds on an ongoing basis to support programs for people with disabilities across all district facilities. "We're working with the steering committee to determine what's next to help more people in our community participate in park activities," Doug Menke explains. "More court infrastructure? All-season futsal? Scholarships to help low-income residents take part in fee-based activities? All these ideas are on the table."
One unanticipated development of the Mountain View project was that it's brought THPRD employees closer together. "We had limited means to pull this off," Menke observes. "To make it happen, our people had to set aside their territories, any battles for resources. The program of inclusiveness for our community members broke down barriers within the organization, too. The borders between departments — aquatics and developmental recreation and athletics centers — went away. Our staff members grabbed onto this. They became champions for the larger cause. Together, we were able to do something remarkable."
Chris Santella is the Principal for Steelhead Communications.