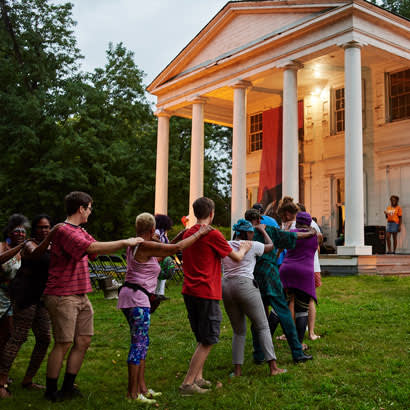 In 2015, local groups in two starkly different settings were given financial and technical support to work with artists to change their approach to building and managing parks for their communities. They were two of six community planning and development organizations given support by the funder consortium ArtPlace America through its Community Development Investments (CDI) initiative. Three years later, the results illustrate how arts-based strategies can preserve, express and bestow cultural heritage and identity, encourage community co-creation and empowerment in planning and building capital projects, and promote healthy youth development.
The Parks and Their Communities
The Zuni Youth Enrichment Project (ZYEP) is devoted to helping youth develop resiliency on the Zuni Pueblo in New Mexico. Constructing a new youth center and park has long been one of the tribe's key aspirations. The Zuni people realized they could amplify their impact by integrating Zuni art and culture into the planning, design and building of a new 2.5-acre park, H'on A:wan (of the people) Community Park, which opened to the public on September 29, 2018.
Meanwhile, Fairmount Park Conservancy (FPC) helps to restore and maintain Fairmount Park's 2,000 acres, as well as 200 other neighborhood parks around Philadelphia. The conservancy focused its arts and culture efforts largely in Strawberry Mansion, a predominantly black, low-income neighborhood, adjacent to the park, with a rich cultural and architectural legacy. Strawberry Mansion residents are at a pivotal moment, as new investments in the neighborhood are on the horizon. FPC worked with arts collective Amber Art and Design to develop a "community catalyst" residency, which has fostered productive conversations about local cultural assets and residents' role in, and pursuit of, equitable development.
Small/large, rural/urban, new/historic, native/black — the distinctions between these two settings and populations for arts-based projects are clear. But, there are strong similarities in how each deployed an arts and cultural approach to community development and centralized inclusion in the planning processes.
Park Creation with Art: At the Center of the Design and Healing Process
Art is essential and integral to life at the Zuni Pueblo — to both the economy and to the spiritual resilience of the culture. ZYEP saw the power of drawing in Zuni artists to the park planning process, through the creation of a six-member advisory committee, to give input on the design of a park that would address a broad set of psychological and social needs beyond physical activity.
Zuni youth and their families face daunting challenges of historical trauma and enduring poverty, leaving them at risk for mental health issues, including suicide. Tom Faber, founder and co- director of ZYEP deemed arts and culture critical to creating a "safe, stable, nurturing environment" in the park, as they concurrently shifted their organizational work to becoming more trauma-informed and resilience-based over the course of three years.
Carleton Bowekaty, a Zuni Tribal Council member, believes that some community members initially felt a little out of place at the grand opening, as they had not previously had regular access to a new, full-size turf field. However, Bowekaty reflects: "Even though I think everyone I talked to said that they felt a little out of place...it was our imagery, it was our artwork. It was everything about what made our community park an elevation of what we envisioned."
Prior to this park, the Zuni community had little input in capital project developments. However, because of early artist involvement to culturally ground the design of the park and foster community buy-in, the Zuni people felt ownership over "our community park." This cultural lens informed the architecture of the community center, traditional wood "coyote" perimeter fencing and murals displaying the Zuni origin story, reinforcing the resiliency of the Zuni people.
Youth and their families were also engaged in the park planning process, both to secure their input about what would go into the park and to build a sense of community ownership. The fruit of this collective labor is a park that includes multipurpose turf field, a community garden, a walking trail, a basketball court, traditional ovens, classrooms and a performance space — all in service of promoting healthy lifestyles and reinforcing cultural resiliency.
Park Stewardship with Art: Fostering Community Conversations About the Future
Fairmount Park Conservancy has roots that go back to 1867. However, only within the past decade has the organization evolved beyond its role as a fundraising vehicle for Philadelphia's park system to more strategic investments in planning, programming and community engagement. This evolution includes an emerging focus on deepening relationships with residents living in the neighborhoods adjacent to Fairmount Park. Like ZYEP, the conservancy has partnered with artists and cultural producers so that community voices could be tapped for planning and decision making for new park investments.
For decades, Strawberry Mansion has been one of the poorest neighborhoods in the city. Slowly but surely, gentrification is creeping northward and home prices in this section of the city are on the rise. Change is also coming to the neighborhood in the form of other investments, like the revitalization of Mander Recreation Center, selected for new funding from the city of Philadelphia.
Amber Art & Design's residency at the Hatfield House, a historic house on the boundary between Fairmount Park and the residential neighborhood, has played a central role in community conversations where locals have been able to express their opinions about new development. "People see these historic houses and they don't feel like they are for them, so this residency has helped to bridge that gap," says Tonnetta Graham, president of the Strawberry Mansion Community Development Corporation. "It allowed multiple generations to come together and to participate in activities where there is fun, cultural learning and people supporting one another."
A central project of the residency was a community asset-mapping project, led by Amber Art & Design and Ethnologica, an art-based research consultancy firm. They compiled residents' stories and memories of the neighborhood and created a deck of playing cards featuring current and historic figures and landmarks. The conservancy has been distributing the cards to residents as an educational and culturally evocative way for neighbors to continue a dialogue about the neighborhood's legacy and how to ensure those assets are part of future conversations around development.
The asset-mapping project helped build key relationships that are continuing to influence how the conservancy is embarking on other projects, including interpretive signage highlighting local boxers, such as Joe Frazier, who trained on the Boxers' Trail. From the community's expressions, which were heard throughout this process, the organization released an RFP with the CDC to create a conceptual design for the Mander Recreation Center and campus that was only open to architecture and planning firms led by principals of color and incentivized strong community engagement processes.
Two Parks, Two New Frontiers
As the three-year CDI initiative draws to a close, both organizations are moving their already innovative and creative placemaking work to new territories. ZYEP is embarking on its new task of park stewardship, something that's very familiar to Fairmount Park Conservancy. Meanwhile, the conservancy is digging into the kinds of design, implementation and construction tasks that ZYEP has just completed. Both organizations are considering additional ways artists and cultural producers can help them achieve their long-term goals: for the conservancy, this means starting similar processes in other neighborhoods adjacent to the park, and, for ZYEP, this means supporting the artist committee to continue helping to imagine how to represent Zuni culture in the built environment and get more people involved in conversations around public spaces.
Alexis Stephens is a Senior Communications Associate at PolicyLink. Victor Rubin, Ph.D., is Vice President for Research at PolicyLink.