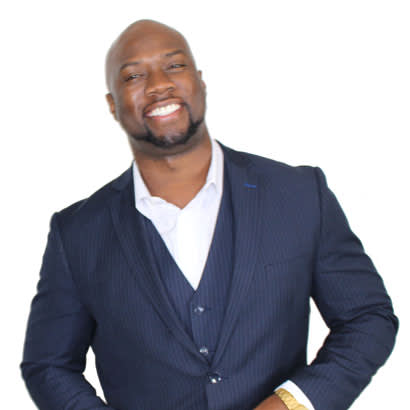 A 'Musician with a Message' and second 2018 NRPA Annual Conference keynote speaker
A "Musician with a Message," SaulPaul redefines what it means to be a keynote speaker. He hails from Houston, Texas, and is an author and award-winning recording artist, whose album "Dream in 3D" (also the title of his book) was considered for a Grammy Award. SaulPaul is also the founder of ReRoute Outreach, a nonprofit organization that helps at-risk and underprivileged youth discover and develop their artistic and entrepreneurial skill sets. The road to the success he enjoys today took several turns, but, from those experiences, he has gone on to entertain and inspire audiences across the world. In a recent conversation with Parks & Recreation magazine, SaulPaul revealed what motivates him and what really excites him about spending time with us in Indianapolis.
Parks & Recreation: For over a decade, you've earned an international reputation as a "Musician with a Message" who can entertain and educate any audience. Can you share with us a little about how you've crafted that reputation?
SaulPaul: I used to be a motivational speaker and I'd incorporate music into my speeches, then I began just focusing on the music, and I couldn't decide whether I wanted to be a motivational speaker or perform music. So, I started thinking outside the box and wanted to do something a little bit different. I decided to blaze my own path and thought, 'Why do I have to decide?' That's when I merged the motivational speaking with the music and I became a 'Musician with a Message.' So, for the past decade or so, I've been fortunate to entertain, inspire and empower people.
P&R: Is there one message that you try to bring to your audience or do you tailor the message to the audience?
SaulPaul: I definitely tailor my message to whoever the audience is. I try to be as authentic as possible: it's all I know. I treat being in front of an audience just like I treat any other conversation. Just like I'm talking to you right now, I don't have any of these answers prepared. I'm just talking with you from my heart, and that's what I try to do with whatever type of audience I'm in front of. Whether it's a keynote or a performance, I just want to be able to communicate with the audience and have them leave feeling inspired. I've done a lot of work with young people, and I've discovered that being real with them…they appreciate that. It breaks down the barriers.
P&R: You've dealt with quite a bit of adversity throughout your life. Can you talk a little about that and how it changed you and shaped you into the man you are today?
SaulPaul: Yeah, so I went from prison incarceration to college graduate. When I graduated high school, I was accepted to the prestigious University of Texas at Austin on an academic scholarship and then I was kicked out. Because of some poor choices, I ended up in prison for two years. When I got out, I was accepted back into the University of Texas and, ultimately, graduated with a 4.0. After getting out of prison and going back to college, I finally had this vision. My vision was that I just wanted to change the world and touch people's lives. The thing I say now is, "We all live on the same planet, but we each live in our own world. Change the world you live in." That's how I live my life.
P&R: What motivates you to do what you do?
SaulPaul: Well, for me, I didn't have a mom or a dad growing up. My mother died when I was 3 years old and my father had left. My awesome grandmother raised me, and she's the reason I dedicate my life to serving other people. We were by no means wealthy, and we didn't have much, but what we did have, she would give to anyone that needed it — whether that was a meal, a bed, whatever. She laid that foundation for me.
P&R: What would you say to park and rec professionals who are trying to create a healthy environment oftentimes for kids who don't know what that should look like or who are trying to cope with some difficult situations?
SaulPaul: I would encourage them to be the change. Like I said before, change the world you live in. Share your experiences and just come from your heart. Just like I do, tailor your message to your audience and work with what you've got. I can't wait to come to the conference in Indianapolis, share my message and hang out with all the park and rec professionals. The thing I'm really excited to do is check out the exhibit hall. I think it's going to be a great time!
Join us, Wednesday, September 26 at 9 a.m. for an interactive, entertaining time. For more details, visit 2018 NRPA Annual Conference.