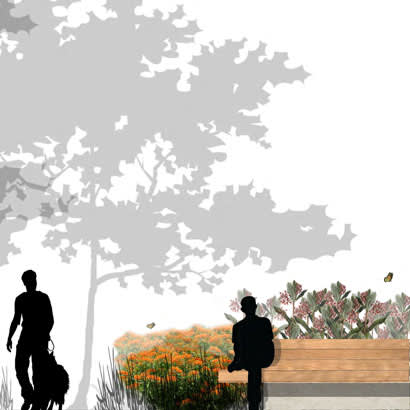 Hopes are high for a new pollinator park on the east side of Columbus, Indiana, to break ground this June. Forty-eight homes, damaged during the June 2008 floods that hit the Midwestern United States, once occupied the site in an area now known as Pleasant Grove. Those homes were purchased by the city, with a Federal Emergency Management Agency (FEMA) grant and local monies, and later demolished. The FEMA grant stipulates that the property remain undeveloped as green space.
Plans are for the proposed park to include a trail, benches, an outdoor classroom, native grasses and plants that would attract pollinators, as well as a memorial marking the 2008 flood. "The idea of a pollinator park fits within the city's plans to offer more nature-based programming for area children, as well as provides trails and green spaces," says Mark Jones, the city's parks and recreation director.
Pollinator parks are a win-win for the environment and the surrounding community. In an April 2015 Parks & Recreation article, titled "It's Time We Talked About the Birds and the Bees," Colin O'Meara, president of the National Wildlife Federation (NWF), says, "Unlike many other environmental conservation crises, we don't have to wait to take action. Pollinators benefit from each patch of native nectar plants, wherever they are."
Before plans can move forward, the pollinator park will require approval by the Columbus Plan Commission and FEMA. The park proposal goes before the city's plan commission in May. According to Eric Riddle, a Columbus native and author of Watershed: Service in the Wake of Disaster, which focuses on the local disaster: "The hope is to break ground on the project by June 7, the 10-year anniversary of the 2008 flood."
Suzanne Nathan, is NRPA's Media Specialist.