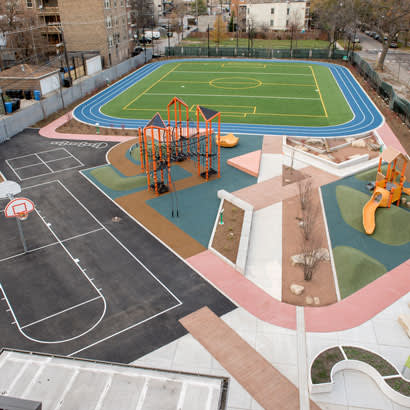 No matter who we are, where we live or what we do, water connects us all. It's our most precious resource, and the essential ingredient for prosperity, progress and the future of our communities. Water challenges in the United States are vast and mounting: water scarcity in California and the Southwest; flooding and extreme weather across the Midwest, Northeast and Southwest; and water-quality challenges, such as algal blooms in the Great Lakes and the Gulf of Mexico, and the lead crisis in Flint, Michigan.
Now, more than ever, we need partnerships to forge positive and transformative change to secure our nation's water future. One of the bright spots is the tremendous collaboration happening across the country between water utilities and park departments.
US Water Alliance members across the country are partnering every day with their park departments. In Los Angeles, many stakeholders, including LA Sanitation, Los Angeles Department of Water and Power, and the LA Department of Recreation and Parks, have partnered on the One Water LA plan. This collaborative approach is designed to break down barriers and to develop an integrated framework for managing the city's water resources, watersheds and water facilities in an environmentally, economically and socially beneficial manner.
Mutually Reinforcing and Positive Impacts
When water utilities and park leaders work together, they can achieve mutually reinforcing and positive impacts for our cities. Leveraging clean water funding and creating legislative requirements for park and green-space initiatives embody a One Water ethos. Parks are excellent venues for deploying innovative strategies for conserving water or managing stormwater where it falls. Water infrastructure upgrades and watershed planning are big opportunities for green-space creation and expansion, community development and job creation.
Large-scale green infrastructure can implement parks, recreation and connectivity projects, while mitigating stormwater, reclaiming and reusing gray water, and replenishing drinking water. Philadelphia Water Department and Philadelphia Parks and Recreation Department have partnered on the Green City, Clean Waters project to add 500 acres of new public green space as part of the city's plans to implement green infrastructure as an environmentally beneficial solution to stormwater management. And, in Chicago, the Space to Grow initiative partnered utilities, parks, schools and others to implement green infrastructure in schoolyards, one of the largest collections of impervious surfaces in the city. This results in more green space for communities, especially in areas of the city where residents do not live within half a mile of a park. Lower-income people and people of color often live in areas that lack green space, which can negatively impact the health and well-being of those neighborhoods. Strengthening water and parks collaborations can ensure vulnerable communities benefit.
Advocating for Infrastructure Investment
This intersection of equitable resource management and infrastructure is just one place where parks and water providers can collaborate. Communities' needs for capital continue to grow to meet challenges parks and water share: system development and renewal, population growth, regulatory compliance, changing weather patterns and the increasing costs of day-to-day operations. Everyone agrees that our national infrastructure needs investment — hundreds of billions or even trillions of dollars could be spent repairing our aging systems. Given the tremendous potential crossover in infrastructure need, it makes sense for parks and water to both be strong advocates for infrastructure investment and to reinforce each other's messages.
The US Water Alliance, through our initiative, the Value of Water Campaign, helps to define not only the immense challenge of water infrastructure investment, but also the powerful potential of what that investment can be. This is part of why the Alliance is active in Infrastructure Week, which the National Recreation and Park Association has recently joined. From May 14 to May 18, across the country all people with a stake in infrastructure have declared that the future won't wait and neither can we: it's time to build. For parks and water, and all types of infrastructure, the costs of inaction rise daily. Adding our collective voices to the call for modern, fast, reliable and safe infrastructure is a great example of the partnership parks and water can develop.
We are at a crossroads in America for water policy. Long-term trends, like population growth, economic development, changing weather patterns and growing income inequality, are threatening to overwhelm both the physical infrastructure and the management systems that have previously met our water needs. At the same time, recent acute crises, like the trio of deadly storms in Texas, Florida and Puerto Rico, have captured the public's attention and provide a renewed sense of urgency. Politically, there is a focus on infrastructure at the national level, as well as the ripening of the five-year farm bill cycle of agriculture policy. We are also approaching a midterm election cycle that is already shaping up to be explosive. At the state level, 36 governorships are up for election, many of which are term-limited open seats. Given the convergence of these long-term trends, short-term crises and tremendous political opportunities for change, the time has come to spread and scale the partnerships between water and park departments across the nation.
At the US Water Alliance, we believe all water has value and all stakeholders — utilities, businesses, environmental organizations and city agencies — have a role to play in driving progress. We are working to break down the barriers to cooperation and partnerships, both within the water sector and beyond. For parks and water departments, this means building a collaborative and integrated approach to managing urban land and water resources. Together, we can forge new paths of progress toward our joint missions.
Radhika Fox is the Chief Executive Officer for the US Water Alliance.