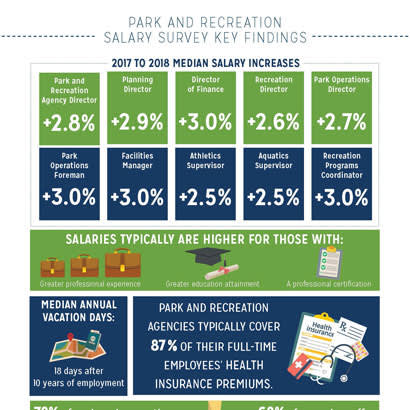 For all the many reports and data tools NRPA Research publishes, none is more popular than the 2018 NRPA Park and Recreation Salary Survey report. This is not surprising, as the report's comprehensive salary data, job descriptions and sample organization charts give park and recreation leaders the information needed to recruit and retain the best and brightest employees for their departments. The same report also serves as a guide to park and recreation professionals as they seek out the next step in their careers.
Earlier this summer, we released the 2018 salary report. The latest edition includes several enhancements, most notably an expansion in the number of jobs covered from five to 10. Like what we offered last year, you will find detailed base salary and bonus information for each of the 10 park and recreation agency positions, with breakdowns by size and type of agency, educational attainment and certifications held.
Median Salaries
The 2018 NRPA Park and Recreation Salary Survey report finds that the typical park and recreation agency raised its employees' base salaries to stay slightly ahead of inflation over the past year. Between 2017 and 2018, the 10 park and recreation professional job titles tracked in the report saw their base salaries increase between 2.5 percent and 3.0 percent. Over these same 12 months, the consumer price index — a widely followed measure of inflation — grew 2.1 percent.
Another form of cash compensation is through bonuses, which are available to at last some employees at 36 percent of park and recreation agencies. The most common bonus plans are tenure-based, where employees receive a fixed payment based on the anniversary of their employment (available at 19 percent of agencies). Employees at 15 percent of park and recreation agencies are eligible for merit-based bonuses based on their performance, while 2 percent of agencies have plans in which employees throughout the department earn a bonus based on the success of their department meeting stated goals.
Benefits
Worker compensation is about more than just salaries and bonuses. Benefits, including paid time off, insurance and retirement plans, can represent approximately 30 percent of a worker's total compensation and include:
Time off: Park and recreation agencies typically provide 10 days of annual vacation to their newly hired full-time employees (after any preliminary probation period). After five years of employment, the median number of vacation days increases to 15 days per year, growing to 18 days after 10 years of service. In addition, agencies typically provide their employees with 12 days of annual sick leave.
Maternity and paternity leave: A quarter of park and recreation agencies currently offer specific paid-leave benefits associated with the birth or adoption of a child. Nine percent of park and recreation agencies do provide specific paid maternity benefits and 16 percent of park and recreation agencies provide specific paid maternity and paternity benefits.
Health Insurance: Park and recreation agencies cover a median 87 percent of their employees' health insurance premiums.
Retirement: Nearly 4 in 5 park and recreation agencies have a defined benefit (DB) program (i.e., a pension plan) as part of the compensation package they offer to their newly hired, full-time employees. Two-thirds of agencies offer a direct contribution plan (e.g., 403(b), 401(k)) either in conjunction with a pension plan or as the sole retirement benefit offering.

In park and recreation agencies that offer a defined benefit program, 84 percent of employees make contributions. The typical DB employee contribution is 6 percent of their salary.
Three in 5 agencies that offer a defined contribution plan provide a percentage match to participants' contributions. When offered, this match is typically 6 percent of the employee's income.

Other Benefits: Beyond health insurance, most park and recreation agencies offer other benefits as part of their compensation package for their full-time employees. An overwhelming majority of agencies include the following benefits as a part of their compensation packages for full-time employees:

Dental (98 percent)
Continuing education (97 percent)
Life insurance (95 percent)
Vision (93 percent)
Employee assistance/counseling (92 percent)
The 2018 NRPA Park and Recreation Salary Survey also explored how agencies ensure their employees work in a hostile-free work environment. Park and recreation agencies — like most other employers — see the #MeToo movement as an opportune time to revisit policies related to discrimination and harassment in the workplace.
Nearly every park and recreation agency (or governing jurisdiction of which it is a part) has a formal, written policy that addresses harassment in the workplace (e.g., sexual harassment, hostile work environment, discrimination). Further, more than half of park and recreation agencies have re-evaluated their policies surrounding harassment in the workplace within the past year. Twenty-two percent of agencies intend on doing this re-evaluation in the near future.
Most park and recreation agencies also hold mandatory staff meetings to review policies and procedures to help ensure a hostile-free work environment. Three in 5 agencies have mandatory employee training about harassment policies and procedures that occurs on a regular basis (e.g., annually, biannually). More than a quarter of agencies provide such training, but do so less frequently or on a non-regular basis.
This column is just a brief summary of the wealth of data and insights about worker compensation in parks and recreation. I invite you to review the full 2018 NRPA Park and Recreation Salary Survey report. Moreover, your feedback is welcome.
Kevin Roth, Ph.D., is NRPA's Vice President of Research