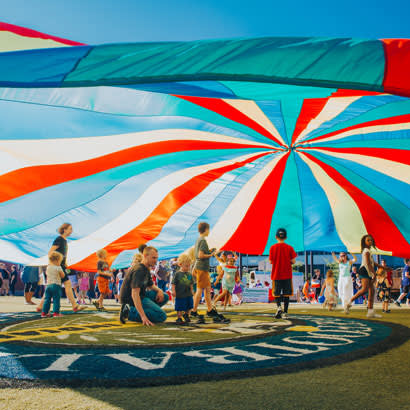 Lu Ella Webster has lived in the city of South Bend, Indiana, for the past 67 years. Growing up in a family of 15 children, Webster fondly reflects on her childhood when Sundays meant going to the park with her parents and siblings to picnic and enjoy the outdoors. She says back then, people in the community looked forward to going to the park because they were accessible, warm and inviting. However, as time passed, "we kind of lost that accessibility in the community," says Webster, who witnessed her beloved neighborhood park gradually succumb to years of neglect and decay, describing its condition as "deplorable."
One day, a member of the South Bend City Council approached the lifelong resident and encouraged her to participate on the park board. "I was hesitant to do it at first," Webster confesses. But then she thought about all the times she had complained about the city not doing enough for her community, much less her beloved Kelly Park. So, Webster agreed to join the board — a decision she admits was "the best thing I could have ever done."
Webster along with her fellow residents are among those who have made their voices known to city leaders, as well as to the City of South Bend Venues Parks & Arts (VPA) about the future of their community. "Our parks system was tired," notes Aaron Perri, executive director at VPA. "It was very evident from some of our marquee properties all the way down to the neighborhood parks and to our trails systems that there was deferred maintenance all over the place, and residents were asking for improvements."
Hearing their constituents' pleas for real, substantive change, the city pledged to create a master plan that would not only restore South Bend's public spaces to their former glory but would also "make a more livable South Bend for all" while fostering civic trust through transparency. That meant focusing on social equity, neighborhood and economic development, and ecological stewardship.
In this next installment of our parks transforming cities, towns and communities series, Parks & Recreation takes a closer look at the impetus behind South Bend's My Parks & Trails Project and highlights some of the parks currently under construction throughout the city.
The Master Plan
As the fourth largest city in Indiana, South Bend has a population of more than 101,000 people and covers a 41.82-square-mile area located close to the southernmost bend of the St. Joseph River. Along with its industrial heritage, South Bend, home to the University of Notre Dame, is also renowned for academic excellence.
Over a 15-year period, the city created a 20-year Comprehensive Plan that included enhancements to the parks and trails system, a 5-year Master Plan, as well as various neighborhood development plans. However, as Perri points out, "15 years later, we hadn't seen a lot of evidence of work being done around any of those plans, so we wanted to alter that."
But, before the city could implement its plan, it needed to undergo an inventory analysis of its parks system to identify the major capital investments needed throughout each neighborhood and community. The first step entailed intensive data collection and analysis, which pinpointed South Bend's basic needs in terms of green space and amenities. The city enlisted the expertise of GreenPlay, LLC, to employ its Geo Referenced Standards Amenities Program (GRASP®), a system that impartially ranks the quality, condition and ability of every public park in the city to meet operational and programming needs. The collected data revealed specific areas that were underserved and lacked sufficient amenities. The city also worked with the Trust for Public Land (TPL) to conduct a ParkScore analysis.
According to Perri, South Bend is the first city outside of the top 100 cities to request a ParkScore study. He adds that it wasn't enough just to know if every area of the city had a park; it was also important to ask questions such as: "Is that park good enough? Does it have the types of amenities we would expect it to have, like shade structures on the playgrounds?" Next, the city's Innovation and Technology Team integrated the ParkScore data with the GRASP data to provide a more complete picture of the overall health of its parks and trails system on a geographic level, and to help South Bend identify areas of need and opportunities for economic growth.
The city also sought input from the public by conducting a statistically valid survey — soliciting online and in-person feedback during numerous community stakeholder meetings. Throughout the data analysis and public input processes, it was evident that social equity was a key driver of the parks and trails plan.
"What's interesting about data is you'll get a look at something that, perhaps, people don't know themselves," says Perri. "For example, if you're asking on a survey: What would you like to see improved in your park? People might write: I want a splashpad. But, what that question misses is some neighborhoods don't even have parks. When you look at the Trust for Public Land ParkScore and calibrate that data for accessibility, you might uncover that there is a park nearby, but this neighborhood can't access it, because, perhaps, there's a railroad track in the way, an inaccessible path or no path at all." However, by creating a path from the backend of the park to this neighborhood, it could solve the connectivity problem as opposed to building a new park. "Having that information helps us make some wise investments that way," he says.
In 2016, the city teamed with SmithGroupJJR to work on the project's conceptual framework, a process that would take nine months to complete. "We initially started out with a high-level planning effort that looked at the whole river corridor and all the connections between the assets and the downtown parks," explains Pat
Doher, senior vice president, civil engineer, at SmithGroup. "From an overarching perspective, they really wanted these parks and the activity in these parks to 'surprise and delight' a diverse user group," he explains.
Doher recalls that when the city was searching for a firm to partner with on the project, "one of the things that intrigued them about our team was that we understood the demographics of the community; for example, we knew that South Bend had a significant Latino population." He adds that the culturally diverse neighborhoods were the ones that were disconnected from the waterfront, and, therefore, the goal was making sure that trails and their assets were part of a network that offered connectivity to all neighborhoods.
Funding and Partnerships
Known as South Bend's My Parks & Trails Project, this fully funded $51+ million endeavor encompasses all the city's six districts, making it the single-largest investment in park and public lands in South Bend's 152-year history. "We funded the project in a way that is roughly: a third, a third and a third," notes Perri.
One-third comes from private investment, which includes strategic partnerships with the University of Notre Dame, the Pokagon Band of Potawatomi Indians and a grant from the Indiana Regional Cities initiative. The next one-third stems from Tax Incremental Financing (TIF) dollars. The final one-third comes from a property tax levy on the College Football Hall of Fame bond project, which the city has paid off and now those funds are being used for a park bond.
Howard Park
In early October 2017, South Bend Mayor Pete Buttigieg and community leaders broke ground on the nearly $15 million renovation of Howard Park, the city's first public green space. Considered a historic treasure, Howard Park began as a swampy landfill in the center of South Bend on the St. Joseph River and was officially named in honor of Councilman Timothy Howard in 1894. However, the years took a toll on the park and its major attractions, forcing the park department to close venues like the ice skating rink due to disrepair. Thanks to the Parks & Trails Project, this 12-acre park is now undergoing a major facelift.
The design boasts a new multiuse community center, which has been moved to the corner of Jefferson and St. Louis Boulevards. Its new location will complement the urban area surrounding the park that features retail shops and restaurants. This phase of the project also includes the construction of an interactive water feature and ice facility, which will enable the space to be utilized year-round. Enhancements to the river's edge include a wetland area to absorb stormwater and flooding, as well as bump outs for closer river access. The site will also comprise a multipurpose event lawn to accommodate large gatherings of up to 3,000 people.
During the winter months, a winding ice trail will lead skaters through the park and onto a bridge. "People can walk underneath the bridge as you're skating above them, which will be a really neat feature," says Perri. Attached to the ice trail will be a frozen pond for ice hockey and figure skating. In the summertime, the center of that ice trail will transform into what he calls, "a splash plaza," where visitors can enjoy an interactive water feature offering, "a little more sophisticated level of splash," laughs Perri.
The Howard Park project is slated for completion in fall 2019.
Seitz Park
Just north of Howard Park sits another gem along the river called Seitz Park. The smallest property in the whole parks system, at about a third of an acre, Seitz Park remains a popular locale among residents, with its scenic riverfront views and whitewater rafting offerings. The park also serves as an outdoor concert venue.
"Just recently, we installed an interactive public art display called the South Bend River Lights," Perri notes. "It's a pretty unique feature that was designed by internationally renowned lighting designer Rob Shakespeare."
In late 2016, the University of Notre Dame reached a 50-year lease agreement with the city to build a hydroelectric turbine underneath the park, which will provide about 7 percent of the university's power needs.
Upon completion of the hydroelectric project, the university will pay the city $1 million to restore Seitz Park to pre-construction conditions, as well as provide additional funding for renovations.
"It's really a great partnership, because Notre Dame is investing in the restoration and then ultimately in the enhancement of Seitz Park," explains Perri. "We're going to reconfigure some of the existing park, [add] a little bit more square footage for public use, accentuate the views and expand the river walk."
Once this $5 million project is completed in summer 2020, the park will boast a new performance area, improvements to the bridge and promenade, as well as a new public building with restrooms and space for sales.
Charles Black Center and LaSalle Park
Over on the west side of town, the Charles Black Center and LaSalle Park will be the first redevelopment completed in the My Parks & Trails Project, which is expected to reopen between late September and early October 2018. Perri acknowledges that, historically, this is an area that hasn't received much investment compared to other areas of the city.
"It's a very diverse area of town," he says, and "it's an important project to the neighborhood." A major part of this $4.5 million project entails doubling the center's square footage and totally renovating the existing property. Other new amenities include: three practice basketball courts, an expanded fitness center, music studio, a concession area, locker rooms and a bike repair shop.
Perri says the bike repair shop is a unique feature because it will be the first one located west of the river. The shop provides educational value, whereby neighborhood youth can learn how to repair bikes with the potential to turn those acquired skills into a business opportunity.
Landscaping is planned for around the building and in the park, while crews will perform irrigation work on LaSalle Park's soccer fields and install a large pavilion.
Kelly Park
For the past five years, the name Lu Ella Webster has been synonymous with Kelly Park. That's because this active community volunteer, along with her neighbor, Beth Sanford, are among the park's chief catalysts. However, Webster credits 12 children, ages 8 to 12, who were attending a Notre Dame-sponsored outreach program at Robinson Community Learning Center, for initially sounding the alarm about the park's deteriorated state when they submitted a grant proposal to renovate the park, which was approved. "The park is right across the street from where I've lived all my life," says Webster.
The children raised the first $6,000 in grant funding, which got the ball rolling. When a local radio station learned what the kids were doing, it pledged to help the community get a new basketball court. Building on that momentum, the children began to communicate what they envisioned for their neighborhood park.
For her part, Webster has worked tirelessly on the neighborhood's behalf — from working with the park department, corporate donors and contractors on the project, to going door-to-door raising money selling bricks. "When one business found out about the project, other businesses came onboard by donating their time and services," she explains. For example, a local brick company donated all the bricks for the columns in the park, while another company donated the fencing at cost. In addition, the Northeast Neighborhood Revitalization Organization donated $10,000 for playground equipment and Notre Dame Federal Union gave $5,000 toward the project. As Webster puts it, "It was just like a dream come true!"
According to the People of Praise news blog, Webster and Sanford have raised $220,000 in donations to date. Webster says they are waiting for one final phase of the project to be completed, which she hopes will be soon. She explains, "We rebuilt everything that was in the park. Now, it's one of South Bend's better parks." Webster stresses that it's really about 12 children from the community who had a desire to make a difference by renovating their park. "I just happened to be in the right place at the right time to be able to help them do this," she affirms.
A New Day in South Bend
After 15 years and several proposed master plans, South Bend is in the midst of a revival that has the park department, its strategic partners and community volunteers doing groundbreaking work while keeping their constituents up to date on the city's continual progress. What's one lesson other agencies can glean from South Bend's experience?
Doher says: "When it comes to people planning parks or creating any kind of regeneration opportunity, we always talk about attracting new people, new businesses and new economic development — but nobody talks about making sure that we're still satisfying the people who are deeply rooted in the community. That was really important to South Bend, and we did a great job making sure that we listened to the people and businesses so that they didn't feel like we were doing this for somebody else. That's a critical thing, because you don't want to separate yourselves from the people who have made your community what it is and only think about whom you might want to attract."
Vitisia Paynich is a California-based Freelance Writer for Parks and Recreation magazine.