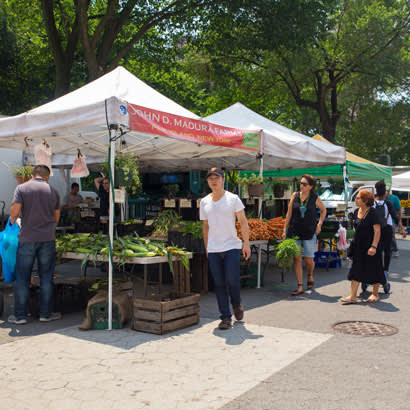 Local park and recreation agencies already have a role in supporting access to healthy foods and nutrition education, but there are additional opportunities to increase access to healthy, fresh and local foods. One of the growing trends in communities nationwide, and an area of continued growth economically and programmatically across the park and recreation field, is the rapid expansion of the farmers market industry and other community-supported agriculture (CSA) initiatives.
Growing Demand for Farmers Markets
Over the past decade, there has been steady growth across the farmers market industry nationwide. In 2015, the U.S. Department of Agriculture's (USDA) Agricultural Marketing Service (AMS) highlighted the expanding role that farmers markets play in communities nationwide. At that time, more than 8,400 farmers markets existed in the USDA Farmers Market Directory, with market managers indicating in a 2014 survey that business was not only expanding but was also thriving. The survey identified several trends across the farmers market industry, including:
increased consumer traffic, sales and demand
the expansion and importance of farmers markets accepting supplemental nutritional assistance
an increase in efforts around nutrition education provided at market sites
strengthening opportunities for community engagement and linking local food business development
These trends remain strong in 2018, with both consumers and producers recognizing the significant role a local agriculture system plays when it comes to healthy food access, supporting local business and addressing the social determinants of health. Park and recreation agencies are well-suited to leverage their role as trusted providers of accessible health and wellness opportunities and landowners and partner in efforts to expand local agriculture initiatives.
Bridging Existing Nutrition Programming
To maintain a healthy lifestyle, it's important to eat a well-balanced diet, inclusive of a variety of fruits and vegetables. While most American's are aware they should consume fruits and vegetables, access to these healthy foods can be inadequate, especially in low-income communities and food deserts where grocery stores are limited in their supply and they may not be accessible because of transportation barriers and location challenges. One of the greatest benefits of farmers markets and CSAs is the ability to connect community members to locally sourced, healthy, seasonal and fresh produce. In addition, produce sold at farmers markets is often more affordable and better quality than what might be found in a grocery store or local convenience store, as it's coming directly from a local source and hasn't been sitting on a shelf for a few days. Furthermore, many farmers grow organic and seasonal produce, so this produce is chemical free and tastes better during the growing season.
Another opportunity to bridge existing nutrition programming around farmers markets is implementing nutrition education for youth and families at market locations. In Chanute, Kansas, a city of more than 9,000 residents, the local farmers market, operated by Main Street Chanute on city property, partners with the Kansas State Research and Extension office to conduct healthy cooking and food preparation classes using ingredients found at the farmers market. Conducting these classes for parents and caregivers educates them on how to buy and prepare healthy foods, teaching new skills that support a healthy lifestyle.
In Salt Lake City, Utah, the park and recreation department is bringing fun and experiential nutrition education activities out to its local markets this fall — engaging kids and caregivers in taste testing, arts and crafts that connect to fruits and vegetables, and other fun activities from NRPA's Foods of the Month curriculum. Providing this education at farmers markets is another opportunity to engage families, meeting caregivers where they are and reinforcing healthy behaviors that are being taught in afterschool and summer camp programs.
Liz Rich, with the Salt Lake City Corporation, says, "Our families have made it a weekly tradition to visit the market with their children as they leave for the day. The kids are incentivized to eat healthy and they receive a $2 produce voucher sponsored by Intermountain Health Care. Having a weekly farmers market within feet of our facility reinforces our Commit to Health literacy, promotes healthy choices and purchases for the family and creates an opportunity for the community to come together. These are all powerful components in establishing healthy relationships with food."
Accepting Supplemental Nutrition Assistance
In New Orleans, Louisiana, multiple partners, including the New Orleans Recreation Development Commission, are working to expand access to farmers markets across the city. NORDC partners with Market Umbrella, a nonprofit focused on establishing and expanding farmers markets to promote positive, social and economic benefits across the community, to establish and operate markets at local park and recreation sites in low-income and food-insecure communities.
Grant funding also supports a voucher system, where individuals attend health management and physical activity programs to receive vouchers that can be used at the local markets to purchase healthy foods. Market Umbrella has a double-up bucks program, where Supplemental Nutrition Assistance Program (SNAP) recipients can double the value of their electronic benefit transfer (EBT) to purchase additional fruits and vegetables. Accepting benefits, like the Women, Infants and Children Farmers Market Nutrition Program (WIC FMNP), the Senior Farmers Market Nutrition Program (SFMNP) or SNAP, promotes access to healthy foods for food-insecure individuals and expands the customer base for markets, resulting in increased sales and revenue.
Strengthening Community Connections
Farmers markets are a win-win for local government, community partners, producers and consumers. Partnerships between local government, nonprofit organizations and the local agriculture community promote community collaboration and leverage local resources, bringing down costs associated with operating a market, as well as providing economic and health benefits to both producers and consumers. They also serve as another venue for community engagement and cultural reflection, bringing together people from diverse backgrounds and providing an opportunity to engage with key stakeholders and community members across multiple generations. In addition, farmers markets create job opportunities, as most market produce is sourced within a 100-mile radius of the market location.
Allison Colman is an NRPA Senior Program Manager.