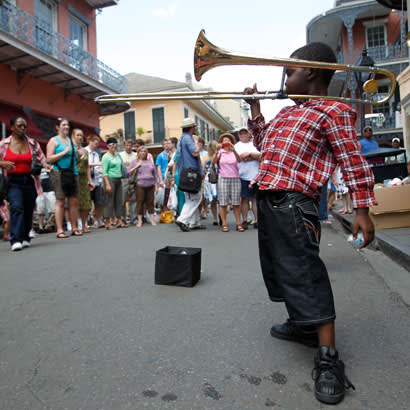 New Orleans is a vibrant, culturally diverse city filled with rich history, great food and plenty to see and do. It was originally inhabited by the Woodland and Mississippian Native Americans, and the earliest outside influence was from Spanish explorers who passed through the area in the mid-1500s and 1600s. In 1718, the city of Nouvelle-Orleans was founded by French explorer Jean-Baptiste Le Moyne, Sieur de Bienville, but in the mid-1700s, France signed treaties giving Louisiana to Spain. Louisiana reverted to France in 1803, and was then sold to the United States in the Louisiana Purchase.
Dubbed the Crescent City, New Orleans was a vibrant shipping port during the early 1800s due to its location along the Mississippi River and proximity to the Gulf of Mexico. After the Civil War, New Orleans continued to be an important and influential city and remained active in trade. Due to influences from around the globe, the city has roots in French, Spanish, Native American and African-American culture, traditions and food.
In August 2005, New Orleans was devastated by Hurricane Katrina. Levees were breached and 80 percent of the city was flooded, killing hundreds and trapping thousands of people. It was dubbed the worst urban disaster in modern U.S. history, and a year after the flood, only half of the residents had returned and, within five years, 80 percent had returned.
Today, New Orleans is a city on the road to recovery with vibrant tourism, industry and business opportunities. In 2016, the city hosted more than 10 million visitors who spent more than $7 billion. It is a city like no other, with a rich culture and history — so carve out a little time to see this gem of the south!
Areas to Visit

City Park
One of the oldest parks in the nation, the 1300-acre City Park was created in 1854. Today, the park hosts a botanical garden, sculpture garden, carousel and the world's largest stand of mature live oaks.
Address: 1 Palm Dr., New Orleans, LA 70124
Phone: 504.482.4888
Hours: Open 30 minutes prior to official sunrise to 30 minutes after official sunset
Admission: None
Garden District
This 250-acre neighborhood located southwest of the French Quarter is an architectural dream, with examples of Greek Revival, Italianate, Gothic, Georgian, Swiss Chalet and Queen Anne architecture. The historic mansions are not the only thing to catch your eye — its oak- lined streets and breathtaking gardens are some of the most beautiful in the city.
Address: Located 3 miles southwest of the French Quarter, the Garden District is easily visited by walking, biking, street car, bus or taxi.
Admission: None
Jackson Square
Located in the heart of the French Quarter, Jackson Square is a 3-acre park overlooking the Mississippi river. Named for General Andrew Jackson, the square hosts a statue of Jackson on horseback. The St. Louis Cathedral overlooks the square, and the area is known for its artist colony.
Address: 751 Decatur St.,
New Orleans, LA 70181


Places to See
Backstreet Cultural Museum
The museum contains the most comprehensive collection of African-American traditional and cultural materials related to processional traditions, such as Mardi Gras Indians and jazz funerals.
Address: 1116 Henriette Delille St.,
New Orleans, LA 70116
Hours: 10 a.m.–4 p.m., Tuesdays–Saturdays; closed Sundays
Admission: $10
Confederate Memorial Hall Museum
Louisiana's oldest museum, the Confederate Memorial Hall Museum is dedicated to telling the story of the Civil War.
Address: 929 Camp St.,
New Orleans, LA 70130
Hours: 10 a.m.–4 p.m., Tuesday–Saturday; closed Sunday
Admission: $10 for Adults, $5 for children under 14 years old
Louisiana State Museum at the Cabildo
Located in Jackson Square, the museum concentrates on early New Orleans history and includes unique artifacts, such as one of Napoleon's death masks.
Address: 701 Chartres St.,
New Orleans, LA 70116
Hours: 10 a.m.–4:30 p.m., Tuesday–Sunday; closed Monday
Admission: Adults $6, students/seniors/activity military $5, children 12 and under are free
National WWII Museum
Telling the story of the war that changed the world, the museum concentrates on educating the public about historical events and honoring those who served.
Address: 945 Magazine St.,
New Orleans, LA 70130
Hours: 9 a.m.–5 p.m., Daily
Admission: Adults $27, seniors $23.50, military/college student/child (k–12th grade) $17.50, children under 5 are free


Things to Do
Audubon Aquarium of the Americas
Located along the Mississippi River, next to the French Quarter, the Audubon Aquarium of the Americas has more than 15,000 animals, ranging from sharks to penguins and parakeets.
Address: 1 Canal St., New Orleans, LA 70130
Hours: 10 a.m.–5 p.m., Daily
Admission: Adults $29.95, children (2–12), $21.95, seniors 65+ $24.95
Mardi Gras World
Experience the world of Mardi Gras through a tour of the historic Mardi Gras World. Learn about the parade history, watch the building of floats, meet artists and try on costumes.
Address: 1380 Port of New Orleans Place, New Orleans, LA 70130 (shuttles available from the French Quarter and from downtown)
Hours: 9 a.m.–5:30 p.m., Daily
Admission: Adults $19.95, children (2–11) $12.95, seniors/students $15.95
Riverwalk
If shopping is your forte, the Riverwalk located along the banks of the Mississippi River is the place for you. The Riverwalk offers more than 75 stores and restaurants.
Address: 500 Port of New Orleans Place,
New Orleans, LA 70130
Hours: 10 a.m. –9 p.m., Monday–Saturday; 10 a.m. –7 p.m., Sunday
Admission: None


A Little Unusual
Looking for something a bit off the beaten path? New Orleans is the place to be. There are many unique, one-of-a-kind experiences to have in the Big Easy.
Escape My Room
Ready for a challenging evening? Escape My Room has the Mardi Gras Study and the Jazz Parlor room to test your mystery-solving skills. To date, only about one-third of the participants have been able to escape.
Address: 633 Constance St.,
New Orleans, LA 70130
Admission: $30 per person
Singing Oak
The Singing Oak is an ancient, majestic oak tree located in City Park. Local artist Jim Hart installed a collection of wind chimes to create a hypnotic melody to accompany the breeze. Tuned to the pentatonic scale, the chimes range in size with the largest being 14 feet long.
Address: 1701 Wisner Blvd.,
New Orleans, Louisiana, 70124
Hours: Open 30 minutes prior to official sunrise to 30 minutes after official sunset
Admission: None
French Quarter
The oldest part of the city, the French Quarter is considered the hub of New Orleans. Stunning structures with intricate ironwork and lush courtyard gardens make it one of the most photographed places in the city.
Address: Located along the banks of the Mississippi River, surrounding Jackson Square.
Admission: None
Museum of Death
Not for the faint of heart or squeamish — the Museum of Death hosts unique exhibits, from mortician equipment to a skull collection and artifacts and art from serial murderers.
Address: 227 Dauphine St.,
New Orleans, LA 70112
Hours: 10 a.m.–6 p.m., Wednesday to Monday; Closed Tuesday
Admission: $15 per person
New Orleans' Historic Voodoo Museum
This small museum is a great introduction to the dark world of Voodoo through its history and culture. Beyond its exhibits, the museum offers special services, such as psychic reading and ceremonies.
Address: 724 Dumaine St.,
New Orleans, LA 70116
Hours: 10 a.m.–6 p.m., Daily
Admission: General - $7; seniors, military, college students - $5.50; high school students - $4.50; children under 12 - $3.50
The Key to New Orleans Cuisine
New Orleans is a true melting pot of diverse cultures, and when it comes to its cuisine, it's phenomenal in its diversity and flavor. The food is influenced by the Spanish, French, African and Italian immigrants, as well as local Native Americans.
St. Louis Cathedral
Located in Jackson Square, the St. Louis Cathedral is the oldest Catholic cathedral in continual use in the United States.
Address: 615 Pere Antoine Alley,
New Orleans, LA 70116
Hours: 8:30 a.m.–4 p.m., Daily; Mass at 12:05 p.m., Daily
Admission: $1 suggested donation for self-guided brochure
Steamboat Natchez
Take a trip back in time on the Steamboat Natchez. Cruises include harbor trips, dinner cruises and Sunday brunch cruises.
Address: 600 Decatur St., #308, New Orleans, LA 70130
Hours: Varies by cruise
Admission: $30 and up
New Orleans Food 101: Creole vs. Cajun?
Descendants of French or Spanish settlers that were born in Louisiana were known as Creole, and savory dishes originating from this group are known by the same name. This is food from the city of New Orleans, where nearby ports provided a vast array of ingredients; the cuisine is influenced by African, Caribbean and Italian immigrants. Some Creole foods to taste while in New Orleans are oysters Rockefeller, shrimp remoulade, creole, gumbo, bananas foster and beignets.
"Cajun" refers to the French settlers who were deported by the British from Nova Scotia to New Orleans. Cajun food originates from the country: ingredients are traditionally either from the garden or from the bayou. Some Cajun foods to taste while in New Orleans are andouille, crawfish boil, jambalaya*, alligator and Po' Boys.
*Cajuns created jambalaya but the Creole have also adopted — true Cajun jambalaya doesn't have tomatoes, Creole jambalaya does.
Top 10 New Orleans Tours (via Tripadvisor)

Free Tours by Foot
Providing a host of tours with no upfront costs, this company believes "sightseeing doesn't have to be expensive or boring." Options include swamp, plantation, walking and riverboat tours, among others.


Voodoo Bone Lady Haunted Tours
From the spooky to the creepy, the Voodoo Bone Lady Haunted Tours will take you on ghost tours, cemetery tours or tours of the French Quarter —all with emphasis on the supernatural.


FreeWheelin' Bike Tours
This experience is truly all American, from its American-made bicycles to the Louisiana born and bred family that runs the business. So, whether you want to rent a bike or take a tour, FreeWheelin' has everything you need for the perfect New Orleans two-wheeled adventure.


Two Chicks Walking Tours
Focusing on small groups, the Two Chicks Walking Tours pride themselves on providing an intimate, storytelling experience. Tours include the French Quarter, Garden District and several cemeteries.


Buzz Nola Bike Tours and Rentals
Buzz Nola has bike tours and rentals on traditional bikes or on electric bikes. Rentals can be by the hour, day or week.


Confederacy of Cruisers Bikes Tours
If a fat-tire cruiser bicycle is your type of ride, Confederacy of Cruisers Bikes Tours are for you. They pride themselves on their laid-back, slow-paced tours for those who not only want a tour but want to "soak up the local color and hear the stories" of New Orleans.


City Segway Tours New Orleans
Looking for a unique way to see New Orleans? Tour the city on a Segway! Offering both day and night tours at a variety of locations, City Segway Tours has a variety of activities at select locations.


Ghost City Tours of New Orleans
For those interested in ghosts, Voodoo and demons, check out these night tours of New Orleans. Tours include ghost hunts, killer and thriller tours and the ever-popular haunted pub crawl.


Doctor Gumbo Tours
For the culinary types, Doctor Gumbo Tours will take you on a gastronomic journey to experience the unique food and libations of New Orleans.


Royal Carriages
For more than 75 years, family-owned Royal Carriages has been transporting and providing tours to New Orleans visitors the traditional way — by mule-drawn carriage.


Paula M. Jacoby-Garrett is a Freelance Writer based in Las Vegas, Nevada.