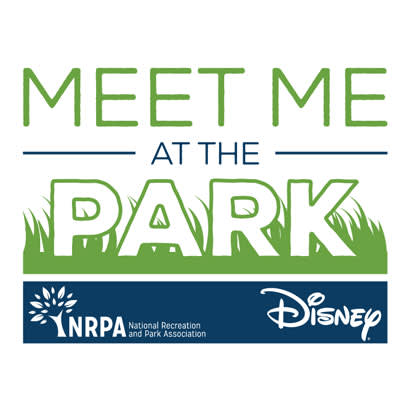 NRPA and The Walt Disney Company recently announced the grant recipients of the new Meet Me at the Park healthy living program. Twenty-five park and recreation agencies and cities nationwide were selected to receive grants, ranging from $10,000 to $50,000, to support projects that increase access to play spaces in local parks for children and families. This investment supports NRPA and Disney's combined goal of providing 1 million kids and families with greater access to play.
The projects selected include a variety of innovative play space enhancements, sport field/court enhancements, trail and walking path enhancements, and mobile play spaces, which include flexible play equipment and activities that can be moved to different locations. All of the projects focus on inclusive play spaces that increase physical activity and play for children and families. The 25 grant recipients are as follows:
City of Selma Recreation Department, Selma, Alabama
City of Yuma, Yuma, Arizona
City of Redding, Redding, California
City of West Sacramento, West Sacramento, California
City of Tampa Parks and Recreation Department, Tampa, Florida
Gwinnett County Department of Community Services, Lawrenceville, Georgia
City of Iowa City Parks & Recreation, Iowa City, Iowa
City of Kuna, Kuna, Idaho
Louisville Metro Parks and Recreation, Louisville, Kentucky
Baltimore City Recreation and Parks, Baltimore, Maryland
City of Port Huron Recreation Department, Port Huron, Michigan
Michigan Department of Natural Resources, Parks and Recreation Division, Detroit, Michigan
City of Ocean Springs, Ocean Springs, Mississippi
Mecklenburg County Park and Recreation Department, Charlotte, North Carolina
City of Manchester, Department of Public Works, Division of Parks, Recreation and Cemeteries, Manchester, New Hampshire
Bloomfield Department of Recreation, Bloomfield, New Jersey
City of Farmington, Department of Parks, Recreation and Cultural Affairs, Farmington, New Mexico
City of Henderson, Henderson, Nevada
City of Youngstown, Department of Parks and Recreation, Youngstown, Ohio
Borough of Pottstown, Pottstown, Pennsylvania
Charleston County Park and Recreation Commission, Charleston, South Carolina
Metropolitan Board of Parks and Recreation, Nashville, Tennessee
City of Chattanooga/Division of Open Spaces, Chattanooga, Tennessee
Kitsap County Parks, Port Orchard, Washington
Cacapon State Park, Berkeley Springs, West Virginia
Over the coming months, NRPA and Disney will work closely with the grant recipients, including having volunteers from Disney participate in various projects. To see these projects come to life, follow the hashtags #MeetMeAtThe Park and #DisneyPlaySpaces.
The Meet Me at the Park program includes an Earth Month campaign as well, where funding is awarded for local park improvement projects that connect kids to nature, inspire healthy living and provide access to sports. The campaign celebrates Earth Month and the importance of local parks.
Click here to learn more about Meet Me at the Park.