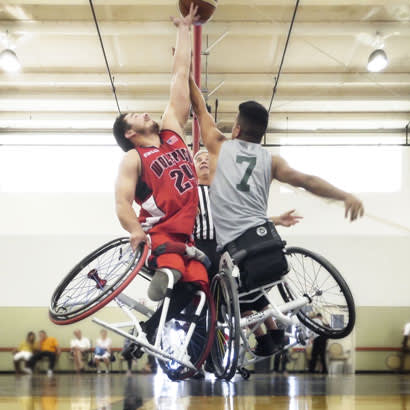 San Diego, the eighth largest city in the United States and the second largest in California, is home to more than 1.4 million people. The city is also home to the nation's largest concentration of military personnel, with some 95,000 veterans. Since there is a large military presence, the City of San Diego Park and Recreation Department, Therapeutic Recreation Services (TRS) wanted to provide recreational opportunities for injured service members/veterans. TRS already provides a wide array of recreational opportunities for children and adults with various disabilities, but when it received a $66,600 grant from UnitedHealthcare, specifically to help wounded veterans, the stage was set for an idea that had been brewing for about a year and a half to become a reality. See this video for more information on the impact of the project.
"We recognize that the military offers many resources at various military hospitals and military services," says Recreation Specialist Nick Hurd, "but we wanted to create programs where injured service members and veterans are more involved within their local communities. In planning the program, we hoped to create a social and friendly environment where individuals can engage in different recreational activities and, hopefully, spark a new interest or hobby for them. We also hoped that relationships and friendships with their peers who have similar backgrounds and interests would develop."
In addition to the UnitedHealthcare grant, nearly $8 million in Community Development Block Grant funding is earmarked to renovate a three-story YMCA building, which will be the new home to TRS. The renovated facility, Park de la Cruz (PDLC), scheduled to open in the summer of 2018, will increase recreational opportunities for individuals with disabilities, older adults, veterans and community members.
The growth of the veterans program has largely been organic. "We initially spread the word through agencies that we have partnered with in the past — the Veterans Administration, Naval Medical Hospital and Wounded Warriors," says Recreation Specialist Juan Razo. "At first, the program did not get much attention because we were new to the population, but word got out quickly, and now, we see a lot of potential growth. We have had great reception from the participants, who are now asking for more activities. We strive to create different opportunities that are not being offered as much, in addition to highlighting our local community resources, such as the bay, beaches and mountains." The staff reports that participants really enjoy relaxing and mellow outdoor activities that do not need extreme/extensive physical conditioning.
Paddleboarding and archery are among the activities offered through TRS. "Seeing the enjoyment of an injured service member hitting a bullseye during archery or having an injured service member with Parkinson's stand up on a paddleboard, brings a lot of enjoyment and excitement to me personally," says Hurd. The feedback frequently given by the injured service members is that the programs are low-stress and the instruction is thorough and provided in a safe, non-intimidating environment. One participant shared that there are days he does not want to leave his house and is very depressed, but he'll come out to the archery program every time, no matter what. The program staff knows that stressful situations can lead to participants not wanting to come back.
Freedom on Four Wheels
With the funds from UnitedHealthcare, TRS also hosted a wheelchair basketball scrimmage in August of 2016 to celebrate the opening of the PDLC gymnasium, where TRS plans to host more wheelchair sports tournaments in the future. As part of its pre-season, the Naval Medical Center's team, Wolfpack, took on the Adaptive Sports and Recreation's team, Hammer.
The wheelchair basketball program is helping veterans stay strong and continue to experience that sense of comradery. U.S. Marine Corps veteran and Wolfpack Wheelchair basketball player Jorge Salazar says: "It's very important to have a facility like this. We can't just go outside in the street and play because it completely destroys our wheelchairs, so when we have a beautiful court, great facility and great staff, it makes it so much better. This is our new battlefield here. It allows you to get that sensation that you're going fast again. Whether it's a layup or you get hit, you get right back up and keep going." Salazar, a single dad of two, is a double above-the-knee amputee.
Quality vs. Quantity
The veterans program has been in place for approximately a year. From the outset, the staff has encouraged feedback from the participants to improve the existing programs and to see what they would like to try in the future. They've observed that many new bonds and friendships have been formed and, since many of the members belong to different organizations, the program staff is beginning to collaborate with those organizations to create new programs.
"Starting a new program to members who currently have a variety of recreational opportunities already available to them can be difficult. It may sound easy, but not oversaturating the programs with the same recreational opportunities is a challenge. In addition, identifying the best time and day for programs is challenging, to avoid conflicting opportunities for participants," explains Hurd. "There are a lot of resources for military members for recreation, but if you make positive and meaningful bonds with your members or participants, they typically continue coming back to your programs. Get to know your audience and make them feel welcome," he advises.
"My advice would be to focus on quality over quantity," Razo adds. "There are many veterans, and you could have huge programs with big numbers, but when you have a smaller group, you build relationships and, therefore, in my opinion, make more of a difference in their lives."
Sonia Myrick is the Executive Editor for Parks & Recreation magazine.