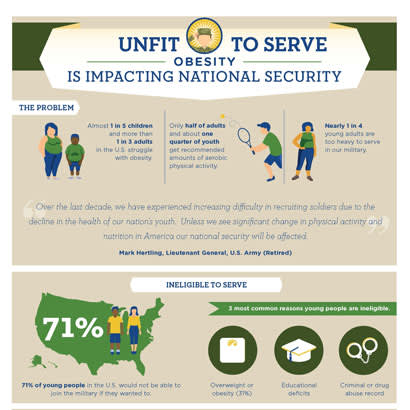 Nearly one in four young adults are not healthy enough to serve in our military because they are overweight or obese. Regular physical activity can help people maintain a healthy body weight and protect against chronic Illnesses, such as heart disease, type 2 diabetes and some cancers. Physical activity provides many health and fitness benefits, such as improved body composition, aerobic and muscular fitness, balance and flexibility, which can contribute to military readiness. Physical activity is also associated with positive mental health, improved quality of life and emotional well-being.
The 2008 Physical Activity Guidelines for Americans, produced by the Office of Disease Prevention and Health Promotion, recommends that children and adolescents get about 60 minutes of physical activity every day and at least three days per week of muscle-strengthening activities. Despite the recommendations, only about one-quarter of high school students in the United States get the recommended amounts of aerobic physical activity. And, only about 2 in 10 (20.5 percent) high school students meet the physical activity guidelines for both aerobic and muscle-strengthening activities.
Increasing physical activity among youth calls for a multi-sectoral approach, and federal and non-governmental organizations alike see a vital role for parks and recreation. The Office of the Surgeon General in the U.S. Department of Health and Human Services, the Community Preventive Services Task Force and the National Physical Activity Plan Alliance have each released guidance on how parks and recreation can help communities promote safe and easy opportunities for physical activity.
These documents recommend a combination of built environment and programmatic approaches to increasing physical activity. One strategy to increase physical activity among young people is to provide greater access to safe and convenient places to be active, such as parks, trails and recreational facilities. Parks and recreation offers a wide range of close-to-home facilities and services at low or no cost to most Americans.
The Center for Disease Control and Prevention (CDC) offers the following "Three Ds of Physically Active Communities" prescription:
Design communities and streets that make being physically active safe and easy for people of all ages and abilities;
Develop or enhance access to places for physical activity; and
Deliver community programs that help people be physically active.
Parks and recreation can play a role in each element of this prescription, as illustrated by the following success stories:
A success story on community design to increase safety and physical activity comes from the city of Houghton, Michigan, which gradually acquired a stretch of shoreline property to improve access to its waterfront. The city replaced industrial ruins with parks, marinas and paved bicycle and pedestrian trails as recommended by the Community Preventive Services Task Force. These trails now connect the city center to parks and residential districts.
A success story on developing or enhancing access to parks comes from San Francisco, which recently became the first city in the nation where every resident lives within a 10-minute walk to a park. Not every 10-minute walk is the same, however. The Tenderloin Wellness Trail is part of a citywide project to improve equitable access to parks, including safe routes. The project team formed a partnership with the Tenderloin Community Benefit District, the Tenderloin Safe Passage collaboration and the Trust for Public Land. The partnership has increased the capacity of the Tenderloin Safe Passage program, which uses "corner captains" to improve safety during afterschool commutes for neighborhood children. Because of the program, captains have a more active role in their community, helping to build a culture of safety on the trail. At one local park, captains have become park ambassadors to greet visitors, share resources and coordinate park activities. The partners are conducting community outreach to identify ways to connect and enhance access to important community resources, such as parks and open spaces.
A success story on delivering community programs comes from Dallas, Texas, where the park and recreation department is taking steps to reduce the burden of childhood obesity and ensure that all children enrolled in out-of-school time (OST) programs are meeting daily physical activity requirements. Launched in 2011, the Mayor's Youth Fitness Initiative (MyFi) requires all Dallas Park and Recreation OST sites to provide 60 minutes of physical activity each day, while providing nutrition and fitness education and family engagement opportunities to the community.
Parks and recreation also offers unique opportunities for enlisted service members and their families. Military families have access to park and recreation locations and programs on military installations through Morale, Welfare and Recreation centers and services. The National Park Service provides free annual park passes to military families, and the "Troops for Fitness" program recruits veterans to lead health and fitness programs in local park and recreation facilities nationwide.
Providing opportunities for young people to be physically active is vital to the health of our nation and may help improve our military readiness. Across the country, park and recreation agencies are working with their communities to improve access to places to be active and provide programming for young people to get moving.
The findings and conclusions in this report are those of the authors and do not necessarily represent the official position of the Centers for Disease Control and Prevention.
Related resources:
Hayley Hamilton is an ORISE Fellow in the National Center for Chronic Disease Prevention and Health Promotion at the Centers for Disease Control and Prevention. David Brown is a Behavioral Scientist in the National Center for Chronic Disease Prevention and Health Promotion at the Centers for Disease Control and Prevention. Heather Devlin is a Lead Health Scientist in the National Center for Chronic Disease Prevention and Health Promotion at the Centers for Disease Control and Prevention. Janet Fulton is a Branch Chief in the National Center for Chronic Disease Prevention and Health Promotion at the Centers for Disease Control and Prevention. Allison Colman is a Program Manager at NRPA. Maureen Acquino is a Program Specialist at NRPA.