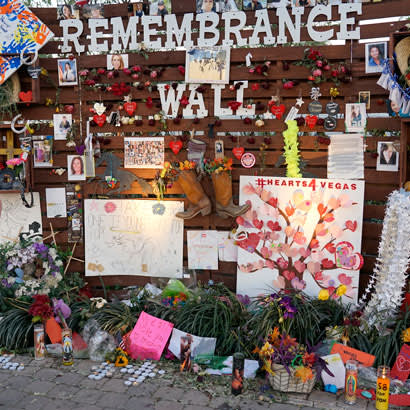 On Sunday, October 1, 2017, a lone gunman opened fire from a hotel window on a crowd of more than 20,000 concert-goers at the Route 91 Harvest Festival on Las Vegas Boulevard in Las Vegas. Fifty-eight people were killed and 489 people were injured, making this incident the deadliest mass shooting by an individual in U.S. history.
The Impact
The country was stunned as yet another mass shooting took the lives of the innocent, with no apparent answers as to why. The Las Vegas community was especially hard hit as it awoke the following morning to the media accounts and more information began surfacing. News started spreading about community members who had been shot and scenes of victims and of bloodied ER rooms began to surface. Among the difficult tasks was trying to explain this senseless act to our children.
From Idea to Park in Four Days
When Jay Pleggenkuhle, a local landscaper and owner of Stonerose Landscapes, awoke Monday morning, still struggling with emotions about this tragedy, he had the idea of a pop-up park as a memorial. He approached Las Vegas city officials, who immediately liked the idea but wanted something more permanent. The city offered a half-acre site in the Art District that had originally been slated for a dog park.
Before noon that day, donations for the park were already coming in. Local nursery and landscape companies donated 58 tupelo trees, one for each victim, a variety of shrubs and plants, soil, walkway pavers and other materials. The famed Las Vegas magicians, Siegfried and Roy, donated an oak tree, called the "Tree of Life," to be at the park center, surrounded by a heart-shaped planter. Over the next few days, more than 1,000 people offered their support, either through volunteering to help install the park or by providing materials or funds. Volunteers included local high school students and a fraternity from the University of Nevada, Las Vegas.
The Opening
By Friday evening, following the shooting, an opening event for the park was held with several groups singing for the attendees, and Mayor Carolyn Goodman and Councilman Bob Coffin addressing the crowd.
"The Healing Garden Allows a place for everyone to grieve for the tragedy that occurred, as well as provide a place of support for each other as a community," says lifelong Las Vegas resident, Maria Paxinos.
The park features a pathway, seating area and a center planter with the "Tree of Life." In the center is a wooden palette wall called the Remembrance Wall. Photos of the 58 victims adorn the wall with notes and mementos filling the spaces.
Paula Jacoby-Garrett is a Freelance Writer based in Las Vegas, Nevada.