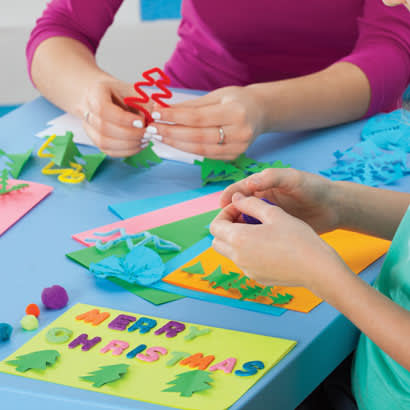 By a show of hands, how many of you have heard of Oriental Trading Company? I would guess many of you have your hands in the air. Did you know that you can order those same great Oriental Trading Company items from Fun Express at a lower price? Fun Express is the corporate accounts subsidiary of Oriental Trading Company. Fun Express extends a 20 percent discount off the Oriental Trading Company retail price. Found a better price? No problem. We'll beat any advertised price you can find. Shipping? It's always free on orders over $125. We've also eliminated the need to search for coupons or discount codes. Our Fun Express website has the prices already reduced to make it easier for you to shop and save money!
Fun Express has eliminated the sometimes long and drawn out process of searching multiple websites and going store-to-store to find just the right items at just the right price for your program needs. Fun Express has created a one-stop shop for your arts and crafts, toys and novelties, and party decorations. We also have an entirely new line of education and STEM items! We've even made it easier to plan for your larger events by offering bulk assortments for the holidays, including bulk pre-filled Easter eggs!
Got the holidays covered? Great! Fun Express has the items you need for summer camp and the before- and afterschool programs you offer as well! Whether it's our famous inflatable campfire or you're looking for the brand names you know and trust — including Crayola and Elmer's — Fun Express has it all!
How do you get your 20 percent discount? Visit our website and request a password. You can also contact Josh Mason, your dedicated parks and recreation representative at Fun Express, at 402.939.3053. Remember — when it comes to fun, we're all business!