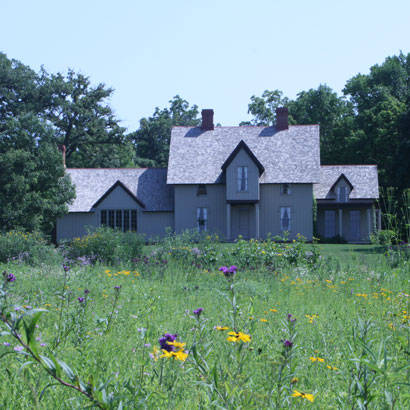 One of the first things you notice about Robert Kennicott is his teeth. Gleaming white and slick, his frozen rictus grins eternally from inside a custom-made glass case, like an extremely goth version of Sleeping Beauty. Unlike that Disney princess, however, no kiss is likely to revive the 19th century naturalist — Kennicott has been dead for more than 150 years.
Still, the Smithsonian Institution National Museum of Natural History is giving Kennicott a revival of sorts, as one of the main attractions of its "Objects of Wonder" exhibit. His remarkably well-preserved skeleton is just one of hundreds of artifacts — some collected by Kennicott himself — that museum guests will pour over as they contemplate our natural world and its incredible array of flora, fauna, rocks, minerals and other items.
It is fitting that Kennicott's skeletal remains are part of the exhibit — not to mention satisfying, too, for the handful of park professionals and scientists who passionately examined the life of one of America's original citizen scientists. This insatiably curious group went well past the heart of the matter, deep into the bones — literally — to learn more about Kennicott's life and solve the mystery surrounding his untimely death. In the process, they reconnected to a legacy that began with an innate curiosity and love of nature.
The Accidental Naturalist
Robert Kennicott was born in northeastern Illinois in November 1835, the son of John Kennicott, a doctor and farmer. A chronically sickly child, Robert was often unable to attend school and was ill suited for the fields. Accordingly, his father set out to home-school the boy and connected him with naturalist Jared Potter Kirtland, convincing Kirtland of his need for an understudy. It wasn't long before young Robert began collecting all sorts of natural specimens from the approximately 250 acres that originally comprised the Kennicott estate, then-known as Kennicott Grove.
Eventually, Kennicott began sharing his acquisitions with Spencer Fullerton Baird, yet another naturalist/scientist, and the first curator ever named to the Smithsonian Institution. For the better part of Kennicott's scant 30 years of life, he traveled North America collecting natural artifacts, as well as art, clothing and even the languages of native populations. "In the 19th century, many of the animals and plants he collected were yet to be identified as scientifically studied," says Kari Bruwelheide, a forensic anthropologist at the National Museum of Natural History. "[Robert's] collecting was so comprehensive that he has specimens in every department of our Natural History museum. He also recruited others to collect for the Smithsonian. Perhaps he was the first to enlist citizen scientists in helping collect data!"
Kennicott's demise on the banks of the Yukon River while on expedition in Alaska had since become fodder for historical speculation Some thought he committed suicide, while others wondered if years of recurring illness simply took their toll. In his day, it was common for sufferers of chronic ailments to medicate with strychnine — now commonly known as a fatal poison — which Kennicott self-administered regularly. Perhaps he suffered an accidental overdose?
Steve Swanson, director at The Grove National Historic Landmark — now a 145-acre public park showcasing a portion of the original Kennicott estate, as well as the family home, Kennicott Archive Building, interpretive center, trails and more, managed by Illinois' Glenview Park District — didn't buy it. Kennicott is one of his heroes, and Swanson wanted to know, as definitively as possible, what really struck down the man whom he so admired. "Kennicott's interest in natural history paralleled my own," Swanson says. "I grew up across the street from The Grove and hunted and collected in and around The Grove. I attended college in Southern Illinois and collected in the same areas Kennicott did. We still collect in Southern Illinois for [The Grove's] interpretive center displays."
Swanson was already involved in a plan to have Kennicott's remains returned to The Grove when he happened to attend a lecture at Oakton Community College featuring Doug Owsley, head of the Smithsonian's physical anthropology division. Owsley had expertise in examining iron coffins — Kennicott had been buried in one of the formidable contraptions — and Swanson saw an opportunity. "I shared with [Owsley] our need to have Kennicott's remains examined to see if a definitive cause of death could be determined," Swanson says. "We worked with the family and the Glenview Park District board to seek approval and permission to conduct the investigation. Long discussions among the staff were held to be sure we could accept the cause [of death] if it turned out to be suicide. Being historians, we had to be prepared for that to become our story line if true. Doug and Kari assembled a scientific research team and the investigation was carried out at The Grove in 2001."
During the next 15 years, Owsley, Bruwelheide, Swanson and a team of scientists and historians carefully examined historical records of Kennicott's life, as well as his coffin and all contained therein — including his hair, most of his clothing and, of course, his bones, now stained a ruddy brown from decades boxed in iron. "Iron coffins are like time capsules," Bruwelheide explains. "They preserve certain types of evidence (soft tissues, clothing, hair and finger and toe nails) that require special analyses….We do a complete inventory, take a whole suite of measurements to determine stature, robusticity, etc., and also examine the remains for evidence of trauma and disease."
To Swanson's delight, the team was able to conclude that a heart attack ultimately laid Kennicott low. "Chemical analysis and historical information indicate no evidence of death due to poisoning or suicidal ingestion of strychnine. Robert Kennicott died a sudden death as a result of cardiac arrest, probably a congenital condition. Several previous attacks probably preceded the final, fatal one, two of which were documented by eyewitnesses," Owsley wrote, in his final determination of the case.
"We celebrated the results with an exhibit in our archives building on Kennicott's life," Swanson says. "The exhibit is one of five rotating exhibits that are rolled out in conjunction with important anniversary dates of the site and the Kennicott family — the results of the forensic autopsy were a major part of the main exhibit panels."
Preserving a Legacy
While the preservation of the Kennicott estate is itself a great boon to the many people who frequent The Grove, this new information about Robert Kennicott's life, death and work provides greater enhancement of the educational opportunities already offered there. "People love stories and the Kennicott story is one of adventure and exploration," Mike McCarty, CPRP, and executive director of Glenview Park District, says. "It immediately connects people to the land and the natural environment. Our visitors get to walk the land that Robert grew up on and see plant, insect, reptiles, fish and animals that he studied and collected still living on the property."
Swanson says he and The Grove staff make a concerted effort to reflect Kennicott's legacy through regular programming at the facility. "Our program staff and volunteers engage visitors — we tell Kennicott's story to excite them. We have visitors who first came to The Grove as kids and have returned with Ph.D.s in herpetology, or as geologists or antique dealers who gained their first experiences at The Grove."
Here is the true marrow of the labor behind understanding Kennicott's life and legacy — to open peoples' eyes to the possibilities of how they might become more deeply involved with the natural world. "Parks and recreation agencies have an obligation to tell the story of what we do and why we do what we do," McCarty says. "You couldn't have a better avenue [than The Grove and Kennicott's story] to have people appreciate the impact of service agencies like ours on a community."
[Objects of Wonder is on display at the Smithsonian National Museum of Natural History through 2019. To learn more about the exhibit, visit http://naturalhistory.si.edu/exhibits. To learn more about Kennicott's legacy and The Grove, visit www.glenviewparks.org/thegrove.]
Samantha Bartram is a Northern Virginia-based Freelance Writer.