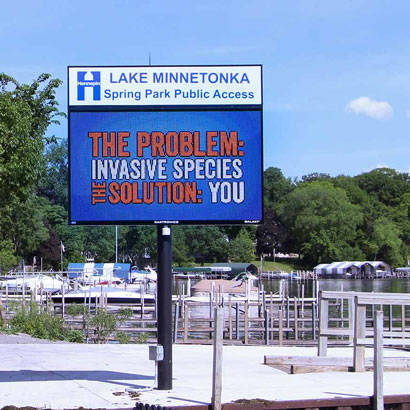 Aquatic invasive species (AIS) are nonnative organisms — plants or animals — that invade an ecosystem and can cause harm to the environment. The state of Minnesota, for example, has seen many of its lakes invaded by zebra mussels, Eurasian watermilfoil and curly-leaf pondweed. And just this past February, in a study conducted by the Minnehaha Creek Watershed, Montana State University and University of Minnesota, a new hybrid species of milfoil, thought to be a cross between Minnesota's native northern watermilfoil and the invasive Eurasian watermilfoil was discovered. One Minnesotan lake is using technology in the form of an LED message display board, to inform the public about the AIS threat.
Lake Minnetonka is working to prevent AIS from killing native organisms, disrupting ecological stability and damaging the state's economy by educating the public, particularly boaters, about AIS and the proper removal technique for cleaning their vessels. "Hennepin County runs graphics and messages to help visitors identify invasive species and understand the 'Clean, Drain and Dry' steps to take before entering and leaving public accesses," says Tony Brough, the county's senior environmentalist.
The display board also opened up communication between lake officials and the public by keeping visitors informed of severe weather warnings and public safety messages using a real-time data feed. Brough says, "We're interested in eventually using the new sign to display current water and air temperatures."
Making Lake Preservation Possible Through Funding
Most boaters are familiar with invasive species, value water quality and are likely to take action to prevent the spread of AIS. In fact, after being educated about AIS prevention, 99 percent of Minnesotans surveyed said they will likely take action. In addition, 92 percent of boat owners said that water quality of the lake or river is an important part of their boating experience.
In 2014 and 2015, Hennepin County received more than $470,000 from the state of Minnesota for programs to prevent the introduction or limit the spread of AIS. The county will also receive AIS prevention aid from the state of Minnesota to help purchase and install two programmable message boards on the Narrows Channel Bridge, one of the heaviest used boating channels on Lake Minnetonka.
The efforts in Hennepin County are a great example of how technology can be used not only to keep the public informed, but also to educate them about how to keep their nature spaces pristine.
Jess Bern is a Strategic Marketer at Daktronics.