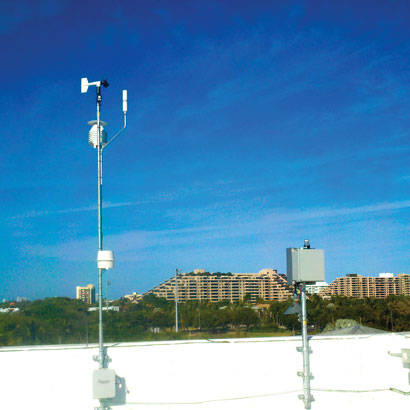 Lightning and severe weather is a concern for most park and recreation directors, but in Florida, where lightning persists all year round, it is critical. Key Biscayne Parks and Recreation began its search for a lightning protection system in 2011 after lightning strikes on Florida's beaches injured and killed several people.
Solution: Real-Time Weather Info
After exploring all the available solutions, Key Biscayne Parks and Recreation chose a comprehensive severe weather and lightning detection system from Earth Networks to protect its beach park, village green, community center, pool and school athletic fields. Five horns are installed throughout the community to audibly and visibly alert the public when lightning approaches the vicinity. In addition, a powerful weather visualization dashboard enables park and recreation staff, the fire department, police and schools to track storms and activate public safety plans with extended lead times. A weather station with a camera reports real-time conditions to the community on a 24/7 basis.
"Before we installed our Earth Networks system, the various park and school sites were all getting their weather forecasts from different sources, there was no consistent source of information, and no way to enforce our 'dangerous weather' policies," says Todd Hofferberth, director of Key Biscayne Parks and Recreation. "Now, we have real-time weather info coming in from each site, automated lightning alerts that inform our community of dangerous conditions, and notifications on mobile devices that enable us to centrally manage public safety policies across facilities."
Elizabeth Carp is the Marketing Manager for Earth Networks.