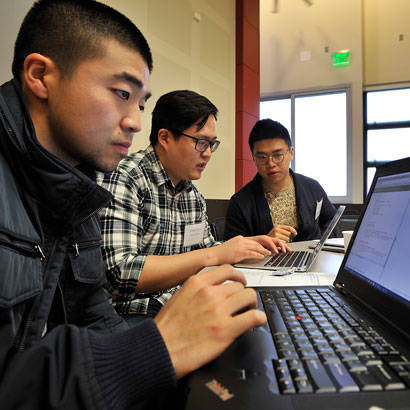 If you ask the typical park and recreation professional what a "hackathon" is, you most likely would be met with a blank stare. It's not because they are out of touch, but because most people who are not fully engaged in the computer programming industry have neither heard of nor experienced a hackathon.
So, what is a hackathon? It does not involve allowing Russian spies to use your recreation centers to hack U.S. intelligence. It's typically an event where a group of energy-drinking, pizza-fueled software developers and programmers gather to work toward meeting a challenge in a short period of time.
You don't normally hear about a hackathon in the context of parks, but someone had to break that mold and it was Metro Parks Tacoma (MPT). This independent park district in Tacoma, Washington, decided to hold its own hackathon and invite local developers to identify new, innovative and fun ways technology could improve access to and engagement with parks and recreation.
"We're busy doing our everyday jobs, and we wanted to figure out how to use technology to improve access to our park system," says John Laughery, Metro Parks Tacoma GIS supervisor. "A hackathon is like a shot of adrenaline for ideas."
The hackathon, dubbed "Parks and People United Through Technology," took place April 14–15 at the STAR Center in Tacoma with the support of multiple sponsors. More than 100 programmers, developers and designers showed up ready to meet the challenge. They were divided into 11 teams and were given 13 hours over the two days to develop a concept, build it out as far as they could and prepare a presentation.
The majority of the coding and development took place on day one, and, on day two, teams added the final touches and prepared their presentations. Each team was given five minutes to pitch its solution, including app mock-ups, live apps, interactive websites and more, to a panel of judges. Following the presentations, the judges convened and selected the top two teams, which were each awarded cash prizes. Second place went to a group of University of Washington students who developed an app and website that could help users easily find hiking trails that met their abilities. The first-place team, a diverse group of Washingtonians, developed an app called "Parks Rocks," which can be used to track a currently running scavenger hunt-style challenge where people find and hide elaborately painted rocks throughout Tacoma.
All participants were given access to open data from MPT, Pierce County, the city of Tacoma and ESRI's open data portal. NRPA, ESRI and Trailhead labs all gave presentations on solutions they have developed to improve accessibility to parks. This was also a great opportunity for NRPA to demo the new BETA version of its Park Path™ app. With great support from MPT, NRPA was able to add most of the MPT parks into the Park Path™ app and show off the capabilities of this new park-finding app.
As Millennials continue to embrace and build new technology, parks and recreation should not allow itself to be left behind. Through this hackathon, MPT proved that our industry can embrace the strategies of others to find innovative ways to better engage with our communities.
Metro Parks Tacoma Executive Director Shon Sylvia said it best: "If we want to be current, then we really need to stay in touch with what's going on around us so we can meet the public's needs and expose them to parks and recreation."
Matt Brubaker is NRPA's Director of Marketing.