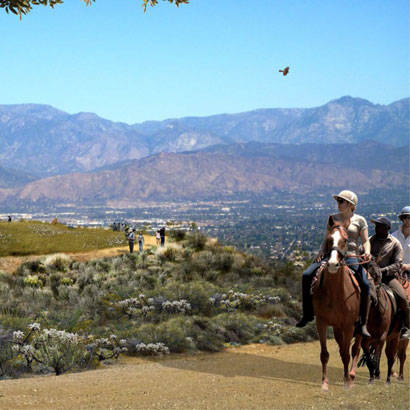 It's often been said that one man's trash is another man's treasure! In Los Angeles County, that is a true statement when it comes to turning the nation's second largest landfill into a thriving future county regional park that will boast amenities for people of all ages.
The Puente Hills Landfill has been idle since 2013 when it closed following 56 years of operation. Upon approval of a conditional use permit for its continued operations in 1983, the Los Angeles County Board of Supervisors envisioned a future park on top of the landfill to be the final use of the site.
In late 2016 after 18 months of planning and public input, the Los Angeles County Board of Supervisors gave the County of Los Angeles Department of Parks and Recreation the green light to proceed with plans to develop a 142-acre park equivalent to 88 football fields on top of the landfill. This community asset will be built with the park and recreation needs of people of all abilities and interests within a 25-mile radius in mind.
"We proactively sought community input from area residents as to what they wanted from the park, and we listened and incorporated the communities' priorities into the master plan," says John Wicker, director of the Department of Parks and Recreation. "We envision future generations being able to enjoy the open space and recreational activities that will be provided."
The park, which will be built in phases over the next 30 years, will encourage families and fitness enthusiasts to get moving by enjoying hiking or mountain-biking, de-stressing with a yoga class or reflecting atop the scenic panoramic view overlooking the San Gabriel Mountains. Additional features will include an outdoor performance area, a play area for families, a dog park, picnic areas, scenic overlooks, bird watching, wildlife habitat enhancement and more.
The park will also be built with the environment in mind, including plans to reduce greenhouse gases by encouraging visitors to get to the park without using their cars. For example, a transportation plan calls for visitors to use a trail lift (gondola) to reach the top, use offsite parking with shuttle service, as well as use their bikes.
The first park area is slated to open to the public in 2020.
Terry Kanakri is the Public Information Officer for the County of Los Angeles Department of Parks and Recreation.