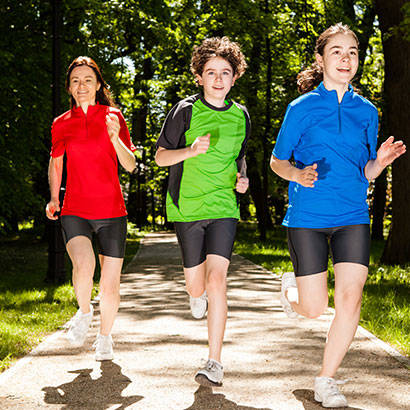 The new Commit to Health Youth Ambassadors initiative is a combined effort between NRPA and the Target Corporation to engage youth as health and wellness leaders in their communities. NRPA was awarded $100,000 as part of Target's ongoing youth wellness efforts to inspire local agencies to implement the HEPA standards with sustainable, creative, impactful and scalable solutions that are focused on youth as the catalysts of change. NRPA awarded the Chicago Park District, Mesa Parks, Recreation and Communities Facilities and Houston Parks and Recreation with funding to pilot this youth-driven approach to increase healthy eating and physical activity.
Parks & Recreation magazine recently spoke with the Youth Ambassadors from these communities to learn why they decided to participate in the program, their views on the importance of health and wellness, their favorite healthy foods and physical activities, as well as their plans for the future.
Luis Cruz, Youth Ambassador, Houston Parks and Recreation Department, Texas
I was born and raised in the east end of Houston, Texas. Many of us knew someone who struggled with diabetes or weight issues and many knew very little about nutrition. In high school, my friends and I were concerned about our families' health and created an initiative to promote health and wellness through Zumba Fitness, along with a creative way to promote environmental literacy. I became Zumba-certified and started teaching classes. At first, we were instructing 10 students and then slowly added up to 100 students! Not only are we spreading this message at the high school level, but now we are also bringing it to younger kids in community centers all around Houston.
It is important not only to educate our communities about health and wellness, but also to engage people with actual solutions. By incorporating Zumba, we have been able to provide a positive, safe environment for diverse sets of people to take part. We have been able to see the positive energy in engaging recreation and fitness throughout the city of Houston. We have also been showcased on national platforms in Colorado and Washington, D.C.
Currently, my favorite healthy food is a quinoa salad made with corn, cherry tomatoes, beans, onion, cilantro, lemon and avocado. My favorite physical activity would definitely have to be Zumba. Our team offers Zumba through an amazing program called "Genius Hour," a pilot program that allows students to choose an enrichment class they're passionate about, offered during the school day.
I am currently attending Houston Community College taking my basics, and I will transfer to the University of Houston to study graphic design and environmental studies. My goal is to expand our mission throughout the entire city of Houston, spreading messages of health and wellness, and bringing people together to celebrate each other and the outdoors.
Risha King, Youth Ambassador, Chicago Park District, Illinois
I become a Youth Ambassador because I wanted to show people my leadership, determination and willpower. When it comes to being a Youth Ambassador, people look at me and see the character that I have and my willingness to teach kids, and even young adults, about wellness and health.
I think we need to educate our community about health and wellness, because, in this society and in the community, we are surrounded by fast food chains, and there's not a lot of good, healthy food resources, so we choose what is close by and that's usually a McDonald's, which is on every corner. I believe that the community should know more about health and wellness so people can keep their bodies healthy. Also, people can live longer by eating and being healthy.
My favorite healthy food would have to be salad, and my favorite physical activity is track and field. I want to be a psychiatrist when I get older.
Tanya Bumbernick, Youth Ambassador, Mesa Parks, Recreation and Communities Facilities, Arizona
I decided to become a Youth Ambassador because I love to lead and I want to spread the word about health and wellness. I think we need to educate our communities about health and wellness so the obesity rates will go down in adults and children.
My favorite healthy food is a green salad with croutons and no dressing. My favorite activity is soccer because it involves lots of running, and I love running. When I grow up, I want to be a part-time engineer and a part-time nutritionist.

— Cort Jones, Associate Editor of Parks & Recreation magazine