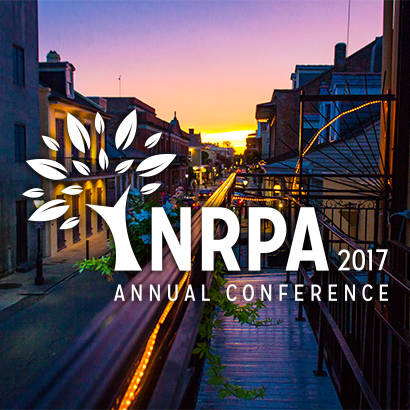 As we go to press, more than 500 conference speakers, moderators and thought-leaders are preparing to educate and inform us about the issues that affect parks and recreation. In addition to almost 300 off-site institutes, pre-conference workshops and education sessions, NRPA will also roll out new conference features aimed at increasing our understanding of the industry's best-practices and helping us to meet future challenges. As you make your plans to attend, we encourage you to go online to www.nrpa.org/conference to see the full schedule of events and educational offerings. Here are a few highlights of some of the exciting new features and "back-by-popular-demand" standards you can expect in New Orleans for this year's annual conference:
Directors' Corner — This new learning area, located in the Riverside Room near the convention center entrance, will feature facilitated discussions about the 21st century problems agencies face. Stay tuned for more information about this year's first-ever conference hackathon, during which we'll take a deep dive into one of those important issues.
Speed Sessions —This year's expanded list of 60, 20-minute sessions will take place Wednesday, September 26 from 9 a.m. to 10:30 a.m., and, for the first time, WE WILL OFFER CEU CREDIT for attending a total of three speed sessions within that timeframe.
Dive into Aquatics — In New Orleans, we're excited to roll out a new aquatics learning track for our aquatics professionals. In addition to offering the AFO Certification Course (Sunday, September 24–25, pre-registration is required), we'll also have an aquatics course available throughout the conference education session schedule from Tuesday through Thursday. Here are a couple of highlights:
Water Wisdom: Planning, Designing & Maintaining Water Play — Destinations Water is a powerful medium that naturally inspires us to play and interact together, while offering a variety of choices for how users enjoy and engage. Celebrate the many research-based health benefits of water play, and empower communities to effectively champion water play initiatives. Discover design strategies that thoughtfully address child development and key considerations in the planning, design and maintenance phases of your project to create a beloved community destination.
Reinventing the Urban Aquatics System — Cities with pools built prior to the advent of waterparks and interactive aquatic features are struggling with declining attendance and revenue and with maintaining facilities that have outlived their usefulness. This session will explore how one city is addressing this issue and transforming its aquatics system to meet the demands of today's aquatics users while remaining financially viable.
If you've visited New Orleans before, we think you'll agree it is one of the world's great cities, and we'd be remiss not to offer opportunities to discover it and help you create your own memories away from the convention center. With 10 off-site institutes plus an exciting mobile workshop, there'll be plenty of ways to step outside and really get a feel for what our host city has to offer, and this year's offerings are spectacular (pre-registration is required for these activities)!
New Orleans Jazz History Mobile Workshop — Only in New Orleans could there be a National Park for Jazz! Explore the French Quarter and the history of Jazz on a National Park Service (NPS) Ranger-led Jazz tour, which will begin at the NPS visitor center in the Old U.S. Mint. Learn about the parks mission and purpose and experience a Jazz concert at the new state of the art performance venue on the visitor center's third floor. Participants will also have the option to take a Jazz Pilates class led by jazz vocalist Stephanie Jordan.
New Orleans City Park: Recovery from Hurricane Katrina — Following a brief history of the state's most visited regional park, with an emphasis on the watershed events that have shaped it, participants will hear about the park's four-point recovery program after its near annihilation by Hurricane Katrina, with particular attention paid to how the park raised more than $100 million dollars from the public and private sector, how it secured its first-ever public operating funds and the lessons learned along the way. A tour of the 1,300-acre park is included.
Don't miss out on these and many, many other opportunities to learn and grow professionally at the 2017 NRPA Annual Conference!
Tom Crosley is NRPA's Senior Manager of Education, Conferences & Schools.