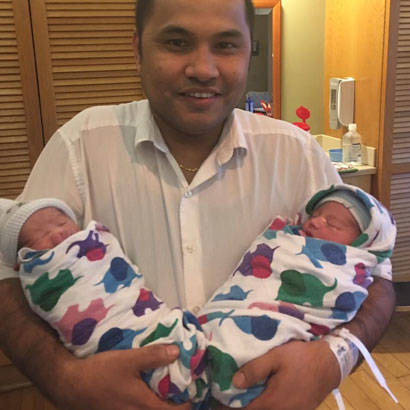 [Editor's Note: Following the May 26 tragedy on the MAX, Portland's public transportation system, Som Subedi, who heads Portland Parks & Recreation's Parks for New Portlanders program, shared the following post on the agency's Facebook page. It has been slightly adapted for publication here. Given the increasing frequency of acts of violence against those who some have deemed "not American," this post reminds us of the importance of making all members of our communities feel welcomed in our facilities.]
We — Portland Parks & Recreation Director Mike Abbaté, Equity & Inclusion Manager Art Hendricks, Commissioner Amanda Fritz and I — write to you with a heavy heart and many emotions.
The tragedy on the MAX a few days ago is both a sad and disturbing reminder that many Portlanders are confronted by hate and acts of violence — but also that heroes are everywhere, and many of them are your friends and colleagues, perhaps even you, someday. This event may have touched you in profound and disturbing ways — that is certainly the case with me personally.
But know that, as our director wrote in a recent email to our staff, every time you engage a colleague or family member who says something that could be offensive; every time you teach your children that people are all made precious and wonderful, and yes, each and every time you intervene to come to the aid of the defenseless, the oppressed, the marginalized, you are a hero.
We grieve as we mourn the loss of the people who stood up for the defenseless teen girls on the train — including a fellow city employee, Rick Best and Taliesen Myrrdin Mamkai-Meche. All of us are glad that Micah David-Cole Fletcher is out of the hospital and recovered enough now to spread his messages of tolerance and acceptance. In his words from a poem he wrote:
I spat in the eye of hate and lived. This is what we must do for one another We must live for one another We must fight for one Mother.
I met with the community youth ambassadors, who are employees of Portland Parks & Recreation's Parks for New Portlanders Program. Among them, they speak 15 languages and represent nine different New Portlander Communities: four are Muslim. These young leaders are shocked, horrified and saddened by the loss of the two Portland heroes. They are praying for the victims and their families.
Now more than ever, we must stand together against hate, ignorance and senseless violence. Portland Parks & Recreation (PP&R) has crafted the attached poster (http://ow.ly/oTY830cxrId) affirming our embrace of people no matter where they hail from, what religion they practice, their abilities, race, sexual orientation, no matter what. I encourage you to print and/or to distribute these posters to those you care about, and they are also all available in many more languages; please message us if you'd like to obtain them.
Supporting New Portlanders continues to be a priority for the city of Portland and the Parks Bureau. It is based on valuing all who call Portland their home. Portland Parks & Recreation is more committed than ever before to make sure New Portlanders are safe and welcomed and embraced in our facilities, programs and activities. As the person in charge of the Parks for New Portlanders program, I offer my assistance in helping with information on PP&R programs, facilities, jobs and other offerings — and an open ear to further our diverse communities' healing. Please let me know how I may assist you and your partners.
On a positive note, the Portland Police Bureau and Portland Fire & Rescue started coaching teams for the Portland World Cup Soccer Tournament this year! The popular annual tournament featuring teams of Portlanders originally from around the globe took place July 21, 2017, at PP&R's Delta Park.
Remember, no matter how long each of us has been in Portland, a single act of violence doesn't represent or define who we are as Portlanders. This city belongs to all of us, all Portlanders, and I am proud to work for a government that strives to make sure we all feel safe and welcomed in our home. Thank you for your continued generosity and compassion.