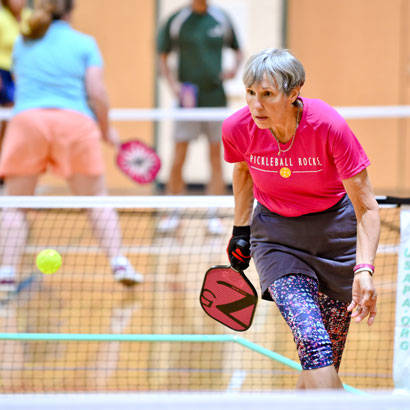 Park and recreation agencies need to keep seniors active and social as they age in order for them to be healthy, happy and feel valued. Senior Games, first organized in St. Louis, Missouri, in 1985, is a great way to engage older adults physically, mentally and socially, while giving them a feeling of accomplishment. The Six County Senior Games in Illinois has been holding its event for 35 years and has seen it grow to include more than 500 participants.
The first National Senior Games were held in 1987 in St. Louis. Today, the games are run by the National Senior Games Association and are the largest multi-sport event in the world for seniors. All adults, 50 years old and over, whether extremely active or not, are welcome to participate. The most important facets of the games are participation and striving for a personal best.
Getting Started
Before deciding to hold a Senior Games, you will want to decide if your philosophy is strictly sports oriented or if you want to add more sedentary activities. Senior Games include less vigorous sports, such as cornhole (aka bean bag toss), shuffleboard and Wii bowling, for those who are not able to participate in more strenuous activities due to physical limitations, as well as more rigorous, competitive individual and team sports, such as volleyball, softball, pickleball, swimming, and track and field. Some organizations include bridge tournaments and mini-golf. The Six County Senior Games in Illinois chose a sports philosophy.
Start small and go with the trends and events, like pickleball, that are most popular in your area or with active adults in general. Look within your own area or community at what is out there and what the seniors like to do and are requesting.
Many of your participants are on fixed or limited incomes, so entry fees should be affordable. You should charge an entry fee, but just make sure it is reasonable for your area. Senior Games should be viewed as a fun event geared toward your seniors and keeping them active, not as a huge moneymaker for the agency. Different fees should be charged for individual versus team sports, and there should be extra charges for events at venues that have rental fees and other costs. These include items such as green fees for golf, games in bowling or if lunch is included as part of an event.
Planning the Games
In terms of venues for the various events, look for recreation departments or high school facilities that are community minded and that are willing to work with you to offer the events. Ask if they'd be willing to let you use the facility free of charge. They must be conveniently located and in good condition, and it's also helpful if they have staff that will work the event with you.
Lots of volunteers are key to running an event that is professional yet fun. You'll need a chairperson who is responsible for setting up and running each event. Be sure your chair people are knowledgeable about their respective events and their rules and that they are able to take the lead and give direction with the help of their volunteers.
Your own park district (athletic and fitness supervisors), senior networking group, interns and sponsors are great sources for finding volunteers. We've found that once people volunteer, they are normally hooked and will return the following year. Through these events, relationships form between volunteers and participants. The volunteers look forward to seeing "their" friends that they made the year before, and the seniors are happy to see the same volunteers. It is a win-win for all. This year, Illinois's Six County Senior Games had more than 500 participants spread over 21 events, and we had 44 volunteers, most of whom have been helping out for many years.
Finding Participants
Entry forms can be mailed to interested seniors but should also be accessible online. Forms can also be made available to recreation departments, tennis facilities, golf courses, bowling alleys and in other places older adults generally frequent. All registration for the games, including a liability waiver, should be done in advance. The registration form should include the guidelines for each event, directions to the various venues and information about awards, age groupings and what to do in case of an emergency.
To offset the cost of entry fees and the rental facility and also help to purchase giveaways for the participants, you'll need to secure sponsorships; for example, from local living facilities and home healthcare companies. A word of caution: Do not have too many competing sponsors that will be vying for the attention of the participants.
Hospitality and opportunities to be social are also integral to a successful Senior Games. You may ask the games committee to offers drinks and snacks at each event. It is very important to have water and sports drinks, such as Gatorade, for the competitors. As the event grows, it is always fun to have an opening and closing celebration. Sponsors, often, are interested in hosting these types of celebrations, which offer participants another opportunity to socialize and to celebrate their accomplishments.
As far as recognizing participants' accomplishments, you can give the top three male and female winners in each age category a gold, silver or bronze medal. Age categories can be broken down in five-year increments and go as high as the oldest participant. There should also be goodie bag handouts for the participants at each event, including a water bottle or another like item. Each year, the individual Senior Games organizations provide all participants with an event T-shirt, which the competitors proudly wear.
In this social media age, adding a Facebook page and including pictures and results from past events, and follow-up articles with pictures in the local newspaper will help to stimulate interest in the games and give the competitors exposure. With the growing number of older active adults, hosting Senior Games is a healthy, positive and exciting way to engage them! Start today. You will be glad you did.
Mary Stalling is the Adult Activities Manager for the Dundee Township Park District. Teresa Grodsky is the Active Adults Coordinator for the Addison Park District .