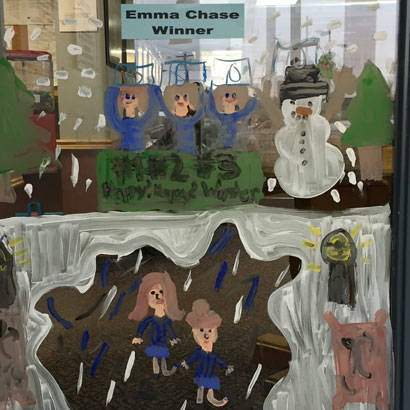 The supervisors for the Town of Plattsburgh, New York, thought the entrance to their town hall needed a bit of brightening up. The windows were drab, thought Supervisor Michael Cashman, so this past November they devised a plan to turn town hall into a more colorful place. The town's director of Recreation and Youth Services in the Park and Recreation Department, Melanie Defayette, devised the TOP (Town of Plattsburgh) Window Mural Contest.
The murals to kickoff this first annual contest are dedicated to winter-themed activities. More than 50 children from the local community submitted art work, and the winners were selected by Town of Plattsburgh board members who were the contest judges. In the end, only three young artists were selected and, in late December, they gathered at town hall to paint their murals, which will last until early spring.
In first place was Emma Chase of Morrisonville Elementary and honorable mentions were awarded to Bailey Blair of Morrisonville Elementary and Homeschooler Luke LaForest. Emma's snow scape showcased two synchronized ice dancers preforming their routine in front of four judges, including a rather impressive snowman. Bailey chose to portray a great snowball fight for her snow scape and Luke featured sledding as his favorite winter activity.
Going forward, each season Plattsburgh hopes to change the murals with new seasonal activities. Supervisor Cashman also hopes that eventually civic organizations will participate, with months dedicated to causes ranging from breast cancer to autism awareness. "We plan to hold one [contest] each season," says Recreation Program Coordinator Erin Pangborn. "Community members have had a lot of positive feedback now that our lobby entrance is refreshed and colorful," she adds.
The Town of Plattsburgh has highlighted a unique, community-based approach that not only pushes community participation, but also art appreciation.

Daniel Sanford, NRPA's Administrative Assistant to the CFO