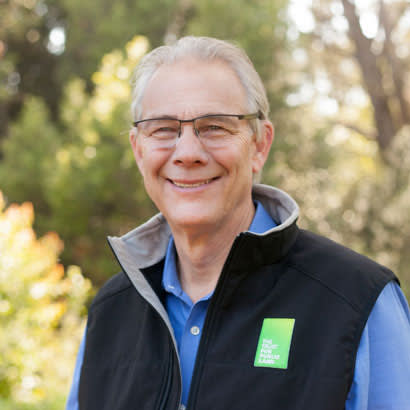 The 10-minute walk campaign launched on October 10 and is already gaining speed in cities across the country. So, what exactly is the thinking behind this partnership between The Trust for Public Land (TPL), the Urban Land Institute (ULI) and NRPA? Parks & Recreation sat down with TPL President and CEO Will Rogers to find out more about how this idea came to be, what it means for parks and public space, and what the future holds for the 10-minute walk.
Parks & Recreation magazine: What inspired TPL to start the 10-minute walk campaign, and why was NRPA a natural fit as a core partner in this effort?
Will Rogers: The 10-minute walk vision — the idea that everyone, no matter where they live, deserves to be within a 10-minute walk to a high-quality park or public space — has long been a part of TPL's DNA. It is the reason we have taken on park projects like Newark Riverfront Park in New Jersey, The 606 in Chicago, Watts Serenity Park in Los Angeles and almost 200 neighborhood playgrounds in New York City. But a while back, we understood that to really make a difference at scale and to encourage sweeping change in not only park access, but park quality, we couldn't go it alone. We needed to partner with like-minded, high-impact organizations that could help us deliver on this vision and develop a roadmap for cities to address park access and quality in a meaningful, sustainable way. That is the power of the 10- minute walk campaign — its ability to help drive change in cities large and small, across the country. So, we immediately thought of both NRPA and Urban Land Institute, two of the best in the industry.
There is clearly strong alignment between TPL and NRPA — we both believe that having access to high-quality parks is a right for all, and I think we have a similar understanding of the incredible benefits that parks and green space offer people. But, beyond that, NRPA knows parks. The organization has an incredible reach — to park directors and park departments across the country — as well as the on-the-ground experience to help implement this campaign. When we started to examine what this campaign might look like, NRPA was a natural fit for a core partner.
And, we know that not only do mayors and park departments drive change in communities, but also that the private sector has a huge influence on the development and financing of parks and open space. As a leader in the field of responsible land use and development, ULI was a clear partner. Its quality education and research supports land use and development professionals — developers, planners, financiers, economists and architects — to create and sustain thriving communities through the responsible use of land.
P&R: So, what is the campaign all about and what has been most exciting since it launched in October?
Rogers: This campaign is based on two key concepts that are directly connected — park access and park quality. Yes, we believe that everyone should be able to reach a park within a 10-minute walk of home. But what does that park look like? Is it a well-loved, adequately resourced park? Does it deliver all the incredible benefits that parks can provide? Does it absorb excess stormwater or does it promote exercise? We believe that parks can do all those things and more.
Thus far, the 10-minute walk campaign has focused on championing mayors (and their park directors!) who are advocates for parks and has asked them to sign on to our vision — that everyone, in every neighborhood, in every city deserves a park within a 10-minute walk of home. We believe strongly in that vison, not simply because spaces for relaxation and recreation are important — though they are — but also because parks and public green spaces can help deliver improvements in a host of areas, from public health to climate resilience to safety.
And, I'm happy to say that 145 mayors and counting — Democrats and Republicans — from cities large and small across the country, have already signed on to that vison. We have seen extraordinary momentum since the campaign launched on October 10, and what has become clear is the potential for us to have a major impact on parks and open space at a national scale. Mayors, partner organizations, individuals — they all see the opportunity to shape how parks and public spaces can be viewed as anchors of healthy, equitable communities nationwide.
P&R: You mentioned signing on to a "vision." Will cities do anything else to advance the 10-minute walk?
Rogers: We are starting with the vision — but there is much more to the campaign than that. We've developed a list of commitments organized by action area that cities that sign on to this effort can take to prioritize parks and public space. These action areas include leadership and planning, funding and park creation and activation, all of which can help increase park access and improve quality. Not all cities will necessarily make these commitments, and some cities that have signed on have already set ambitious targets for themselves in some of these areas.
In 2018, we'll be announcing a technical assistance competition for cities to compete for planning grants. TPL, NRPA and ULI will work with selected cities to help them develop commitments that are feasible, impactful and measurable. We hope these cities will embrace the commitments they develop and pledge to take concrete steps to make the 10-minute walk vision a reality on the ground.
Beyond this process, we are developing a host of exciting resources that all cities that sign on to the 10-minute walk can take advantage of. One is called ParkServe® — the first-ever effort to map all parks in every city and town across the country. TPL's Geographic Information Systems team has been working for years to create a publicly accessible baseline for measuring 10-minute walk access, and we just launched phase one along with the 10-minute walk campaign. We're also creating Parkology, which TPL is working on with NRPA and other partners. Parkology will be a website and community that provide access to countless resources on parks, as well as create a dedicated space for 10-minute walk cities to communicate and learn from each other. And, we'll be working with both NRPA and ULI to develop best-practice guides, reports and other professional resources that can eventually be posted there. So, even if cities aren't ready to make a public commitment, we are confident that these resources will allow cities to embrace the 10-minute walk in a lot of the work that they do.
P&R: So, what is next for the 10-minute walk campaign?
Rogers: We'll be debuting the commitments, along with the technical assistance competition, in the months ahead. And we're working closely with additional partners to expand our reach and bring the expertise of other national organizations to bear on the campaign. But, this is just the beginning of a multiyear undertaking to work in-depth with cities across the country. We want cities to personalize and embrace this campaign on a local level; for cities that make public commitments, that will mean developing city-specific plans and accountability measures tailored to their unique contexts. Other cities may choose to embrace a facet of the campaign, such as health or resilience, and use that as a lens to view how they're addressing the 10-minute walk. Ultimately, we view the campaign as a large-scale effort to jumpstart and reshape the national dialogue around what parks and public spaces can do for cities, and why they're so important.
Learn more about the 10-minute walk campaign.
Sonia Myrick is the Executive Editor for Parks & Recreation magazine.