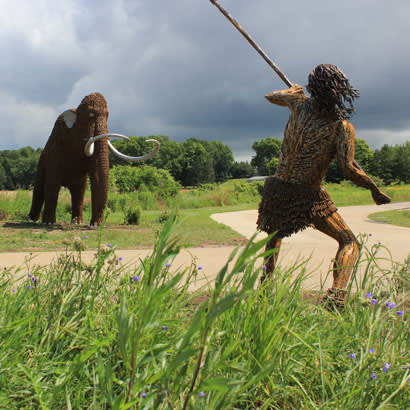 Twenty years ago, Joseph Pine II and James H. Gilmore, authors of The Experience Economy, taught us the importance of "staging experiences to leave a memorable — and lucrative — impression" for customers. It is now common for retailers like Bass Pro, Disney, American Girl and even Starbucks to think of the experience when designing their stores. Creating iconic pieces or a signature piece is an important part of creating that experience. Often the signature piece at a museum is worth the admission price alone. For example, the star attraction at Chicago's The Field Museum of Natural History is Sue, the T-Rex. Other museums have blue whales or a Frank Gehry-designed building.
Big iconic elements can amplify the visitor experience, and the Wisconsin Department of Natural Resources (WI DNR) Horicon Marsh understood this when it decided to have 3 miles of rebar, 7,000 pounds of metal, 300 pounds of wire and 16,000 individual small pieces welded together to create a life-size Woolly Mammoth and Paleo hunter as an entry experience to its Explorium learning center. Its goals were to:
Reinforce the central theme of the exhibits — "Horicon, the Great Hunting Grounds."
Tie the present to the past.
Attract traffic from the road and draw it to the entrance.
Increase visitation and repeat visitation.
Increase the average visit time on-site.
Create a gateway for all to go outside and enjoy Horicon.
Generate awareness and recognition.
Bret Owsley, wildlife management district supervisor of WI DNR, says, "The mammoth is the most photographed thing in the state of Wisconsin. It generates awareness when people see similar exhibits elsewhere in the world. If they see a story on mammoths in Russia, it brings them back to Horicon. It's like reading a good book that pops into your mind unexpectedly when you see something that relates."
The mammoth functions as both an anchor and entry point for the rest of the Horicon Marsh story. Other iconic pieces include a larger-than-life children's room with equally large sculpted animal models, an immersive ice cave that literally cools you off as you walk through and an airboat simulator ride. There has always been hunting at Horicon, and it comes in many different forms. Visitors can still hunt the traditional way, or they can hunt for memorable pictures to be captured with their camera.
The Horicon story also highlights the importance of managing the marshland and cautions against the mistakes that were made when it was used for other purposes. Horicon Marsh is the largest freshwater cattail marsh in the United States, and once it was returned to its natural state, hunting, wildlife and people returned. The Explorium's oversized pieces generate recognition and help to reinforce the Horicon story, just like the mammoth and Paleo hunter. These experiences can spark memory for visitors outside of the park and reconnect them to the land and history at Horicon.
Today's experience economy is fueled by millennials, who outnumber baby boomers and overwhelmingly prefer experiences over things. Creating experiences will help draw them to your park, but they'll need to know that these larger-than-life experiences exist! Millennials and other visitors use the internet to search for experiences to add to their lives. They look for photographs and reviews through social media, and they'll want to share their experience on those same platforms. Having the most photographed piece in Wisconsin helps Horicon tap into modern day destination marketing.
These iconic pieces trigger visitors to share their experiences with the world, further multiplying the experience. Horicon aids in the sharing — the airboat ride automatically takes a picture, which can prompt a visitor to share the experience. It is one of the most popular exhibits at the Explorium! In online reviews, many visitors write about the exhibit where they experience the smell of a mammoth. Visitors rely heavily on social media before and after visiting sites, and the iconic pieces at Horicon encourage social sharing.
Oliver Wendell Holmes says, "A mind stretched by a new experience can never go back to its old dimension." The exhibits at Horicon create a sense of wonder, excitement and lasting memories. Horicon understands that each visitor will experience the park differently and that perceptions are formed by the opportunities offered, and the experience and knowledge gained. It has created an experience outside of the usual environment that creates positive emotions and word-of-mouth, increases visitor satisfaction and leads to repeat visitation. In creating these inspiring experiences, Horicon has not only achieved its goals but has also stretched the minds of its visitors.
Betty Brennan is President of Taylor Studios, Inc.