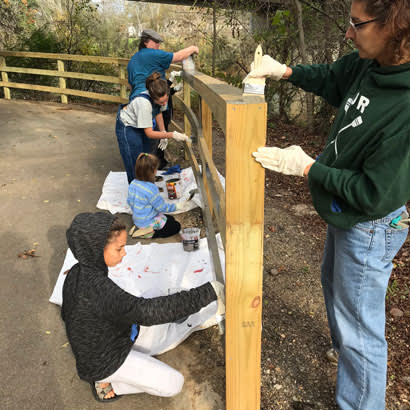 For the past 22 years, The Walt Disney Company has organized Family Volunteer Day, a global day of service that celebrates the power of families who volunteer together, on the Saturday before Thanksgiving. This year, a few NRPA Meet Me at the Park healthy living grantees decided to use Family Volunteer Day to get families in their communities involved in their Meet Me at the Park projects.
NRPA and The Walt Disney Company already collaborate on the Meet Me at the Park initiative, which is their joint program aimed at improving access to outdoor play, including trails, mobile play, play spaces and sports. Twenty-five park and recreation agencies and cities nationwide are participating in the Meet Me at the Park healthy living program. And, as part of the program, all 25 participants received grants ranging from $10,000 to $50,000 to support projects that increase access to play spaces in local parks for children and families. This investment supports NRPA and Disney's combined goal of providing 1 million kids and families with greater access to play.
From 9 a.m. to around noon on Saturday, November 18, volunteers gathered at Sterchi Farm Park, a Meet Me at the Park grantee in Chattanooga, Tennessee, to help with the removal of trash, graffiti and invasive plants, as well as fence staining. These activities are part of the park's new nature-based Sterchi Farm Adventure Trail that will provide exercise, play and adventure for everyone. Following the morning's activities, everyone was invited to stay for lunch and learn more about the trail and the various partners that also helped to make it possible: Chattanooga Park Stewards, Trust for Public Land, WildOnes, GreenSteps, GreenTrips and the South Chickamauga Creek Greenway Alliance.
Meanwhile, at Cacapon State Park, another Meet Me at the Park grantee in Berkeley Springs, West Virginia, plans to spread mulch and put the finishing touches on a new nature-themed playground on November 18 were cancelled due to inclement weather. The playground, which features a variety of inclusive play equipment with many safe options for sliding, crouching, climbing and fun, is the first of its kind in the park.
Learn more about the Meet Me at the Park initiative.