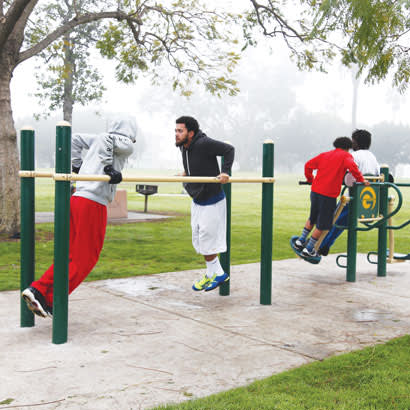 One of the most popular and widely appealing park amenities, trails are enjoyed in virtually every climate and every setting — from urban and suburban areas to wild, remote locales. A great way to bring nature to dense communities without requiring large blocks of real estate, trails are widely used by those of all ages. However, beyond the cardio benefits, trails can offer enhanced opportunities for communities with the addition of fitness equipment.
Greenfields' Trail Package 1 was carefully designed not only to enhance the fitness benefits of trails, but also to promote socialization within diverse communities. Whereas many past trail equipment installations have featured exercise units isolated from each other, Greenfields' Trail Package 1 features six "pods" with two units per pod. Because each unit can accommodate multiple users, the pods each serve four to seven people simultaneously.
The idea behind the multiple-user pods is simple: those walking or running on the trail by themselves who encounter a single station in use will most likely not wait for that station to be unoccupied, but will instead continue on their way. However, if a pod offers multiple events and exercise stations, the need to wait is eliminated, and the second user doesn't need to halt their momentum in order to use a particular station.
To ensure that every user has activities available to them that are appropriate for their fitness level, one unit per pod offers exercises for the entry-level user, and one unit incorporates advanced activities, such as dips or pull-ups. Two of the pods also incorporate units from Greenfields' Signature Accessible line, specially designed to give wheelchair users the opportunity to exercise without transferring. In total, the package allows for 32 users to exercise at one time. And in contrast to indoor gyms, the open, casual atmosphere creates an environment in which individuals feel comfortable and can easily initiate conversation with each other.
One community that installed the Greenfields' Trail Package 1 went above and beyond to create a fitness guide for trail users of varying abilities. For each pod at the Bixby Park trail in Long Beach, California, the guide offers suggestions for exercises and reps using that pod's equipment selection. Separate exercise plans for users at novice, intermediate and advanced levels ensure that all trail users have activities adapted to their individual needs.
The trail has the added benefit of a great view — less than a quarter mile away is the Pacific Ocean, with the retired Queen Mary ocean liner resting at the entrance to the bay. Built to resist rust, the equipment has successfully weathered several years of exposure near the oceanfront.
On a typical day at the Bixby Park trail, old and young, muscle-beach types and fitness novices, can be observed enjoying the fresh air while working out. Intuitive to use, social and free for the public, the fitness trail is a tangible expression of the city's commitment to promote healthy lifestyles in the community.