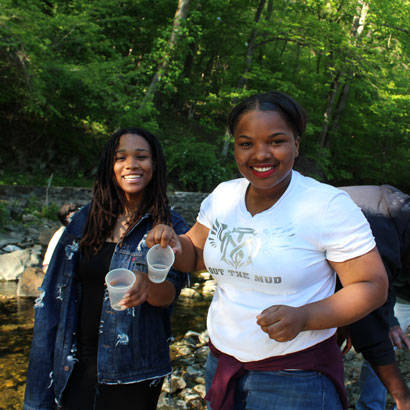 Imagine Baltimore City public high school students gathered behind row homes on an overcast, humid summer day. They are in one of the most urbanized parts of the city — Sandtown-Winchester — where incomes are among the city's lowest and a sea of concrete and black rooftops make the summer temperature soar from heat island effect. A few kids sit on stoops beside an abandoned, decaying home. Everyone is sweating.
But, behind the row homes, the lots are alive with Black Eyed Susans, budding chamomile and ripe tomatoes. Chesapeake grasses line a rain garden and mulched paths weave between shrubs. There, in a huge garden that cannot be seen from the main road, a student, with her school's green uniform tie still around her neck, lifts her spade to dig a hole to plant flowers. Beside her, another student tears open a bag of mulch and spreads it evenly over the pathways. Instead of the decay and abandonment that dominate the environment in some of Baltimore's inner city neighborhoods, they are surrounded by people working on the plot, tending the plants and building community.
The location is Small Street Garden, an urban green space in Baltimore that began by one woman who wanted to turn abandoned garages and an illegal dumping site into a productive community use. The high schoolers who are working in the garden, and who work in other similar gardens and parks throughout Baltimore, are taking action to improve Baltimore and, in so doing, improve their own lives.
The students participate in Branches, a summer and afterschool internship program of the Parks & People Foundation, which employs youth to tend to Baltimore's green spaces and learn about opportunities available to them after high school.
Improving Public Spaces and Lives
Blake Wrigley, a Parks & People Foundation employee and team leader for the Branches interns, explains the program: "The basic framework is that it's an internship. It's not just an afterschool program. The interns are paid to come here. The two main goals are exposing the interns to environmental education — we do that through hands-on community greening projects, so they are actually out improving Baltimore's green spaces, mixed in with some environmental science — and job skills training and life skills training. What does it mean to be a professional employee? For some of the interns, this is their first job experience."
Everyone needs a first job or internship with early work experiences shaping viewpoints on employment and responsibility. Khyja McCray, a 2016–2017 graduate of Branches and rising freshman at Hood College, says that she is one of the few among her peers to have a job. She is not alone in that fact.
The Rockefeller Foundation reports that "the unemployment rate for younger workers remains more than double the national average." Yet research consistently shows that young people who work in high school are more likely to be stable in careers and earn more as they age. This fact is incredibly important for young people in Baltimore, a city where the median family income is less than half that of the state.
There is a saying that a person cannot be what they cannot see. And, when youth in Baltimore see decayed schools, peers involved with crime and a lack of investment in their communities, youth reflect that environment and have a harder time overcoming barriers than their socioeconomically advantaged peers.
Breaking the Mold
Branches is not a typical work-skills job program. The youth who intern with Branches obtain work experience that is catered to the unique needs of a high school student. When they aren't maintaining parks or green spaces, they spend time learning about college degrees, job training programs and the basics of personal finance. They are exposed to environmental science — phenology, ecology, hydrology — and learn how the green spaces they are maintaining benefit the city and the people who live around them.
"Branches was impactful because it opened up my mind between the relationship with our environment and health. Branches has allowed me to take the initiative and start that change to make a better environment for Baltimore City," says Zion Smith, a high school sophomore and returning intern for the 2017–2018 program.
"At first, I wasn't a fan of getting muddy," says McCray, "but when we were planting seedlings and flowers, I began to enjoy getting my hands dirty. The feeling of being outside is serene. It's just beautiful."
These testimonies speak to exactly the impact the program aims to achieve: providing high school students with opportunities to break out of the norm, and showing youth that they are an active part of the community and their local parks, and, that through their actions, they can help neighbors like the caretakers of Small Street Garden.
Caring for Baltimore
This summer, when Branches goes back to Small Street Garden, more interns will lift shovels and plant vegetables for the community. It is hot work and most high school students would shy away from anything laborious, but in part because of Branches' help, that space will be maintained and remain as an asset for a community. If not for Branches, interns would be spending their evenings at a routine job or watching TV at home, rather than learning how to break out of the cycle of poverty. Instead, they are experiencing the chance to progress productively and seamlessly from high school to the next opportunity.
"We are nurturing the next generation of homegrown urban gardeners and passionate stewards of beautiful and splendid city parks," says Sam Little, environmental education manager and supervisor of all Branches staff. "Our team members are roses growing up in a concrete place with a lot of negativity, but here, they are investing in themselves and the places they inhabit on a daily basis, making both the better as a result. They chose not to let the bad and sad overwhelm them. Instead, they are earning a paycheck, gaining valuable life skills and learning the importance of being civically engaged Baltimoreans."
Mark Talbert is the Grant Manager and Writer for the Parks & People Foundation.