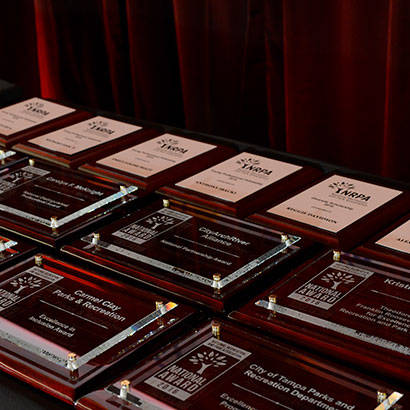 The NRPA Awards and Scholarship Committee is pleased to announce the recipients of the 2017 NRPA National Awards, Diversity Scholarship, Student Scholarship and Young Professional Fellowship. Please join NRPA in congratulating the following award recipients:
National Awards
NRPA's National Awards recognize the inspirational people and outstanding programs that highlight the phenomenal work being done in the field of parks and recreation. The award recipients will be acknowledged Wednesday, September 27, at the Best of the Best Ceremony, during the 2017 NRPA Annual Conference in New Orleans, Louisiana.
The 2017 National Award Winners
Individual Awards:
Robert M. Artz Advocacy Award
Cora Masters Barry, Washington, D.C.
Robert W. Crawford Young Professional Award
Dr. Joshua Medeiros, Canton, Connecticut
RWJF-NRPA Award for Health Equity
Patti Solano, Riverside, California
National Distinguished Professional Award
Phillip Rea, Raleigh, North Carolina
Theodore and Franklin Roosevelt Award for Excellence in Recreation and Park Research Award
Mark Havitz, Waterloo, Ontario
Clifton French
Clifton French has been selected as the recipient of the 2017 Robert W. Crawford Recreation and Park Hall of Fame award. The Recreation and Park Hall of Fame recognizes individuals who have made outstanding and lasting contributions to the advancement of recreation and parks.
Agency Awards:
Excellence in Inclusion Award
Madison School Recreation, Wisconsin
Excellence in Innovative Programming Award
Recreation and Park Commission for the Parish of East Baton Rouge, Baton Rouge, Louisiana
Facility or Park Design Award
Vigo County Parks and Recreation Department, Terre Haute, Indiana
Barb King Environmental Stewardship Award
Recreation and Park Commission for the Parish of East Baton Rouge, Baton Rouge, Louisiana
Kudos Marketing Award
Denver Parks and Recreation, Colorado
National Partnership Award
Durham Parks and Recreation, North Carolina
Fellowship and Scholarship Program
The Fellowship and Scholarship Program's primary focus is to inspire future participation and leadership in NRPA, and to develop professional contacts with NRPA leadership. These programs provide selected recipients with a mentor as they explore the operation of the NRPA Annual Conference.
The Diversity Scholarship recognizes individuals from historically underrepresented groups in the park and recreation community, as well as those who demonstrate outstanding contributions serving diverse communities.
The 2017 Diversity Scholarship recipients:
Leslyn McBean-Clairborne, Ithaca, New York
Kobeyeh Riley, Mint Hill, North Carolina
The Student Scholarship is presented to an outstanding undergraduate or graduate student in recognition of continuously extraordinary community service or contributions to the field.
The 2017 Student Scholarship recipients:
Mary Elise Conzelmann, Humboldt State University, Arcata, California
Dakota Hewlett, Michigan State University, East Lansing, Michigan
The Young Professional Fellowship recognizes individuals who have made exceptional contributions to the field of parks and recreation during their first years in the profession.
The 2017 Young Professional Fellowship recipients:
Brianne Baglini, Fairfax, Virginia
Derek Donlevy, Milwaukee, Wisconsin
Nicole Fields, Buffalo, New York
Kevin Witte, Mountlake Terrace, Washington.