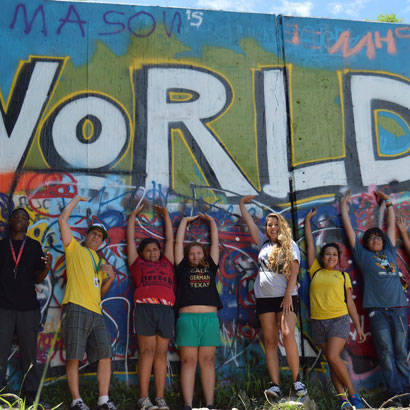 Whether in a small town or large metropolis, our park and recreation programs can be integral in tying our community together and vital for the success of our youth. Those who regularly participate in the arts are more likely to have academic achievement, be elected to a class office position, win awards, read for pleasure and perform community service. For those at-risk youth, the arts can deter truancy and delinquent behavior and increase academic performance, according to Americans for the Arts.
Understanding the community's interest in the arts is paramount in prioritizing program depth and breadth. Americans for the Arts suggest first determining what your community wants from an arts program, what it wants to achieve and where interest lies; then determining how the arts are supported politically and financially in your community and what funds are, or could be, utilized for programs. Americans for the Arts also has resources for marketing, establishing a local network and creating relationships with local businesses.
Arts programs come in many shapes and sizes — from traditional summer camps and afterschool programs to highly specialized and focused programming. Finding the right fit for your community is the key to a successful program.
Afterschool Arts
While there is often a plethora of activities and classes available for preschool- and elementary-aged children, our middle and high school students seldom have much available to them. According to Afterschool Alliance, "On school days, the hours between 3 p.m. and 6 p.m. are the peak hours for juvenile crime, and quality afterschool programs for young people offered during those hours can help prevent youth violence."
The city of Austin, Texas, created the Totally Cool, Totally Art program specifically to reach this age group. The Harvard Family Research Project says the goals of the program are to "increase youths' (1) sense of belonging and feeling that they have safe, positive and creative environments in which to participate during free time; (2) opportunities to expand knowledge, skills and possible career interest in art; (3) trust and respect for other youth, adult mentors, artists and other authority figures; (4) ability to work cooperatively with other youth and communicate effectively in a group; and (5) ability to make creative and positive choices through self-expression."
The Totally Cool, Totally Art program was established in 1996, originally to thwart gang violence. To date, the program has received the Nickelodeon Television Award for Best Local Teen Art Program, and several NRPA awards, among others. Offerings have included culinary arts, fashion design, soft sculpture, painting, STEAM, ceramics, metalsmith, jewelry making, mask making, drumming and urban painting. Each session runs five weeks, with instructors rotating between recreation centers.
"We just finished our 21st year of this regional and national award-winning program," says Kelly Hasandras, program specialist for the city of Austin. "We serve 150 teens a week, ages 12–18, in eight recreation centers, and we create different classes every year to keep it fresh. We are trying to help two different communities with this program. We hire emerging artists in the community to teach these classes so they get valuable experience teaching. And, it is valuable for the students who take the classes."
Arts and Culture
As the recipient of the 2016 National Gold Metal Award for Excellence in Park and Recreation Management, the town of Cary, North Carolina, takes its cultural resources very seriously. "Our arts programs run the gamut from hands-on classes in painting, pottery, fused glass, metals, woodworking and textiles to performance classes in drama and dance, and various music areas, including guitar, piano, voice and our popular bluegrass summer camps. In addition, we offer classes in filmmaking, video game production and history camps," says Lyman Collins, cultural arts manager. Programs are available for those 18 months old to seniors.
The Town of Cary also hosts a robust film festival, national musical and theatrical acts, and cultural events such as the Diwali Festival, which is celebrated with the local Indian-American community. "A new off-season program at the amphitheater is the North Carolina Chinese Lantern Festival, where incredible Chinese 'lanterns' — tall, intricate cloth-covered figures lit internally — are built on-site by Chinese craftspeople and then left on-site for six weeks. [They] drew over 90,000 visitors this past holiday season," says Collins.
"Because the Cary Arts Center brings together the visual and performing arts in one facility, we have nurtured opportunities for programs to complement each other. For example, for a performance with a touring artist in our Marvelous Music series, our arts classes have worked with young people on drawing to the music — expressing their art based on the music they hear," says Collins. The city also works with more than 30 local arts organizations to assist in facilitating its programs and goals. This wide range of arts programs and activities are what has made the town of Cary successful and nationally recognized. As Collins says, "variety is our strength."
Art not only can engage our youth, but also can work toward social change. Along the Lafitte Greenway in New Orleans, a team of young community members created a mural that not only documents the history of the greenway, but also incorporates themes of hope and reconciliation. Truly a team effort, the project was spearheaded by the Welcome Table New Orleans Mid-City Circle, the Young Artists Movement (YAM) and Prospect New Orleans.
"The lead artist, Keith Duncan, led workshops with young people to teach skills in mural-making. [After community engagement], he worked with them to create the ultimate image that would be created at Lemann Pool," says Alphonse Smith, director of the Arts Council New Orleans. "We had over 100 community members participate, putting on the initial coats of paint. We had people from ages 5 to over 60 coming out to kick off the project. From there, the young people who were chosen to participate in the project completed the rest of the mural." Today, the mural stands as a reminder of the talent of our youth and the power of community arts projects.
Dance
When a program is successful, it lasts, and the San Diego Civic Dance Arts program has done just that for 75 years. Through the years, the program has introduced hundreds of thousands to the art form of dance, and has been lauded as the standard by which other citywide dance programs nationwide measure themselves. The program serves San Diego residents from 3 years old to senior citizens across 20 locations.
The program runs more than 200 classes weekly from ballet to hip-hop to Bollywood, and many other classes in between. It provides youth summer camps, advanced training camps, master classes, an adult workshop, and a workshop specifically to increase the participation of boys.
"There is less interest in the traditional arts programing, such as ceramics and crafts, and more interest in performance-based arts, including dance, singing and dramatic arts," says Deputy Directors Kathy Ruiz and David Monroe.
A large part of the program's success is the caliber of instructors it brings to the program each year. World-class instructors and choreographers give the classes a level of quality and professionalism not typically seen in a city-run program. Beyond the number of classes it offers, this program has successfully secured more than 25,000 hours of volunteer support on an annual basis. This volunteer support helps offset personnel costs and establish community support. Financially, the San Diego Civic Dance program holds its own — in 2016, the program netted more than $300,000.
The program has received a multitude of awards, including the 2017 nomination for Bravo Award for Best Dance Concert, 2016 Bravo Award for Best Dance Concert, 2016 Presidential and Mayoral Volunteer Awards to two long-term volunteers, 2014 Bravo San Diego Award, and the 2013 Presidential Volunteer Award from Barack Obama, among others.
"The program is successful because the staff and I are dedicated to its success," says Andrea Feier, dance specialist. "Many of the staff have grown up in this program and now teach for it out of a love for both the program as well as a passion for dance and the arts." "Three of my staff have been teaching for 38 or more years, and most of the others have been here 10-plus years. As a graduate of The Juilliard School, I utilize my contacts in the world of dance to bring in guest artists from major modern dance companies, Broadway, and film and television to uplift and inspire our dance community."
Filmmaking
For the Camacho Activity Center in Austin, Texas, outdoor education and nature-based programing are its usual fare, but it has expanded its horizons into filmmaking and photography. There are filmmaking camps during winter and spring break and several during the summer for students ages 5–18.
"Each week-long camp incorporates filmmaking education, including writing, camera operation, sound, lighting, acting, editing and more. Each camp films an original story that is later showcased in our annual film festival in the fall," says Ryan Eaker, Camacho activity supervisor. "In addition to these filmmaking camps, we lead nature photography outreach programs throughout the school year to primarily underserved populations, lower-income schools, recreation centers and community groups."
Filmmaking and photography are popular with youth, and today's cellphone technology has allowed students to take high-quality images and video without the added cost of expensive equipment. These classes are extremely popular. For Eaker, it is about staying current: "It's crucial to stay on the forefront of the technological front, and remain pioneering in the ways that you teach and educate the public.
"Now it's about teaching those participants to look at the world around them in a different way and expose the art and beauty in the objects and environment that surround them, which they honestly aren't noticing with their heads buried in their phones," says Eaker. "We allow kids to take a handful of selfies to get that out of the way and then focus (so to speak) on getting physically close to natural objects and playing with perspective and vantage points, lighting and storytelling through photography."
Theatre
For Hasandras, her latest challenge is expanding an already successful program in a new direction. This is the second year of the Totally Cool, Totally Art Theatre Camp. This fast-paced theatre camp takes students ages 12–17 through the process of creating a theatrical production.
Students attend workshops in acting, directing, improv comedy, dance, design and puppetry. They also visit a professional theatre to see a show and tour backstage. The students then create their own production and take it to local parks.
"We bring together kids from all over Austin. We have four weeks to write, cast, direct, write songs, and make costumes and set pieces for the production. Then, we take the production out to our summer playgrounds program, a free outdoor playground camp for children 6–12, primarily for kids with high needs, most of whom have never seen a play before," says Hasandras.
Conclusion
Regardless of the size of your budget, number of constituents or type of facilities, the key to creating and maintaining a successful arts program is finding what works for you and your residents. "Give them a 'tribe' to belong to that instills discipline, commitment, integrity, artistry, self-expression and teamwork. Find teachers who are dedicated to teaching and to continuing to learn themselves," says Feier. The programs mentioned all have one thing in common: they cultivate ties within the community, resulting in a strong, healthy community for years to come.
Paula Jacoby-Garrett is a Freelance Writer based in Las Vegas, Nevada.