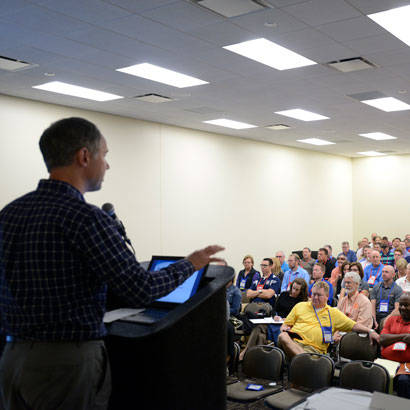 It's NRPA's position that our nation's public park and recreation services should be equally accessible and available to all people regardless of income level, ethnicity, gender, ability or age. Public parks, recreation services and recreation programs, including the maintenance, safety and accessibility of parks and facilities, should be provided on an equitable basis to all citizens of communities served by public agencies. And, each of us plays an important role in the support of this, our Social Equity Pillar.
Think of Social Equity as the "golden thread" that pulls together all of our hard work and lifts up the profession. Sometimes described as nebulous or hard to describe, a clear understanding of our roles and responsibilities in the support of the Social Equity Pillar can raise our spirits and bring meaning to even the most mundane tasks.
For a better understanding of the Social Equity Pillar and your role, please take some time at the 2017 NRPA Annual Conference to sit in on a few social equity-themed sessions. Here are just a few suggestions:
Inclusive Outreach for Equitable Results: Using a Logic Model for the Get Moving Initiative
This session is a fusion of equity and results-based accountability, with two key themes: (i) inclusive outreach strategies to effectively reach underserved communities, and (ii) using performance measurement tools for equitable results. We will profile Seattle Parks and Recreation's Get Moving initiative, which used equity goals and a logic model as tools to guide and track inclusive outreach strategies for its community fitness grant program.
Spray Play for All: Designing Inclusive Spray Grounds and Splash Parks
Communities across the country are adding spray and splash parks as one of the most highly requested and utilized recreation amenities. How can these be universally designed to be inclusive for people of all ages and abilities to participate equally? This session will examine the best practice recommendations for creating spray parks that are fun and functional for all people; that is, truly inclusive spray play for people with and without disabilities, children, parents and grandparents alike.
A Communications Frame to Replicate CA's Green Justice Work
Green justice is equitable development, healthy use of green land, and planning by and for the community. It is concrete action — like creating new parks, greening urban rivers and keeping public beaches public to promote equal access and health. The session will explore the struggle for green justice in California. Attendees will learn how to frame green justice efforts through NRPA's three Pillars in order to effectively engage different audiences and build a diverse base of support for their work.
See you in New Orleans!
Tom Crosley is NRPA's Senior Manager of Education, Conferences and Schools.