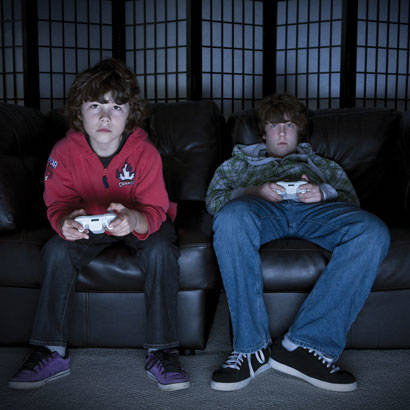 [Editor's Note: NRPA's advocacy work is most successful when we leverage the engagement of our members with that of like-minded partner organizations. These coalitions come in many forms and sizes, but each helps us to maximize our effectiveness and enhance our advocacy efforts by combining all available resources — time, talent and know-how — of our colleagues in our nation's capital.
Following is a column from Jackie Ostfeld, director of the Nearby Nature for the Sierra Club and a co-founding chair of the Outdoors Alliance for Kids (OAK). NRPA is proud to be a founding partner of OAK and to serve on the Alliance's Steering Committee, as well as to co-chair its policymaking working group.]

Today's children are growing up indoors. It's estimated that they spend half as much time playing outside as their parents did when they were kids. When asked why, youth are likely to give you three reasons: no natural areas near their homes, a lack of transportation to parks and open space, and discomfort being outdoors due to bugs and heat.

They're spot on about the lack of close-to-home access to parks. Transportation is not always easy to come by for kids and families that need to travel to find safe places to play outdoors. Add to this the fact that there are fewer field trips because of cuts to school budgets and the indoors — once a virtual snooze fest — have morphed into a virtual paradise. Kids spend more than seven hours a day on electronic media, where, in theory, they can "experience the outdoors" without ever breaking a sweat. The bugs and heat they cite as reasons for preferring the indoors are only expected to worsen due to our changing climate, which is already intensifying heat waves and expanding the range and prevalence of some of our buggiest bugs, ticks and mosquitoes.

All this indoor time is having a devastating impact on our kids. Over the past 30 years, obesity has more than doubled in children and quadrupled in adolescents, with the greatest increases found in low-income communities. While the Centers for Disease Control and Prevention recommends that kids get at least 60 minutes of physical activity each day, nearly three-quarters of all youth fail to meet these guidelines.

Access to parks and open spaces can also improve children's mental health. Research has shown that children who live in neighborhoods with more green space have lower body mass indices and reduced stress and anxiety. Young people who spend time outdoors also benefit from a lessening of the symptoms of attention deficit disorders and improvements in classroom learning. Playing outdoors can also improve confidence and strengthen relationships, but not everyone has access to opportunities to experience the outdoors.

In 2010, the Outdoors Alliance for Kids (OAK) came together to address this national crisis among America's children and youth by breaking down the barriers that have left an entire generation indoors. NRPA has been there since the very beginning as a founding partner organization. Today, OAK brings together nearly 100 organizations, representing more than 60 million individuals to help shape a future where all children, youth and families have safe and readily available opportunities to connect with the outdoors. Alliance members believe that the wellness of current and future generations, the health of our planet and communities, and the economy of the future depend on humans having a personal, direct and life-long relationship with nature and the outdoors. We also understand and value two simple truths: there are many ways to experience and spend time in nature, and our public lands and open spaces belong to all of us. To reach its objectives, OAK celebrates diversity in the outdoors and actively works to ensure all kids and communities have encouragement and opportunities to safely explore the natural world.

But, we also realize that not all children start on equal footing when it comes to outdoor access and opportunities and there is a need to actively work to close the equity gap. To do this, OAK supports efforts to integrate environmental and outdoor education into the formal pre and K-12 school curricula, to establish or improve high-quality and safe outdoor learning environments, and to strengthen and expand, outside of the public school system, educational programs that are related to our public lands, waters and shores. By addressing critical challenges, such as climate change; restoring funding for our nation's public lands to ensure their proper management; and offering youth and young adults career pathway programs that steward and help maintain public lands, OAK aims to ensure that America's natural areas are protected and maintained and its youth are engaged in their stewardship.

Collective Advocacy
A major component of OAK's work is our collective advocacy. In March, President Trump released his "skinny budget," which calls for a $54 billion increase in defense spending, offset by cuts to domestic programming. Among the recommended cuts are important programs that ensure our children have opportunities to play, learn and serve in the outdoors. Here's a snapshot of just a few of the OAK policy priorities on the chopping block.

The proposed White House's budget contains a 31-percent cut to the Environmental Protection Agency's budget and the elimination of important educational programs at the National Oceanic and Atmospheric Administration (NOAA), including the Bay-Watershed Education and Training (B-WET) and competitive education grants. These programs provide students with hands-on learning to address regional watershed needs and to improve their performance in science, technology, engineering and math (STEM). Other budget cuts aim to eliminate important programs, such as:
The Department of Education's 21st Century Community Learning Centers program, which provides before- and afterschool programs and summer learning opportunities targeting children in low-income schools districts.
The entire Corporation for National and Community Service (established in 1990 during the presidency of George H.W. Bush), which includes the AmeriCorps program. that engages more than 80,000 young Americans each year and supports opportunities for youth and young veterans to gain critical job skills and participate in career pathway programs stewarding America's great outdoors.
A multisector approach and long-term investments are needed to accomplish the goal of getting kids outdoors. Local parks and recreation departments have a critical role to play to advance neighborhood-level outdoor access and programming, and OAK deeply values our community park partners in the movement to ensure outdoor opportunities for all kids.
Jackie Ostfeld is the Sierra Club's Nearby Nature Director and Co-Founding Chair of Outdoors Alliance for Kids.